What Ever Happened To The Diner From The Big Lebowski?
"You want a toe? I can get you a toe, believe me. There are ways, Dude . . . hell, I can get you a toe by 3 o'clock this afternoon — with nail polish." In the 1998 cult classic, "The Big Lebowski," Walter Sobchak makes acquiring a severed toe sound as quick and easy as running into a grocery store to grab milk to make White Russians. While The Dude laments over Bunny Lebowski losing her toe — and possibly her life — the antics of her amateur kidnappers amuse Walter as he enjoys some coffee at Johnie's Coffee Shop.
Located at the corner of Wilshire Boulevard and Fairfax Avenue in Los Angeles, the diner is just as legendary as the Coen Brothers' black comedy. The restaurant opened its doors in 1956 as Romeo's Times Square before becoming Johnie's Coffee Shop in 1966, via Los Angeles Conservancy. It's one of the few remaining buildings in the United States designed in a Space Age aesthetic known as Googie architecture, featuring an upswept roof, bright colors, and lots of neon and flashing lights. But you won't be able to enjoy a burger and fries at Johnie's. The diner has been closed to the public since 2000.
Johnie's Coffee Shop is now a hub for political and social justice organizations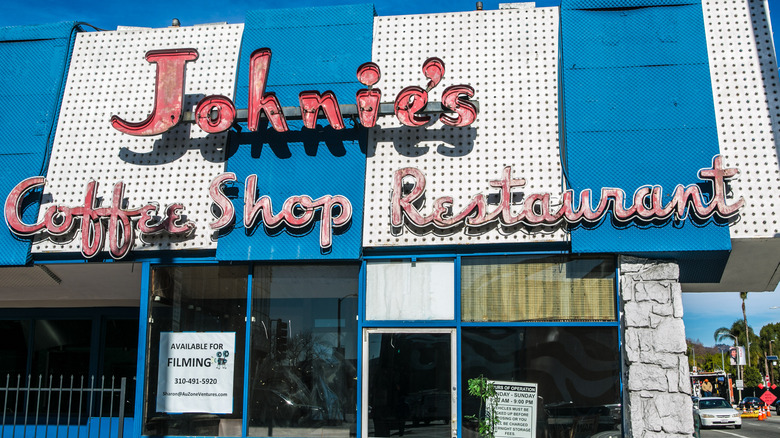 George Rose/Getty Images
Designated as a "historic cultural monument" in 2013, Johnie's Coffee Shop is home to political and social justice organizations aligned with the progressive left. "The space is available for any way that it can be useful for the movement," said Michelle Manos, a co-founder of Bernie's Coffee Shop, in an interview with LAist. According to LAist, the Los Angeles County Metropolitan Transportation Authority had plans to turn it into a bus stop. But dueling fundraisers during the 2016 presidential campaign held on the same night — one hosted by George Clooney for Hillary Clinton and the other by Howard Gold for Bernie Sanders — led to the transformation of Johnie's Coffee Shop into Bernie's Coffee Shop. 
The Gold family, founders of the 99 Cents Only Stores, bought the restaurant in 1994 and let Sanders supporters use it for a campaign office during his 2016 and 2020 presidential runs. Typical diner grub like burgers and hash browns were even served at events. Today, the building is used by groups including the Democratic Socialists of Los Angeles and California for Progress. Johnie's is still occasionally used as a film location. According to YouTuber HawkSchlock, the iconic diner has made appearances in "Reservoir Dogs," "American History X," and "Miracle Mile."