The Speakeasy That Requires You To Make $100,000 To Enter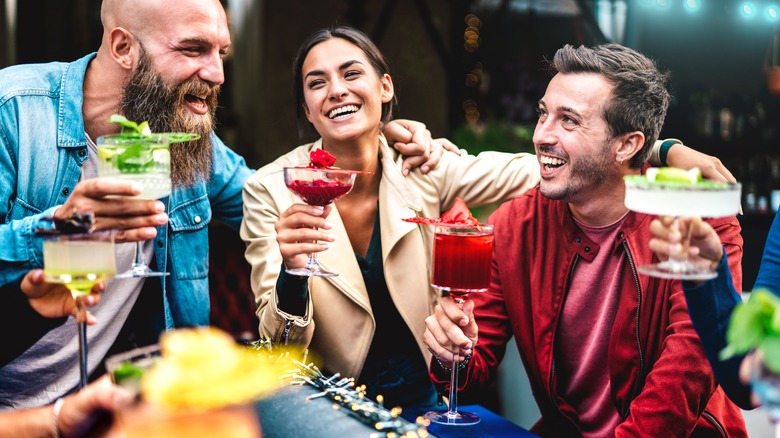 View Apart/Shutterstock
In the '20s, speakeasies were secret clubs and bars that served then-illegal liquor to countless patrons — everyone from average Joes to famed authors like F. Scott Fitzgerald and Ernest Hemingway sat and drank bootleg gin (via New York Magazine). Of course, with the end of Prohibition in 1933, speakeasies became less prevalent, per Prohibition. But that doesn't mean that all speakeasies have truly disappeared. Some are still open and require a very generous "entrance fee" if you want to mingle with the movers and shakers.
Lydia on H is an Afro-Caribbean infusion restaurant in Washington, DC, offering everything from an impressive lounge, a vibrant outdoor patio, and a delicious selection of Caribbean and African food. While these are all exciting things, no doubt, Lydia on H also offers a more "private" experience to those who can afford it. Hidden behind a bookshelf, similar to how the entrances of illicit speakeasies were hidden in the '20s, guests can travel into a highly exclusive clubhouse, where they can drink, eat, and enjoy themselves away from the prying public. The only catch is that to get into the speakeasy, you must pass a "screening test" and make over $100,000 per year, per the Washingtonian.
What makes this speakeasy so valuable to get into? What exactly goes on in there?
Enjoy the seclusion and all the Black-owned spirits you could want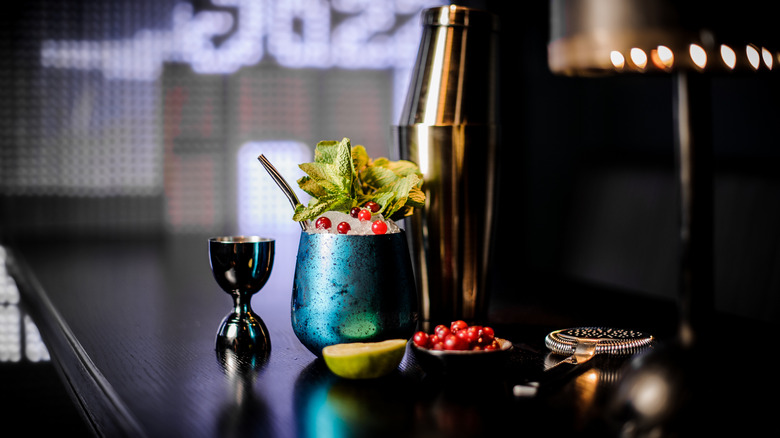 Maksym Fesenko/Shutterstock
According to the Washingtonian, very few things were initially made public about the speakeasy, known as Vic's. Owner Victor Chizinga claims it's somewhat like a "secret society." Vic's contains private lockers for cigars and drinks, a private bathroom, and a space large enough to throw a private party. The rest is strictly for members only. 
An Instagram video posted by Lydia's on H, however, shows off the interior of the club in full. Upon entering through the secret door, patrons will find themselves in an ample, comfortable space filled with flowing red curtains, flashing disco lights, and of course, a fully stocked bar. While some on Instagram criticized that the aesthetics weren't worth the price, the idea of having your own secluded bar may be. The Washingtonian explains that the speakeasy prides itself on exclusively selling Black-owned spirits and drinks, such as the world's first-ever Afro-Caribbean rum called Equiano (via Master of Malt). 
Hidden speakeasies aren't uncommon in America, but they are rare enough to make them unique. According to Conde Nast Traveler, Yvonne's, a speakeasy in Boston, is hidden under the guise of a hair salon, where guests can enter through a secret entrance to discover the dining room and lounge.
If speakeasies and $100,000 fees aren't your style, there are still plenty of interesting bars to visit across the United States.