Homemade Flour Tortillas Recipe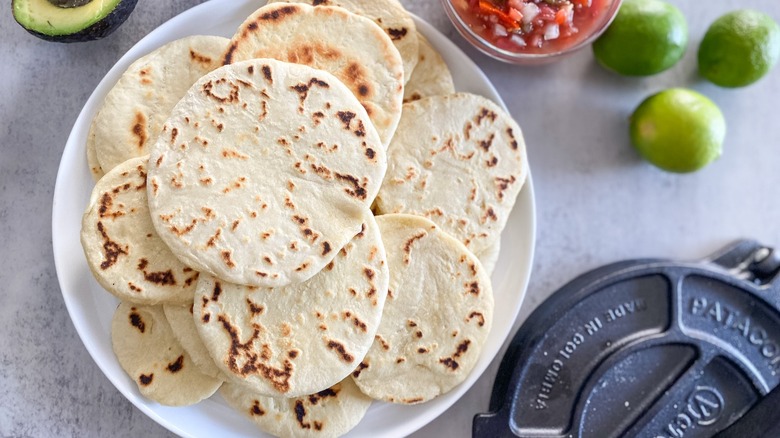 Kristen Carli/Mashed
Everything tastes better homemade, but sometimes homemade recipes can be challenging or intimidating. If you've thought homemade tortillas are too involved, think again. Recipe developer and registered dietitian nutritionist, Kristen Carli, MS, RD, brings us this recipe for homemade flour tortillas that comes together in a matter of minutes. No special skills are required and the only piece of equipment needed is a stand mixer. One batch of dough serves up 16 small tortillas.
These flour tortillas are ideal for eating alongside chicken fajitas or carnitas tacos. And if you're a vegetarian, fear not — these tortillas pair perfectly with this 3-bean vegetarian chili, too. Trust us — this combo is life changing! Because these are homemade tortillas, they're a bit thicker than you may be used to, especially if you typically buy thin tortillas from the store. But that just means there's more tortilla to love! Follow our step by step guide below to make your own flour tortillas at home and see just how easy it is.
Gather your ingredients for homemade flour tortillas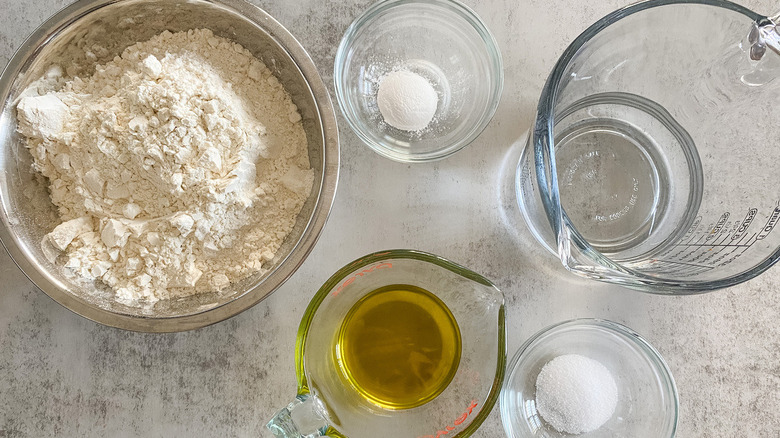 Kristen Carli/Mashed
To make these homemade flour tortillas, you will need flour, salt, baking powder, olive oil, and warm water — that's it!
Mix dough in a stand mixer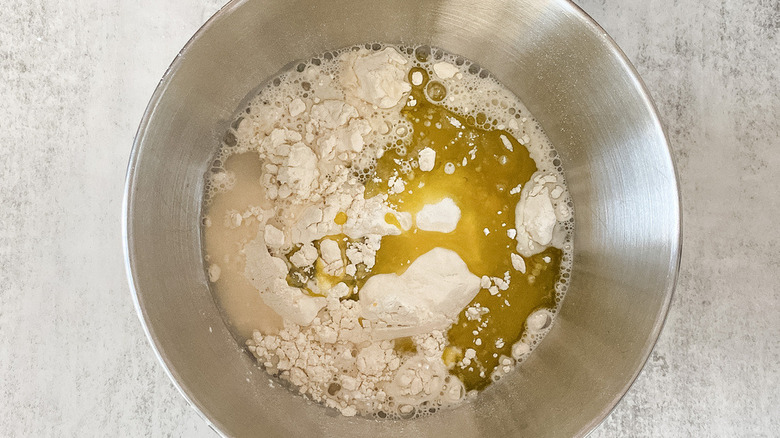 Kristen Carli/Mashed
This recipe is incredibly easy because you do not need to add the dough ingredients separately or in a specific order. You simply add the flour, salt, baking powder, olive oil, and warm water to the bowl of a stand mixer all at once. Then, using the dough hook attachment, process the stand mixer until the dough comes together. This should take about 5 minutes. Then, continue to mix the dough with the dough hook until the dough pulls away from the sides of the bowl and appears smooth. This will be your clue that the dough has kneaded long enough.
Separate the dough into pieces, roll, and press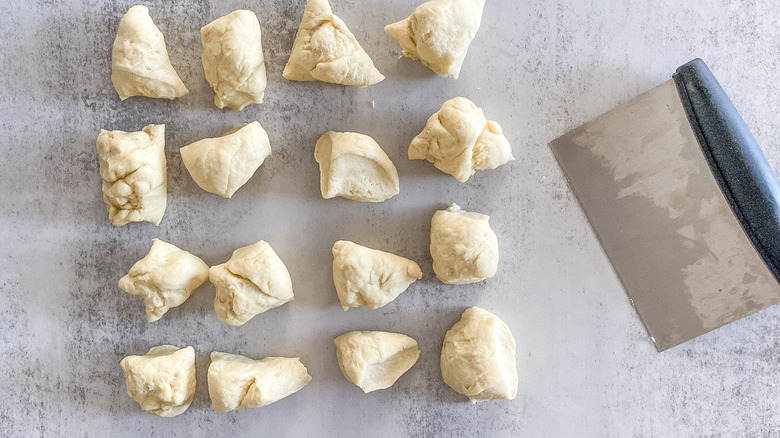 Kristen Carli/Mashed
Using a bench scraper, slice the dough into 16 even pieces. Once the pieces have been separated, roll each one into a ball. Next, place a dough ball into a tortilla press that has been lined with parchment paper. Press down until the dough is flat. Repeat with all of the balls of dough. If you notice that your dough springs back after it has been flattened, your dough may be too cold. Allow it to warm up a bit before continuing. Then, allow all of the flattened tortillas to rest for 15 minutes.
Cook the tortillas in a skillet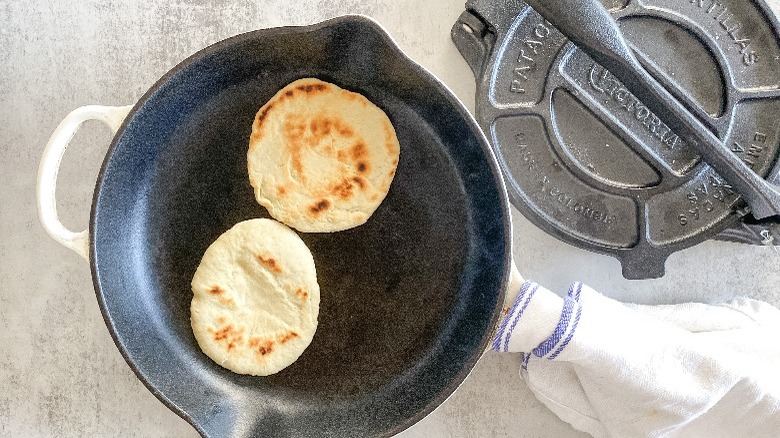 Kristen Carli/Mashed
Once the dough has rested, heat up a large skillet over medium high heat. Place a few tortillas on the skillet, depending on how many can fit. Allow them to cook for 1 minute on the first side. Then, flip each tortilla and cook them for 20 seconds on the second side. Repeat this process until all tortillas have been cooked and begin to get dark spots.
When you've finished cooking the last tortilla, you're ready to serve these up! Enjoy these tortillas with tacos, burritos, quesadillas — the possibilities are endless with this simple but versatile homemade recipe.
Homemade Flour Tortillas Recipe
Skip those store-bought tortillas and make these fresh, homemade flour tortillas instead.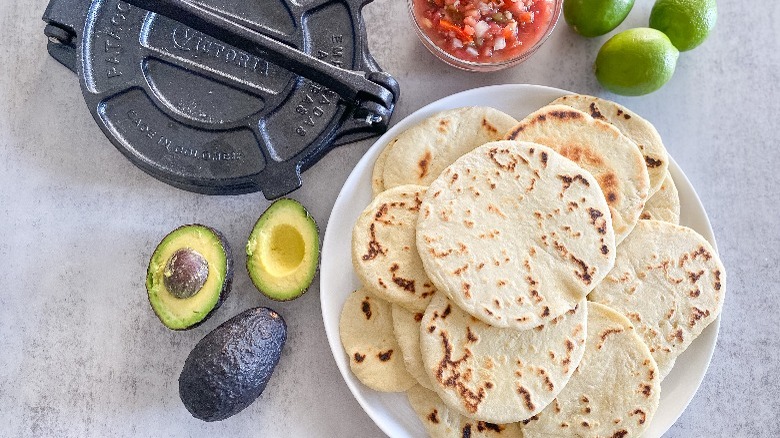 Ingredients
3 cups flour
1 teaspoon salt
1 teaspoon baking powder
⅓ cup olive oil
1 cup warm water
Directions
In the bowl of the stand mixer, add all ingredients. Using a dough hook, mix until dough comes together. Continue to mix until dough pulls away from the sides of the bowl and is smooth.
Using a bench scraper, separate dough into 16 portions.
Roll each piece of dough into a ball and place in a tortilla press between two pieces of parchment paper. Repeat with all pieces of dough. Set aside and rest for about 15 minutes.
Heat a large skillet over medium high heat. Place a few tortillas on the skillet (2 to 3, depending on how many can fit in your skillet).
Cook for about 1 minute on first side, then flip, cooking about 20 seconds on second side until both sides have dark spots. Repeat with all tortillas.
Nutrition
| | |
| --- | --- |
| Calories per Serving | 125 |
| Total Fat | 4.7 g |
| Saturated Fat | 0.7 g |
| Trans Fat | 0.0 |
| Cholesterol | 0.0 mg |
| | |
| --- | --- |
| Total Carbohydrates | 18.0 g |
| Dietary Fiber | 0.6 g |
| Total Sugars | 0.1 g |
| Sodium | 100.1 mg |
| Protein | 2.4 g |