Taco Bell Just Launched A Breakfast Deal That Checks All The Boxes
Whenever you're in the mood for a quick bite of Mexican-inspired food, there's peace of mind in knowing that there's never a Taco Bell too far away. According to ScrapeHero, there are more than 7,500 Taco Bell locations scattered across the country, with locations in all fifty states. And the best part is? This fast food chain often stays open later than others, with many drive-thrus closing at 3 or 4 a.m., making it a great late-night snack option. 
From the Mexican Pizza to the Fiesta Taco Salad to the Cinnamon Twists, this California-based chain has a diverse array of lunch, dinner, and even dessert options (along with a Taco Bell secret menu you may not know about). Some menu items also happen to be really fun to say, like "Quesaritos" and "Chalupas," which is a nice added bonus. If you love indulging in a cheesy breakfast burrito early in the A.M., this fast-casual chain even has some meal options suitable for mornings. According to Chew Boom, Taco Bell is now debuting a new type of breakfast offering that may just check all of your boxes (pun intended).
Taco Bell's new breakfast box has the all new Breakfast Crunchwrap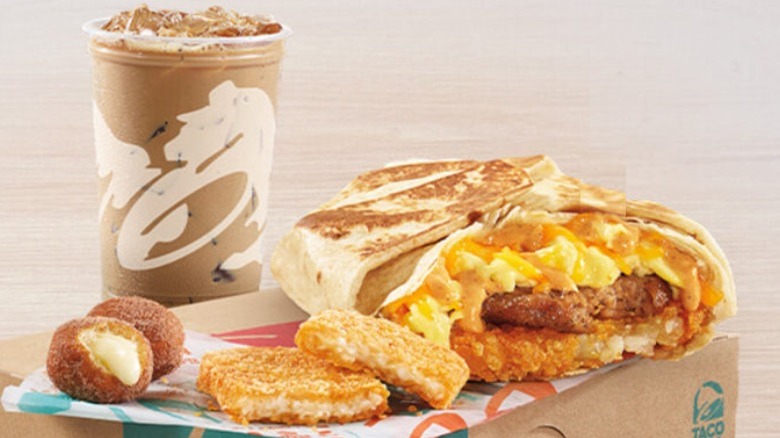 Taco Bell
Hankering for a Taco Bell breakfast? According to Chew Boom, Taco Bell is debuting a new breakfast box known as the $5 Bell Breakfast Box. The star of each box will be an all-new Taco Bell creation: the Breakfast Crunchwrap. What is a Breakfast Crunchwrap, you ask? A warm tortilla wrap filled with eggs, cheddar cheese, jalapeño sauce, a hash brown, and your choice of breakfast meat. Customers can choose between a sausage patty, bacon, or steak, if they want to pay a dollar extra. Alongside the Breakfast Crunchwrap, each box will also include two Cinnabon Delights, a hash brown, and a medium drink. Keep in mind, these breakfast boxes will only be available across the country for a limited time.
As Thrillist notes, this is not the first breakfast box that Taco Bell has released this year. In May 2022, the fast-casual chain debuted a similar breakfast offering that included a $5 breakfast box with a Grande Toasted Breakfast Burrito, hash browns, two Cinnabon Delights, as well as a coffee or a medium-sized drink. At the time, this California-based chain simultaneously released a coffee inspired by their Cinnabon Delights, which is still available in both hot and iced coffee form (via Taco Bell).