Andrew Zimmern's PB&J Nachos Are Turning Heads On TikTok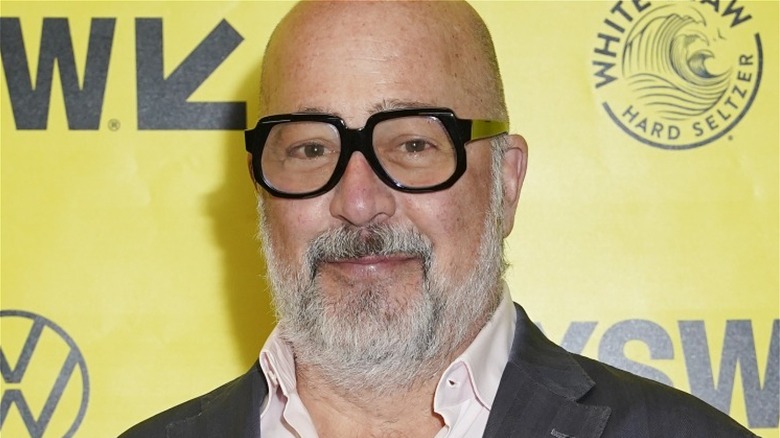 Amy E. Price/Shutterstock
Nachos — the ultimate comfort food. Whether you're at a sports game or carnival, a bowling alley or Super Bowl party, you can almost always expect this hearty snack to make an appearance. This basic Tex-Mex dish of crispy chips and melted cheese strikes the perfect balance between crunchy, gooey, saucy, and, of course, delicious. One of the best parts about nachos? You can customize this versatile dish with any ingredients your heart desires. From ground beef to carnitas, red onion to green onion, pickled jalapenos to sliced olives, the nacho toppings world is truly your oyster. Just don't forget to find a quick and easy guacamole recipe to pair with your finished dish.
From Rachael Ray's brilliant nacho hack to the Guy Fieri's trash can nacho kit, many famous chefs have their own unique spin on this staple snack. The one thing that most of these recipes have in common? Predictably, they have savory ingredients, including salty tortilla chips, fragrant meat, and shredded cheese. Andrew Zimmern, though, just set himself apart from the crowd by recently debuting an unconventional nacho recipe on TikTok inspired by PB&J. Is his nacho spin-off bizarre or groundbreaking? TikTok users shared their thoughts in the comment section of the video.
Zimmern's followers aren't all buying into his latest culinary creation
Zimmern has once again proved that he really is the king of "Bizarre Foods." In a recent TikTok, the New York native revealed an unusual creation that he recently whipped up in an office kitchen. While the Travel Channel star referred to the snack as PB&J nachos, the concoction did not use peanut butter, jelly, or any ingredient in normal nachos. The two ingredients utilized? Mixed nuts and fruit leather.
The chef began by ripping two dried fruit rolls in half, placing the strips atop a plate of mixed nuts. He then stuck the whole thing in the microwave for 30 seconds. "Everyone is making peanut butter and jelly milkshakes, peanut butter and jelly s'mores, peanut butter and jelly anything, so why isn't someone doing this piece of magic awesomeness?" the TV personality asked before taking a bite of his alleged masterpiece.
Ultimately, Zimmern's followers seemed less than impressed by his creation. "Food network programming has really gone down hill," one user commented, while another wrote, "with all due respect sir, I've seen you have that same reaction to some highly questionable foods." Another asked the chef to "apologize right now." While PB&J nachos seem like a cake walk compared to the worst things Zimmern ate on "Bizarre Foods," like rotten tomato ketchup and horse rectum, we'll admit that this dish doesn't look especially appetizing!