How Stix And Stones Bar And Grill Is Doing After Bar Rescue
A savior for bars on their last leg, Jon Taffer travels around the U.S., turning failing bars around and making them successful on his show 'Bar Rescue.' After years of helping bars across the nation, the bar master will be opening Taffer's Tavern this September (via Boston Magazine). In the Season 6 episode, "Stix and Stones May Break Your Bar," Taffer traveled to Sugar Creek, Missouri in an attempt to help save the drag race-themed bar, Stix and Stones Bar and Grill.
With $400,000 in debt and losing around $5,000 a month, bar owner Billy Banks wrote Taffer a desperate letter pleading for his help. After being diagnosed with cancer, he had to take a step back from managing and appointed his friend Waterman as the manager — who only took the position as a favor to Banks. Staff also had major issues. Bartender Razzo was shown serving beers with a lit cigarette in her hand and drunk while on shift. With lackluster management and unruly staff, it's no surprise that customers weren't being taken care of. Patrons couldn't order food through their bartender and had to walk to the kitchen window to order food directly. Although he always follows through on the process of remodeling and helping bars, Taffer's experience has led him to quickly know which bars are no good.
A bar Taffer couldn't rescue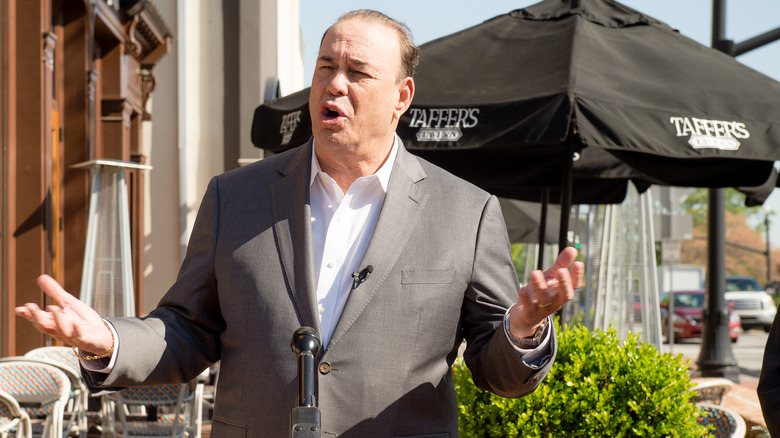 Marcus Ingram/Getty Images
The bar is full of nine pool tables — a poor utilization of the space and an aptly chaotic reflection of how much help the spot needs. After a rough start and confrontation between Stix and Stones employees and Taffer, the bar saw a complete turnaround. By the end of the episode, things were looking up for the newly named, The Pit Stop Bar and BBQ. Before the credits rolled, 'Bar Rescue' gave a six-week follow-up. They reported that Razzo was drinking less, Waterman was on his way to becoming a partner, and sales were up 20%.
However, according to Reality TV Updates, these numbers were probably not so accurate, since the bar was listed for sale six weeks after Taffer and his crew left Sugar Creek. Taffer's new moniker for the bar, The Pit Stop Bar and BBQ, did not last long either. The recently remodeled bar quickly reverted to its old name of Stix and Stones. Lasting around a year after Taffer's visit, Stix and Stones closed its doors for good in 2020. The bad news for 'Bar Rescue' fans doesn't end there. It was reported that around six months after taping the episode, bartender Razzo passed away. Ultimately, Stix and Stones was one of the bars Taffer couldn't rescue.