The Unique Ingredient Ree Drummond Uses To Sweeten Her Carbonara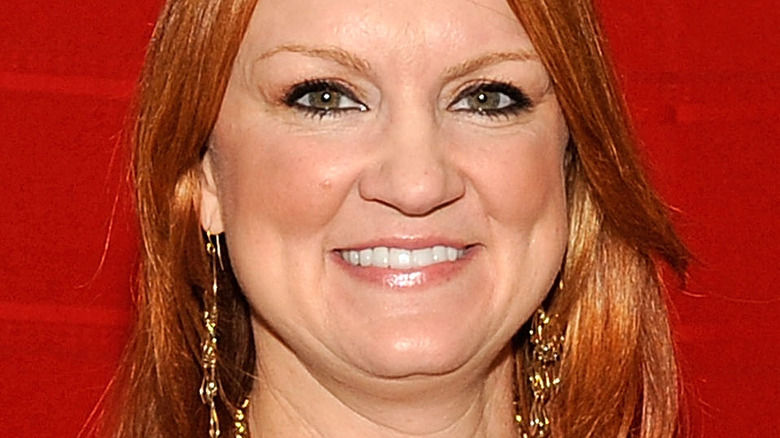 Bobby Bank/Getty Images
Is there anything that sounds dreamier than sitting down to a home-cooked meal made by The Pioneer Woman herself, Ree Drummond? A seasoned cook and ranch-core lifestyle guru, Drummond is known for sharing her comforting family-friendly recipes and kitchen tips with the world. With over fifteen years of blogging experience under her belt (via Biography), there's no doubt the recipes she shares are the real deal. And since there are so many up on her blog, we fans can come as close as possible to The Pioneer Woman cooking for us by trying to make her recipes ourselves.
One particular recipe has been turning heads since Food Network posted a video on Twitter. In the video, Drummond charismatically walks viewers through the preparation of her new innovative dish. She appears to be preparing pasta carbonara, a simple classic in Italian cuisine, but with an ingredient swap that creates virtually an entirely new meal.
The carbonara twist... or spiral
As Drummond reveals at the start of the video posted by Food Network on Twitter, the special ingredient she uses for her Sweet Potato and Mushroom Carbonara dish is spiralized sweet potatoes or sweet potato "noodles.". A colorful alternative to traditional wheat standard noodles, spiralized sweet potatoes can make pasta that is rich in vitamins, minerals, and fiber (much like carrots, squash, or zucchini). This substitution is perfect if you're gluten-free or just looking for an exciting way to add in more vegetables.
In the video, Drummond shares her enthusiasm for this special ingredient with viewers and camera workers, insisting that they register for their own spiralizer as a gift for their upcoming wedding. She then shares a tip for making the noodles tender but also keeping sturdy, which is to cook them in the skillet with the rest of the ingredients rather than boil them in water on their own. The result is a steaming bowl of bright, vibrant pasta garnished with the classic carbonara fix-ins. But, with an open mind and a spiralizer on hand, this creative recipe can fill your bowl, too.