Brooke Williamson On Her Ziploc Partnership And How Life's Changed Since Top Chef - Exclusive Interview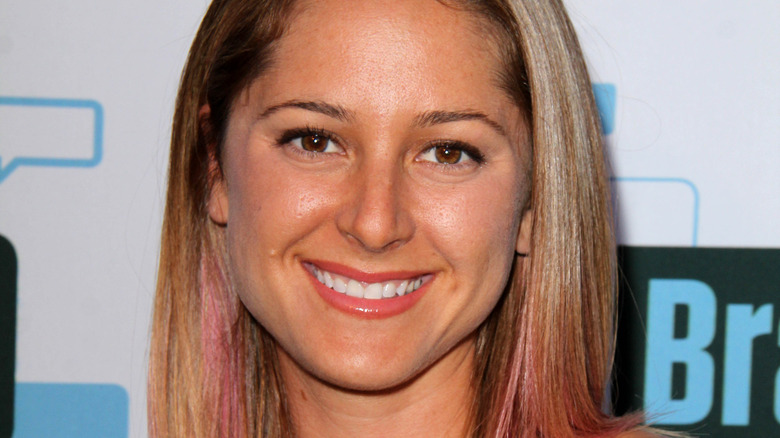 Kathy Hutchins/Shutterstock
Brooke Williamson is best known for her multiple stints on Bravo's hit show "Top Chef." Williamson came close to taking the winning title in her first round on the series during Season 10 in Seattle, but she ultimately was left having to pack her knives. As Williamson is competitive by nature, almost winning wasn't an option for her. She fought to be included again during Season 14 and ultimately came out victorious that season in Charleston. Since then, she's appeared in various cooking shows, from "Guy's Grocery Games" to "Beachside Brawl."
Williamson told Mashed in an exclusive interview how many doors being on "Top Chef" has continued to open for her, like being able to work with culinary icons such as Guy Fieri and Bobby Flay. The restauranteur also told us about her partnership with Ziploc Endurables and how the new technology is a game-changer for her in the kitchen since you can take the containers straight from the freezer and toss them right in the oven. They don't crack or break under extreme temperatures, making them the perfect cooking tool for busy moms like Williamson. We also spoke about which judge on "Top Chef" gives the toughest feedback and what piece of advice Fieri gave her that was invaluable.
What makes Ziploc Endurables revolutionary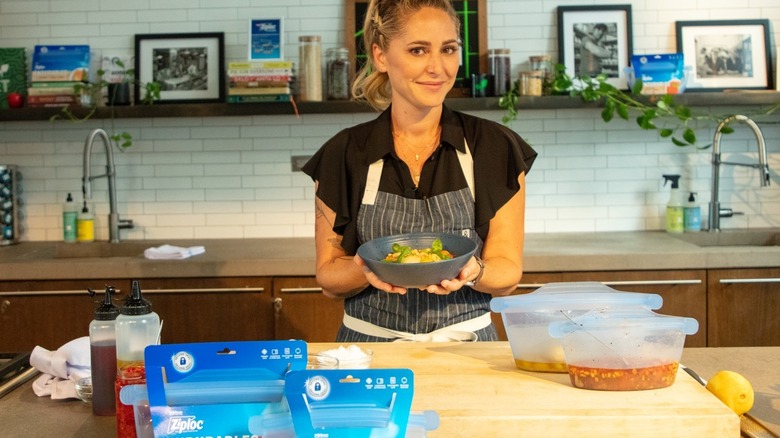 Ziploc
What led to your partnership with Ziploc?
I spent most of my life in a kitchen and most of my career trying to be organized, so I feel like it's a natural fit to work with a brand that focuses on convenience and ease and organization in a kitchen.
What makes the new Ziploc Endurable bags different from its other ones?
This is a completely new, innovative, completely different product. The Endurables are a line of silicone containers and pouches that are designed to go from subzero temperatures into an oven heated to 425 degrees. It's not only a new product for Ziploc, I feel like it's a new and innovative product in general. It's something I've never seen or come across in my culinary life.
I've been cooking on silicone for many, many years but never in my wildest dreams imagined what you could do with a product like this. You can go from organization to frozen, to boiling water, to microwave, to oven — the ease and convenience of this product [are] unlike anything you've ever seen.
Recipes you can make with the new Ziploc bags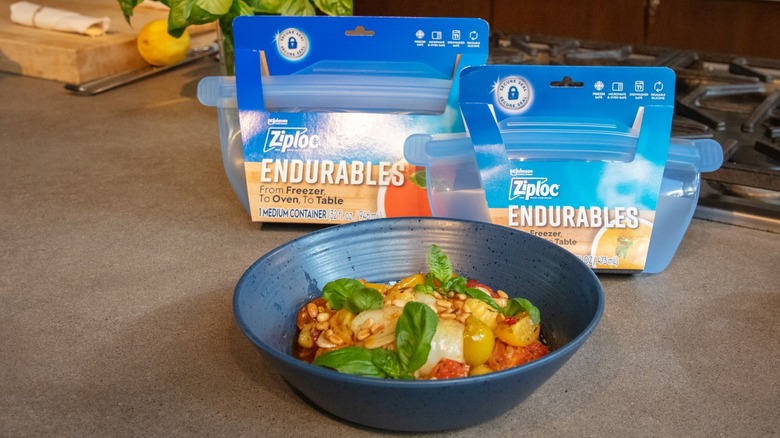 Ziploc
Since they can sustain such high heat and go straight from the freezer to the oven, what's your favorite recipe to make with them?
I've designed a few recipes for Ziploc, and the versatility of what you can do in these containers and pouches [is] unlike anything else. There's so many different things you can do in them. I designed a soup, a steamed/baked olive oil baked fish. There was a cod recipe that I did — basically olive oil baked cod with frozen gnocchi added directly into the container, baked all together. And I did a confit cherry tomato sauce in another pouch that can be used for not only topping this fish but also a multitude of purposes. That sauce can go on a pasta; that sauce could go on a steak.
The cool thing about it is that it's an all-in-one. You make it in the container [and] bake it in the container. You have [the] best top-of-the-season cherry tomatoes, heirloom cherry tomatoes, that you're finding that are so delicious right now. Therefore, you don't need to add a whole lot to them. Just combine them with some olive oil and some salt and some garlic and some herbs. And because you can cook in them and store [food] in these containers, the sauce can go directly from leftovers into the fridge or freezer and [be] used later. It's the optimal meal prep situation.
Also, one of my favorite recipes that I designed was a devil's food cake with a cherry vanilla, cherry compote. That was also baked, almost like a cherry pie filling that goes on top of the chocolate cake. And the chocolate cake is baked directly in the container. So is the cherry compote, and again, [it] can be eaten directly out of the bag, can be stored in the bag, baked in the bag — everything can be done in these containers.
This really does sound like a game-changer. It's going to make life a lot easier. What other ways would you recommend using these Endurable bags for busy parents?
The coolest thing about these containers is their versatility, and therefore, they're perfect for meal prep and planning your week ahead of time, maybe cooking a few proteins ahead of time, cooking a few sides/sauces ahead of time, storing them, organizing them, either in the freezer or in the fridge. 
The fact that they can go from freezer to either oven or microwave or boiling water is an incredible thing because you can portion things out directly into these containers and then store them in the freezer until you absolutely need them. My go-to is to plan the week ahead of time so that when I'm busy and spending all day in the kitchen at work, I don't have to come home and conceptualize dinner from start to finish. It's already there, ready to go.
What influences her own cooking style
Your cooking style has been described as California-inspired cuisine. What does that entail?
That's a good question. That's a question I've gotten my entire career, [and] I think the best way to describe that is produce forward. I grew up in Los Angeles. I grew up with a backyard garden. I currently have a front yard garden, and I let the seasons dictate what I cook. I let the seasons dictate my inspiration for how I change the menu at work.
I find that starting with produce, and thinking that way first, leads you down a naturally deliciously healthy way of eating because you can take ingredients and not have to manipulate them into things that they aren't. It not only creates this ease and convenience of cooking but also creates, stylistically, a very colorful, nutritious, flavorful, beautiful way of thinking about food. That is how I think of California cuisine — capitalizing on the seasons and what they have to offer.
Brooke Williamson gets real about her time on Top Chef
How would you say your life has changed since winning "Top Chef," and which judge do you think gave you the toughest critique during your run on the show?
That's a tough one. They're all so tough in their own right. 
How has my life changed? It's changed enormously. My focus has not changed. I've always thought of food, first and foremost, as my inspiration for my entire life. Cooking, being a chef, is the only thing I ever wanted to do from the time I was 6 or 7 years old. That hasn't changed. My life has definitely gone down different paths. I would say that the biggest change has been the doors that have opened for me over the last 10 years, since doing television, which was never a path that I saw myself going down. I think a lot of people who find themselves career-wise in a kitchen are people who don't naturally gravitate toward being in front of a camera, or at least that's how it was when I started cooking.
It's potentially changed a little bit since then. I've been cooking professionally for about 25 years, but I think [what's changed is] the opportunities for travel and meeting inspiring people and getting to work with people and learning from people, making incredible friends all over the world, and the opportunities to get to see and learn more than I ever thought possible. The TV work is a completely different line of work for me. It's a really fun creative outlet, but for me, food will always come first.
Who gave you the toughest critique on the show, would you say?
They're all tough in their own ways. I have an immense amount of respect for all of the judges on "Top Chef." They're all there because they deserve to be, and they all have opinions that matter and make sense to me. Have I disagreed with a few things said here and there? Absolutely. It's inevitable to feel like you've poured your heart into something and not want to be criticized, especially on national TV. But I will say that every critique that I've gotten has made me a stronger, better chef.
So that's hard. You could pick out any one of them and say that they've been harder on me at certain times. That has to do with a matter of preference. Tom likes certain things and doesn't like certain things, and Padma and Gail like certain things as well. They're professionals, and they have opinions that they deserve to have.
Tom Colicchio seems to give really good constructive criticism.
Yeah, he's not hard on people for the sake of being cruel. He truly wants to see people succeed. And I think that's true across the board.
Williamson reveals what it's like working with Guy Fieri
What was it like competing on "Tournament of Champions"?
"Tournament of Champions" was the first time I ever stepped onto the Food Network. I guess that was almost four years ago for Season 1. I'm always up for a challenge. I'm always up for putting myself in an uncomfortable and unfamiliar space because I feel like that's the best way to challenge yourself to grow. As much as I said to myself, "I don't ever feel like I need to compete again," there's always that thing in the back of my head. 
I'm a naturally competitive person. I enjoy the thrill of putting yourself in that unpredictable place. I also feel like I'm pretty good at it. So what did I have to lose? It was my first time on the network. I was competing with a bunch of friends who[m] I knew I not only had respect for but who respected me in return. So I thought it would be fun, and it turned out better than my wildest dreams, and I came back and did it again, and again. I have one of those naturally competitive brains that want to constantly do better than they've done in the past.
As host, did Guy Fieri have any helpful advice for you or anything during the show?
Always. The most helpful advice Guy ever gave me was actually sitting at [the] judges' table at "Guy's Grocery Games." He told me to slow down, to really be thoughtful about my commentary. As much as I always thought that I had done so, judging in the past, there's something to be said about slowing down. The people who you're judging — I've been in their shoes, and they're pouring their heart out in a very uncomfortable situation to present something of their craft to you.
They deserve nothing less than for their critique to be thoughtful and well thought out. There's something really wonderful about someone who has seen what you've done and is taking the time to let you know that they understand it and why you've done what you've done.
Brooke Williamson divulges her favorite fast food order
Who is the one chef you'd want to cook you dinner and why?
I don't have just one chef that I would want to cook me dinner. Actually, I'm happiest when I'm cooking with other chefs.
Who's the one chef you'd want to cook with?
That's a tough one. I don't know that I can single that out. I feel like I've been asked this question before and I can never come up with the proper answer that people want to hear because stylistically, there are so many different worlds that I want to dive into and be a part of that it's really hard to choose just one. I have a lot of friends in the industry, too. Cooking with, and for, and receiving [knowledge] from, all of the chef friends in my world really make[s] me the luckiest person in the world.
What's the one ingredient you could never live without?
There isn't just one. I will say that I definitely love a really good-quality fish sauce/anchovy juice, like an anchovy sauce. I love anchovies. I do find that I use anchovies a lot, but if you're going to give me one ingredient, it's probably going to be a good olive oil. [It's] sitting on my counter in front of me right now.
What is your favorite fast food item and at which restaurant?
That's tough. I was traveling yesterday, and I was trying to be good and didn't indulge, but my son got my go-to order — it was orange chicken and fried rice at Panda Express. Although I will say I'm a sucker for a Crunchwrap Supreme at Taco Bell.
Working with her husband and if she wants her son to join the business
You own your current restaurant, Playa Provisions, with your husband. What's it like working together, and would you want your son to one day join the family cooking business?
Yeah, my husband and I own Playa Provisions together. We have worked together our entire relationship. It's the only way we know each other. We've been doing it for 20 years, so I think it goes pretty well most of the time. I actually think we make really great partners and compliment each other in a lot of ways in a professional environment.
Do I want my son to follow in my footsteps? Only if he wants to. I would never push that on him. It's a really unrewarding industry when you're not passionately married to it. I would never want to force him to be a part of an industry that is so difficult. At the same time, would I love if he wanted to be a part of it in some way that made him happy? Absolutely.
Does he have some interest in it right now?
He's cooking. He loves food. He loves a fancy restaurant experience. Do I think that he has some sort of innate, inherent passion for the business? I don't. Not in the way that I saw in myself at his age.
Is there anything else you want to add or any other projects you have in the works?
Competition cooking [is] something that I can't seem to get away from, probably because I actually love it so much. I have a new series coming out [on] September 27 called "Bobby's Triple Threat" with Bobby Flay. Michael Voltaggio, Tiffany Derry, and I are Bobby's team of titans, that compete against other chefs coming in to try and take us all down. I'm really excited about the show. I think it's going to be a really fun, beautifully food-driven, competitive show.
To learn more about Ziploc Endurables, you can visit Ziploc's website. The Food Network's "Bobby's Triple Threat" premieres on Tuesday, September 27.
This interview has been edited for clarity.