What Happened To Hungry Harvest After Shark Tank?
For more than a dozen seasons, ABC's reality hit "Shark Tank" has shown us hundreds of hopeful entrepreneurs. They are given the chance to pitch their maybe-million-dollar ideas to a room full of Sharks to see if anyone bites. The "Sharks" in question are a panel of uber-successful businesspeople consisting of QVC queen Lori Greiner, The Learning Company co-founder Kevin O'Leary, fashion guru Daymond John, real estate mogul Barbara Corcoran, Herjavec Group founder Robert Herjavec, and billionaire owner of the Dallas Mavericks Mark Cuban (via Shark Tank Products). The Sharks have the opportunity to make the contestants an offer to invest a large sum in the fledgling companies in exchange for an ownership share in those companies.
Sometimes the products pitched are so compelling that the Sharks fight over who can make the best offer, and sometimes the entrepreneurs leave the tank empty-handed (though walking away without a deal doesn't necessarily mean a product is doomed, per Insider). Either way, those young companies can go on to sink or swim with or without the Sharks' help after they leave the tank. The approach of the new season on September 23 has fans wondering whether their favorites sank or swam out on the open ocean. So if you're finding yourself wondering things like what happened to Milk and Brookies after Shark Tank, let's explore how season 7's Hungry Harvest fared after the show.
What Hungry Harvest brought to the table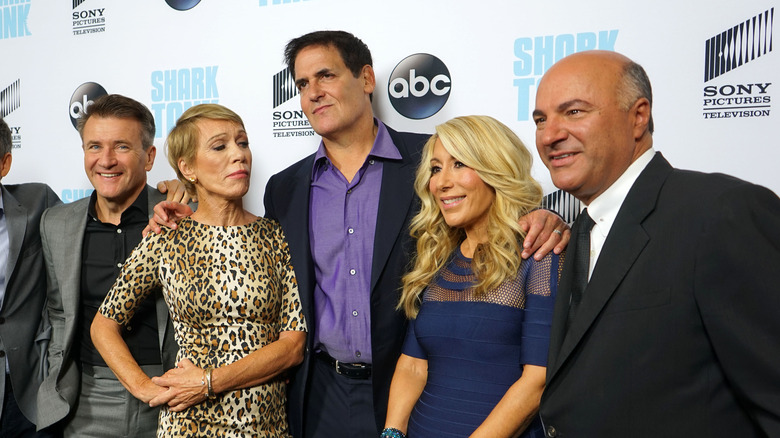 Kathy Hutchins/Shutterstock
In January 2016, Evan Lutz took to the Tank to introduce his company, Hungry Harvest (per Shark Tank Products), a fruit and vegetable delivery service that Lutz said seeks to solve two problems in one. According to the USDA, up to 40% of the food supply becomes food waste. That includes perfectly usable produce that never reaches consumers, either because it isn't pretty enough for the produce aisle or because of grower surpluses. Many have seen the photos of how Australia is dealing with its avocado surplus (dumping giant piles of avocados). Well, Lutz's business aims to simultaneously curb and take advantage of that kind of behavior here in the U.S. by making deals with farmers and wholesalers to buy their huge cache of ugly surplus vegetables at a discount, selling it to consumers at below-grocery-store prices. Shoppers who choose Hungry Harvest's subscription delivery service save 20-30% over what they would pay for pretty produce at the grocery store. The company also donates 1.2 pounds of its ugly produce to those in need for every bag delivered.
While all the Sharks found Lutz's two-part mission to reduce food waste and reduce hunger in America admirable, it really spoke to Robert Herjavec, who made Lutz an offer for double his asking price ($50,000 for 5% equity, per Shark Tank Blog) because he liked the mission so much. Lutz accepted Herjavec's offer of $100,000 for a 10% stake.
Where are they now?
So what has Hungry Harvest accomplished with that $100,000 investment? From the looks of it, quite a bit. Although the $14 million capital infusion in 2020 can't have hurt (via Baltimore Business Journal). According to a press release, Hungry Harvest thought that partnering with a Shark would help expand the company's system. At the time, Evan Lutz was only operating in the Washington D.C./Baltimore area, but he hoped that the Sharks could help take his deliveries nationwide. Today, Hungry Harvest delivers throughout the Mid-Atlantic in New Jersey, Maryland, Delaware, the Philadelphia area, select areas in Florida and North Carolina, and in the Detroit metro area.
The company has also expanded its offerings, no longer just delivering produce. To add convenience for its customers, the subscription service also now offers additional selections from its Marketplace including branded pantry staples, branded kombucha, a selection of branded ready-to-eat veggie meals, and select name-brand grocery items, including a wide assortment of plant-based proteins. Hungry Harvest appears to have repositioned itself as a vegan and vegetarian destination. Surprisingly, despite the fact that a new study revealed food inflation is the worst it's been in 40 years, the produce delivery packages remain at the same price points they were when they appeared on "Shark Tank" back in 2016. According to Shark Tank Blog, as of 2021, this delivery service was looking at annual profits of $4 million. Not bad for a project some of the Sharks felt was too altruistic to succeed.