Disney's 2022 Halloween Food Lineup Looks Scary Delicious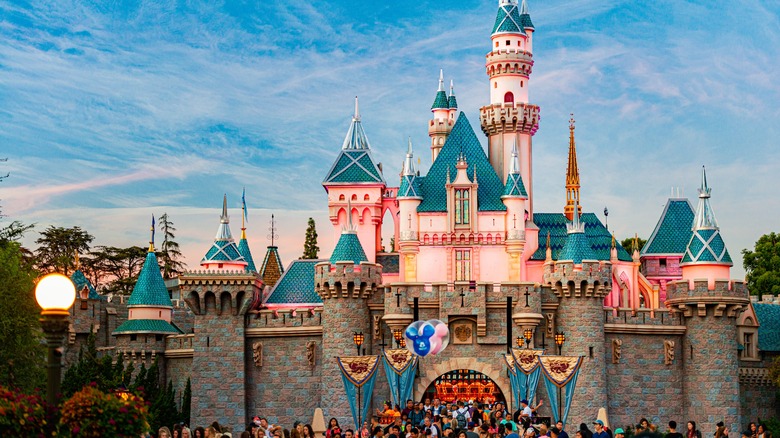 Konstantin Yolshin/Shutterstock
Disney theme parks are known for their thrilling rides and iconic costumed characters, but there's another aspect of the Disney experience that people might overlook: the food. Every year, Disney World in Orlando, Florida, hosts its annual Epcot International Food & Wine Festival, which runs from mid-July to late November. But while that's going on, over in California's Disneyland, Halloween-themed treats are the stars of the upcoming fall season.
According to Disneyland's website, visitors can expect a full-fledged Halloween theme throughout September and October. Disney characters will be dressed in Halloween attire and the park will be hosting events ranging from spooky to lively, including the park's Main Street Pumpkin Festival.
Disneyland has plenty of dining options as it is, but those looking to wine and dine their way through the Southern California theme park this Halloween season might be happy to know that there are plenty of spooky seasonal meals, snacks, and sweets on the menu for the next two months.
Visitors can indulge in countless Halloween-themed dishes
It will be no easy feat to taste test every single Halloween treat available at Disneyland between September and October. Depending on what you're looking for, though, you might be able to narrow down your must-try list.
Those who can't get enough of pumpkin spice should try Disneyland's pumpkin spice funnel cake, which is served at Stage Door Café and topped with a caramel drizzle and toffee bits, per the Disney Parks blog. Other pumpkin-spiced offerings include churros, which are available at various churro carts around the park, and, for a boozy treat, the Pumpkin Down Float at Ballast Point Brewing Co. in the Downtown Disney District. Visitors looking for spicy over sweet may be interested in the ghost pepper nachos at Lamplight Lounge, the spicy chicken sandwich at Carnation Café, or Cozy Cone's spicy mac and cheese cone.
In terms of dessert, the park's French Market Restaurant will have a Halloween cake, which contains purple-dyed sponge cake and raspberry mousse. For a cute Mickey treat, Jolly Holiday Bakery Café has put a bat-like Mickey Mouse face onto a bat-shaped cookie. If frozen treats are more up your alley, try the Minnie Witch Shake at Schmoozies! featuring mint chocolate chip ice cream, the "Darth by Chocolate" treat at Galactic Grill (red velvet cake and chocolate mousse — need we say more?), or the Rocky Road Halloween Sundae at Gibson Girl Ice Cream Parlor.
Halloween cocktails are on the menu as well
Disneyland's Halloween theme doesn't stop at sweet treats and savory dishes — the Disney Parks blog reveals that there are plenty of cocktails to indulge in, too. At the Hollywood Lounge, six new drinks are dropping for September and October, including the ghost pepper michelada, which gets a hint of heat from ghost pepper-infused syrup. Plus, the Lamplight Lounge will offer the cucumber-tamarind cocktail, made with tequila and garnished with a marigold.
Hearthstone Lounge is celebrating two holidays with its newest drink additions. Hearthstone will offer a Halloween cocktail from October 1 to November 1, made with vodka and apricot liqueur and enhanced with lemon juice, bitters, and an orange wheel. The spot will also offer a Día de Los Muertos drink containing tequila, Chambord, vermouth, Campari, and bitters. And for something a little different, hard kombucha fans can head to La Brea Bakery Café to experience the Midnight Painkiller, a tiki-inspired creation made with hard kombucha.
Most of Disneyland's food and drink specials run from September 2 through November 1, but if you're planning a specific trip, the Disney Parks blog post includes exact dates of when certain items will be available.