The Ingredient The Firehouse Subs Founders Can't Get Enough Of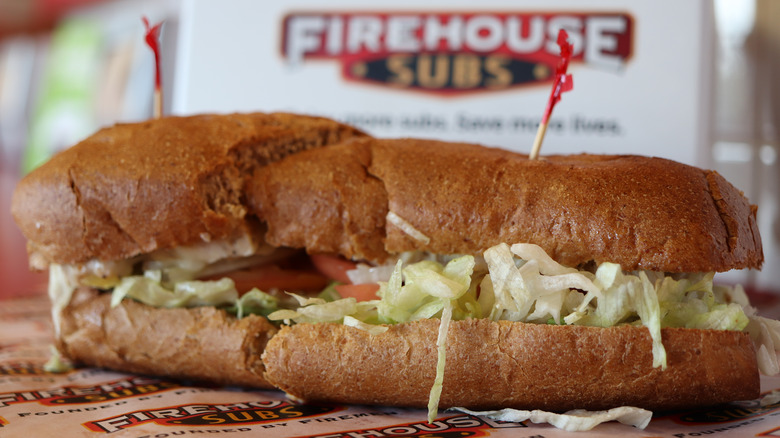 Deutschlandreform/Shutterstock
With more than 1,200 locations in North America, Firehouse Subs is a fast-rising sandwich chain with a heroic ethos. Founded by firefighting brothers Chris and Robin Sorensen in 1994, Firehouse Subs comes from humble beginnings. According to CNBC, the brothers started the sandwich chain with a collective $100 in their pocket. Despite facing financial hardships in its early days, Firehouse Subs was recently acquired by RBI for a whopping $1 billion, joining the Canadian company's roster of restaurants like Popeyes, Burger King, and Tim Horton's (per Franchising).
With more than 200 awards under its belt (per Firehouse), it's safe to say that Firehouse Subs' success is the result of making delicious sandwiches. The Sorensen brothers argue it's not just about what goes inside the sub, it's about how it's prepared. The chain's method is simple yet effective — steam the meats and cheeses to release flavor, then stuff it into a toasted sub roll (per Argus Leader). But there's one ingredient the Sorensens credit for bringing the sandwich together — mayonnaise. According to Thrillist, Firehouse Subs puts a healthy serving of mayo on almost everything simply because it's the southern way of making sandwiches.
Firehouse uses Duke's light mayonnaise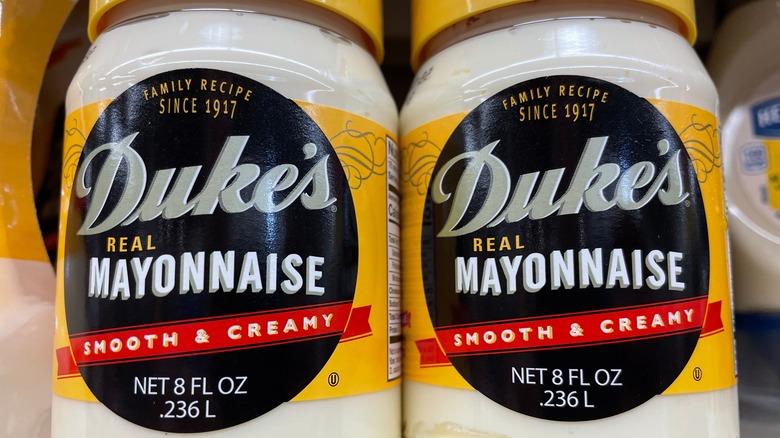 Billy F Blume Jr/Shutterstock
Duke's Real Mayonnaise is used, recommended, and downright adored by loyal chefs all over the south (per Duke's), and its flavor profile is so iconic that Lifehacker even shared a recipe on how to make your own. According to Southern Living, the mayo stands out because it's sugar-free and contains a higher ratio of egg yolks than most other mayos, making it rich, creamy, and less likely to separate when heated. The method seems made for Firehouse Subs and the chain's preference to use heat to concentrate flavor.
But the Sorensen brothers never really planned for mayonnaise to be such an integral part of their celebrated recipes, it was more of an assumed ingredient. The pair told Thrillist, "In the south, we put mayonnaise on everything, so it wasn't anything we even discussed." Unlike the original recipe, which only uses mustard, even a Firehouse Subs pastrami will come drenched in Duke's. The founders say, "in New York that's unheard of, it's mustard only. I like that, too. But all that drove us was our own personal tastes" (per Thrillist).
So next time you're chowing down on a melty Firehouse hero wondering just what keeps you coming back for more — you can thank Duke's light mayonnaise.