Why Southerners Swear By Piggly Wiggly's Alcohol Section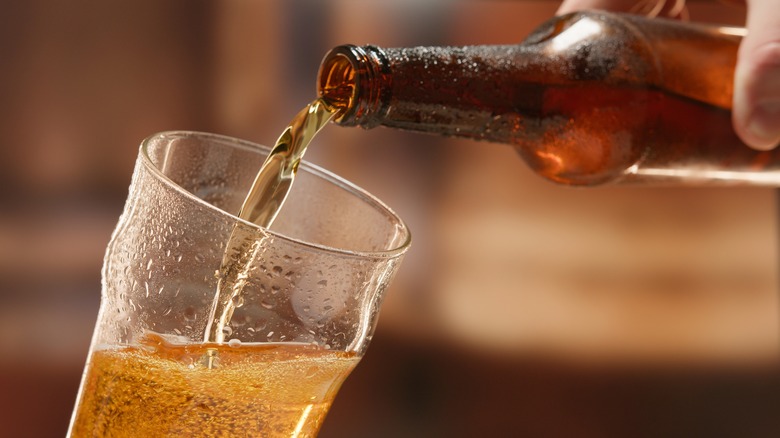 Kovtun Dmitriy/Shutterstock
Forever memorialized in movies like "Steel Magnolias," the Piggly Wiggly (Pig) has been a southern staple and bemusement to Northerners since 1916. Credited with creating the modern grocery store, innovator Clarence Saunders noticed how slow and ineffective the model was — which had clerks do the shopping for you. Despite all the naysayers predicting his failure, Saunders opened his first Piggly Wiggly in Memphis, providing customers with carts and baskets to fill themselves, a task unheard of until then.
With over 530 independently owned and operated Pig stores in 17 states in the Southeast, Pig shoppers are loyal. Customers demonstrate this loyalty on the golf course or around town with a revolving line of merchandise donning cheeky slogans like "Getting piggy with it" or "Get your pig on."
Aside from the memorabilia, shoppers love the Piggly for a myriad of reasons. While each store is different, customers say it's like shopping at a farmer's market or 'small-town food shop' with its regional and in-state products and slogan, "local since forever." According to Country Living, you can still buy a can of soda for $.50 to $.75, prices not seen since the 1980s. For those looking for something stiffer, customers rave about Pig's alcohol section, and for a good reason.
Piggly Wiggly's exceptional craft beer and wine selection
According to Southern Living, Piggly Wiggly stores across the South impress customers with an exceptional craft beer and wine selection. Some Pig franchises contain idyllic wine cellars and offer tasting nights. Other locations stand out for the beer selection, offering customers a growler station to fill their 64-ounce bottles with local craft beers or a wall of 20 beers on tap, as in Homewood, Alabama.
Its alcohol selection seems to be an intelligent business decision for the Piggly Wiggly since overall beer sales were up just 1% nationwide in 2021 compared to the 8% craft beer sales grew (per Brewers Association). Sales from craft brews amounted to $26.8 billion, a 21% increase over 2020's numbers. Forbes reports the wine industry is doing just as well, with wine sales reaching $78.4 billion in 2021, a growth of 16.8%. 
Piggly Wiggly may not be the largest grocery store chain in the country or offer as many products as bigger supermarkets, but it's referred to as 'the supermarket of the south' for a reason. Pig's small-town appeal is part of its charm. Offering a 5% discount to senior citizens on Tuesdays and Wednesdays, the supermarket is known for its friendly staff and local vibe per Country Living. Vacationers can rely on the Pig for the best of the south's food and craft beer specialties, which you can find on over 160 posts on Instagram by searching PigglyWigglyCraftlyBeerly.