Rachael Ray's Top Tip For Cooking Fresh Sausages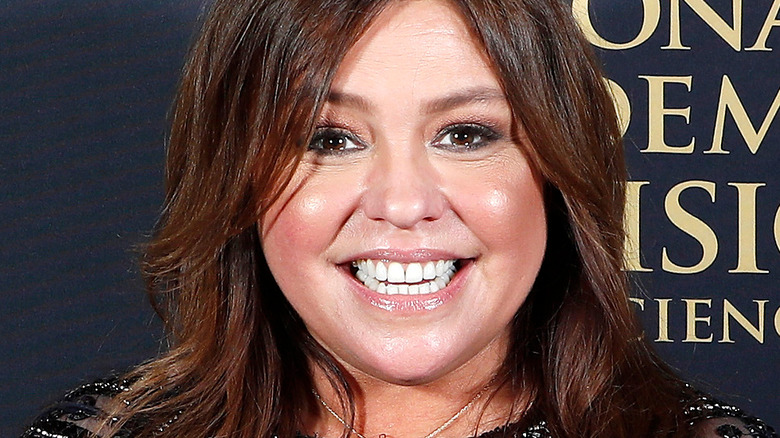 Joe Seer/Shutterstock
Rachael Ray is one of the most recognizable celebrity chefs in the world. An excellent cook, author, television host, and entrepreneur, her many credentials help define her as one of the most trusted personalities on Food Network. Between Ray's pet food line Nutrish, her iconic cookbook "30 Minute Meals," and her own television series "The Rachael Ray Show," the powerhouse chef offers the average home cook a great deal of advice and DIY tips to try for themselves.
Recently on "Rachael," she demonstrated step-by-step instructions on how to make savory french toast with basil strawberries and sausages (per YouTube). A decadent morning treat, the hearty meal is infused with umami flavor profiles and pangs of sweetness — a well-balanced delight of meat, fruit, and carbs accented with Ray's signature flair. While the brunch-inspired spread is a delicacy in and of itself, she also gave viewers a hot tip on how to make the perfect morning sausages.
A little water goes a long way
In celeb chef Rachael Ray's sweet and savory breakfast recipe for french toast with basil strawberries and sausages, sausage is the star of the show. According to Ray, the best way to get fresh sausages is by creating a crispy casing. Although it's a tedious task, getting the casing just right only requires a few simple steps.
First you pierce the natural casings with the tines of the fork, then transfer them into just an eighth of an inch of water as they begin searing (per YouTube). Finally, you wait for all of the water to evaporate before drizzling it with oil to create the sausage of your dreams. For those who don't eat meat, Ray offers an inclusive solution — you can follow the exact same process with your plant-based meats. As for white meat enthusiasts, she says chicken is a great substitute as well.
With this simple kitchen tip, and as long as you avoid these mistakes everyone makes when cooking sausage, you'll be enjoying some delicious links in no time.