Why Trader Joe's Stopped Selling Joe's O's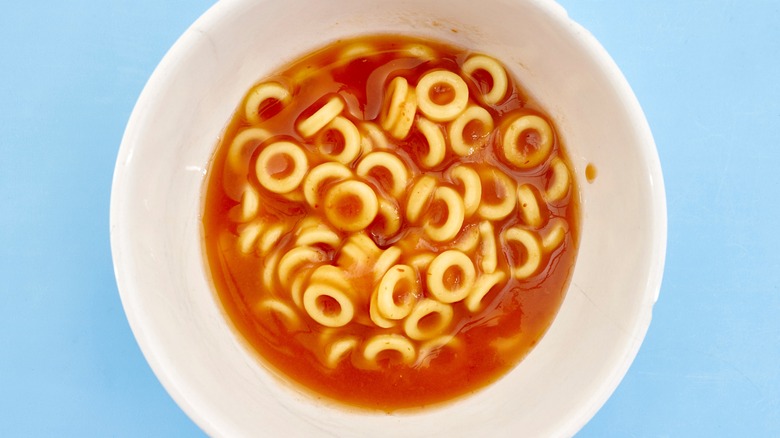 Kitch Bain/Shutterstock
We all know that shopping for groceries can be one of the most mundane parts of our week. However, some stores work hard to keep the shopping experience exciting. With its whimsical, nautical theme and varied selection of original gourmet food products, Trader Joe's definitely aims to be one of those stores. Despite having a humble 530 locations across the country, just a fraction of competitor Aldi's 2,070 (via Supermarket News), it's one of the country's most talked-about grocery brands — as well as its favorite discount supermarket chain, per a survey by Newsweek. Shoppers seem to agree that Trader Joe's isn't just a grocery store, but also a cultural phenomenon.
Many of the unique items found at the grocery chain have amassed devoted cult followings throughout the years. It seems that there will always be a steady demand for the brand's Everything But the Bagel seasoning, mandarin orange chicken, cauliflower gnocchi, and Speculoos cookie butter, to name a few. 
Sometimes, though, the dedicated following of a certain food item simply isn't big enough to keep that product on the shelf. Trader Joe's shoppers have seen more than a few beloved store-brand favorites come and go. Not fans of being surprised by a sudden disappearance of their favorite items, more than 30,000 of them follow an Instagram account dedicated to posting about upcoming TJ's product discontinuations. Tragically, according to a recent post, the time has come for Joe's O's pasta, a nostalgic pantry classic, to say goodbye to its residence at Trader Joe's.
Joe's O's, gone too soon
Even if you've never tried the product yourself, you've definitely seen Joe's O's pasta when walking by the canned goods section of Trader Joe's — that bright yellow packaging isn't easy to ignore. The O-shaped pasta in tomato and cheese sauce is like the organic Trader Joe's rendition of SpaghettiOs. Many shoppers consider the product among the best canned foods at Trader Joe's for its ample quantity of pasta in each can.
However, the canned pasta will no longer be sold at Trader Joe's, per an announcement from fan-run Instagram account, Trader Joe's to be Discontinued. Followers were devastated and confused by the news. They expressed their sorrows with comments like, "This makes me so sad. I love these!" and "Ok why? They are SO good." The announcement has been corroborated on multiple internet threads devoted to Trader Joe's, including a subreddit post where a TJ's crew member confirmed, "They're definitely discontinued."
Considering the positive reception of Joe's O's, why would TJ's pull the cans from its shelves? Although the company has not released a statement on its decision to discontinue Joe's O's, specifically, its website offers an apologetic explanation for why some beloved products get the axe: "Our mission is to bring you the best quality products at the best prices. To do this, we have to manage our store space smartly. If a product is not earning its spot on our shelves, then we discontinue it to make room for something new."
A light at the end of the tunnel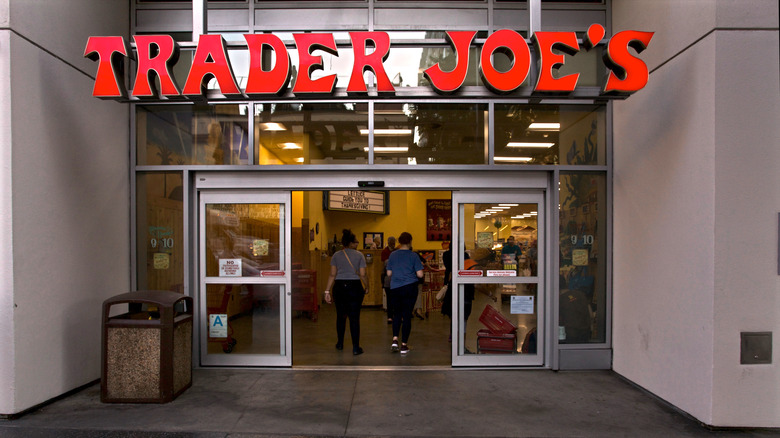 Elliott Cowand Jr/Shutterstock
Luckily for any devastated customers, the Trader Joe's website offers space for them to air their grievances about discontinued products and say whatever they can to convince the store why they still deserve that precious shelf space. If enough customers speak up about any particular product, there's a chance that the item could be revived. This wouldn't be without precedent; the store has been known to give its products a second life, even if just for a limited time. 
One favorite that briefly came back were the widely beloved pretzel bagels, which were pulled from shelves before making a brief return — to the delight of countless Trader Joe's shoppers — in 2021 (via Instagram). Other TJ's items that made short-lived reappearances were the wasabi mayonnaise and bakery carrot cake (via Reddit). 
With the store's history of listening to customers about in-demand items, there is hope that Joe's O's aren't gone for good, but this is obviously not a guarantee. As one customer advised on a video about the product, "Never fall in love with any Trader Joes item. It will only leave you and break your heart in the end." Considering someone else's review critiquing the thin texture and lack of flavor found in Joe's O's, maybe the canned pasta is about to be one-upped in a major way, but who knows? Only time will tell. On the bright side, there's now room for newer, and possibly even better, products on the ever-changing TJ's scene.