Magnolia Bakery Just Dropped A Skincare Product Inspired By Its Iconic Pudding
New York City's Magnolia Bakery may have earned its first big break from the vanilla cupcakes that made their titular appearance on an episode of "Sex and the City" (per Insider), but fans will tell you that the bakery's icon status owes everything to its famous banana pudding. While some might argue that it tastes best at a Magnolia location, the bakery has been more than generous with the treat's recipe. Made with fresh bananas, condensed milk, instant vanilla Jell-O pudding, Nilla wafers, and heavy cream (per Food Network), it's fairly simple to recreate at home. You can even score DIY pudding kits complete with branded cups.  
Magnolia has since introduced additional pudding flavors to its lineup, from red velvet to chocolate hazelnut banana to limited seasonal flavors (this summer it was orange cream soda). For their latest roster expansion, the bakery is mixing things up by tapping into the world of skincare. 
A cleansing exfoliator from Magnolia Bakery x TULA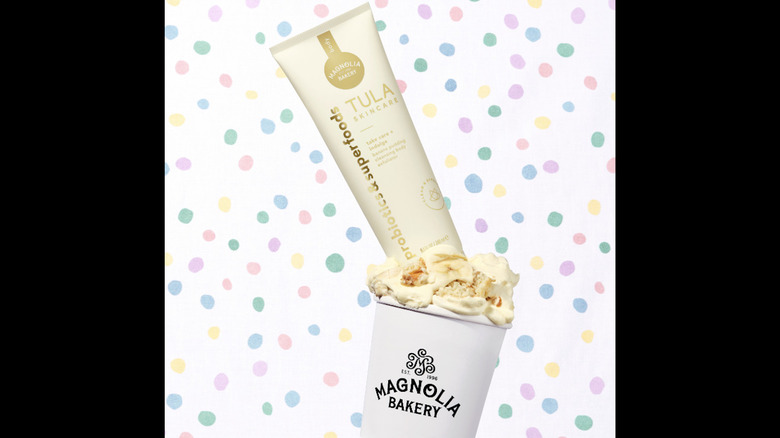 Magnolia Bakery
Magnolia Bakery is making its mark on good-smelling shower products with a "banana pudding cleansing body exfoliator" made in collaboration with probiotic- and superfood-focused skincare brand TULA, per press materials. If you love the idea of sloughing off dry skin to reveal a smooth layer of epidermis that smells like bananas, Take Care + Indulge by Magnolia Bakery x TULA may be the product for you. 
TikTok users who hopped on the trend of using banana peels to target dark under-eye circles may be the first to espouse the cosmetic benefits of the yellow fruit. According to dermatologist Dr. Adeline Kikam, the natural tannins, phytochemicals, and vitamin A found in bananas might indeed give the fruit skin-brightening powers (per Today).
"The product itself combines the best of both brand's characteristics — clinically effective skincare and sweet indulgence," a rep tells Mashed. The banana-pudding-scented body cleanser is available for a limited time on TULA's website and online and in-store at ULTA Beauty.