The Bobby Flay Dish Even Rachael Ray Geeks Out Over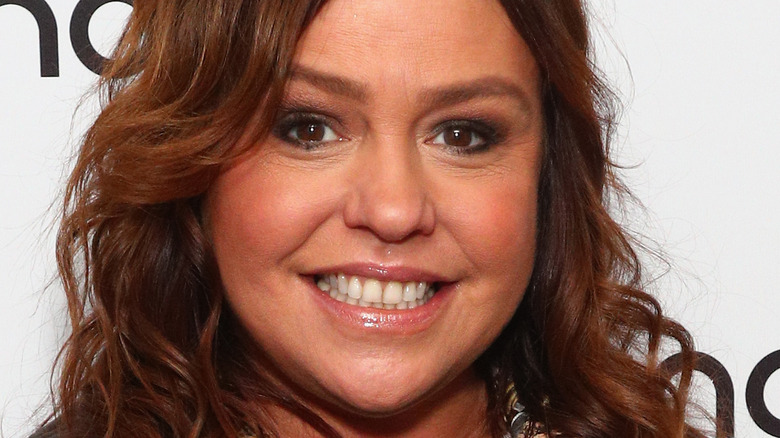 Astrid Stawiarz/Getty Images
Before they became household names, every celebrity chef fought their way for a place in the spotlight. Unsurprisingly, not everyone is friends in the cutthroat culinary world. In fact, some celebrity chefs have established themselves as bitter enemies. The rivalry between Gordon Ramsay and Marco Pierre White, along with the social media battle between Andrew Zimmerman and Tyler Florence, are some of many epic celebrity chef feuds.
Despite the rivalries and competition, other successful chefs have deep respect and admiration for one another. While Giada De Laurentiis and Ina Garten have established a friendship, as noted by The Travel, Bobby Flay and Michael Symon have been pals for decades, according to People.
Another dynamic duo with a solid relationship? Rachael Ray and Bobby Flay. Flay and Giada De Laurentiis may have lost to the "30-Minute Meals" star and Mario Batali in an epic "Iron Chef" showdown, but there is no love lost between the two famous foodies (although, there's still tension between Giada De Laurentiis and Rachael Ray). In 2019, the "Beat Bobby Flay" host made an appearance on "The Rachael Ray Show" to prepare a dish that had everyone's mouth-watering, including Ray's.
Flay's Cuban-style beef can be served on a sandwich or with his signature crispy rice
In the "Flay and Ray" collab that we've all been waiting for, Bobby Flay shows the New York native how to make Cuban beef sandwiches on "The Rachael Ray Show." First, the cookbook author combines his beef and "sofrito" in a pressure cooker. As Flay explains, sofrito is the foundation of many Spanish, Portuguese, and Latin American dishes, and typically consists of garlic, peppers, onions, and more (via Master Class). Flay then adds golden raisins, sherry, olives, and capers into the mixture to create a sweet and sour flavor known as "picadillo" in Cuban cuisine.
Ray could not contain her delight as Flay began assembling the Cuban sandwiches, adding the shredded beef, Manchego cheese, pickled onions, and cilantro." My mouth is watering!" Ray sings as Flay cuts into his masterpiece.
Flay also reveals an alternate way to serve the Cuban beef. For a delicious Sunday dinner, home chefs can pair it with the Iron Chef's signature crispy rice. In a podcast episode of "Always Hungry," Flay reveals that this unexpected dish is his competition go-to. "There's nothing like it. You will never eat rice any other way again," he shared on "The Rachael Ray Show."