Baskin-Robbins' New Flavor Combines Two Delicious Desserts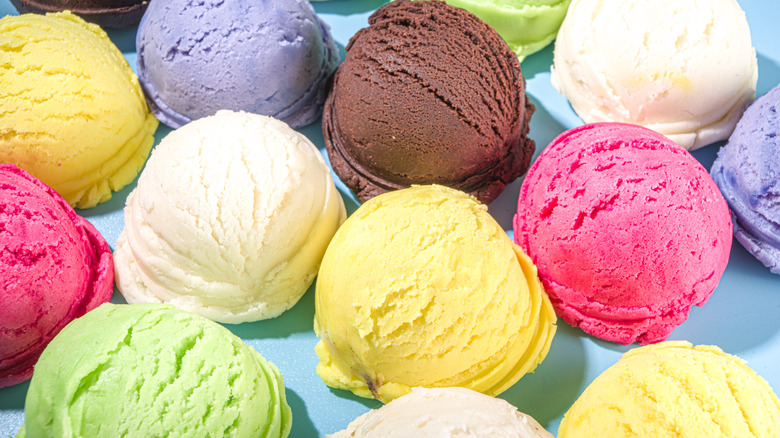 Rimma Bondarenko/Shutterstock
There is something magical about peering into an ice cream shop's freezer and seeing the vast array of colors and flavors. Seriously, it seems like every food stuff imaginable has been transformed into a type of ice cream. Do you count macaroni and cheese among your favorite dishes? Well, Van Leeuwen has a frozen dessert for you: Kraft Macaroni and Cheese French Ice Cream.
Is your idea of happiness a fist full of Cheeto-covered fingers? There was a dairy concoction for that too: Marble Slab Creamery announced in a press release that Cheetos Flamin' Hot Ice Cream was around for a limited time last year. Do you look forward to Thanksgiving Dinner all year long? The Ice Cream Shop in Rehoboth Beach, Delaware  once offered the holiday-inspired Beans, Green, Tomatoes, Potatoes ice cream, designed to replicate the fixings of your Thanksgiving meal. 
Whether you are the adventurous type who loves to try each flavor sensation that comes your way or you prefer to stick to traditional vanilla or chocolate, one can't help but be curious about how these offbeat creations taste. Well, it turns out that Baskin-Robbins' new flavor of the month will give you another ice cream to ponder, but perhaps unlike the odd savory selections mentioned above, this offering sounds promising.
Baskin-Robbins September Flavor combines two sweet favorites
Baskin-Robbins is bound to satisfy your sweet tooth with its newest offering — Churro Dulce de Leche. Yes, this September Flavor of the Month may be the perfect way to usher in the transition from summer to fall without a hint of pumpkin spice. What makes up a scoop of this novel flavor? While the ice cream tastes like a churro, chewy chunks of the traditional pastry and some crispy cinnamon sugar are thrown in as well so your palate gets to enjoy the full churro experience (via Baskin-Robbins). The addition of "gooey Dulce de Leche swirls" is meant to compliment these flavors. Baskin-Robbins adds that this can be served up in a Waffle Cone, a Sundae, or a Fresh Pack. 
If you are north of the 49th parallel, however, Baskin-Robbins is featuring a different Flavor of the Month. Canadians will be able to enjoy Nanaimo Bar ice cream throughout September. Based on this beloved regional dessert square, the company website describes it as consisting of "French custard flavored ice cream, coconut shreds, and graham cracker crumbles swirled with a ganache ribbon." 
While it may be hard to believe that September is well underway and that summer weather will soon be a distant memory, Baskin-Robbins is doing its part to make this transition more interesting. Just remember, September's Flavor of the Month (much like summer) will be gone in the blink of an eye.