Buffalo Wild Wings' New Offering Is Serving Up Double The Sauce, Literally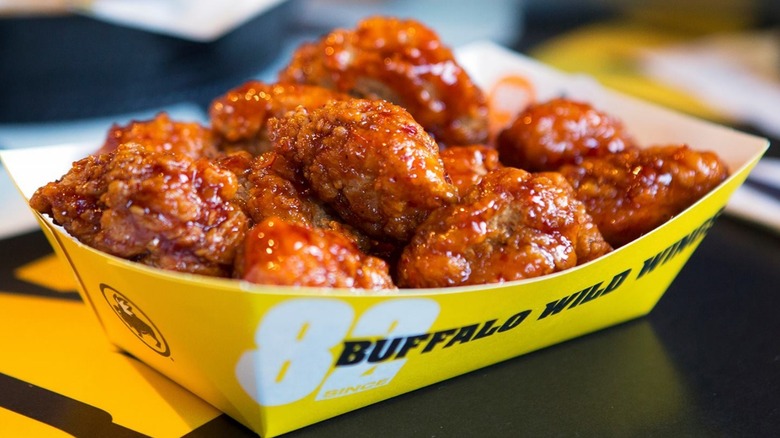 Buffalo Wild Wings
Football fans who are heading to Buffalo Wild Wings to catch some games this season will have some new options. Last month the chicken chain launched a new menu item dubbed the Boneless Bar Pizza. According to Inspire Stories, the new B-Dubs chicken-pizza hybrid is available in buffalo or honey BBQ for dine-in customers. Now, just in time for the 2022 NFL season (via NFL), Buffalo Wild Wings has teamed up with a rookie to give customers an extra sauce play to choose from.
According to a press release from Inspire Brands, Buffalo Wild Wings has partnered with Ahmad "Sauce" Gardner, a rookie cornerback and first-round pick for the New York Jets on a limited-time sauce called "Sauce Sauce." Though BWW may be ready to use Gardner's nickname for their latest sauce, his team is reportedly making him earn the name "Sauce." Jets Defensive C.J. Mosley explained, "He's Ahmad until the season starts and he makes a play" (via NY Post). Though fans will have to wait for the Jets' first regular season game to see whether Gardner earns his nickname, his new BWW collab is available now.
Sauce Sauce was inspired by Sauce Gardner's love of barbecue and hot sauce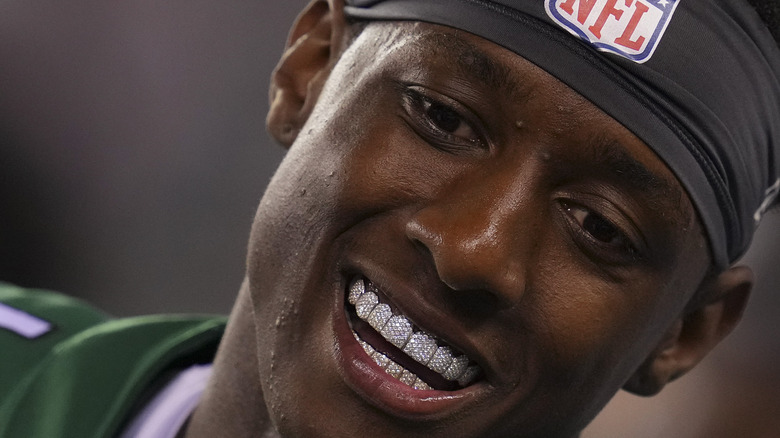 Mitchell Leff/Getty Images
When it comes to Buffalo Wild Wing sauces, customers have a lot to choose from. According to a press release from Inspire Brands, in addition to the current lineup of 26 sauces and seasonings, Ahmad "Sauce" Gardner's collab brings one more to the game. The press release explains Sauce Sauce is a "smokey, sweet, and spicy BBQ sauce" influenced by Gardner's own sauce preferences. Revealing why the partnership was a good fit, Gardner explained, "I have always known that everything is better with sauce."
Over on YouTube, Something New's Big Ben taste-tested Buffalo Wild Wings' Sauce Sauce on some wings. "Wow! I'm digging this," he said, describing the heat level as being around a four on a scale of one to 10. Of course, Gardner's social media accounts have also featured some Sauce Sauce content. One of his Twitter posts includes a BWW spot starring the rookie introducing himself and telling the audience, "I love sauce – sauce on wings, pizza, sandwiches, even sauce on sauce." Sounds like the name "Sauce Sauce" is working on a couple of levels.