Duff Goldman Had The Most Wholesome Reaction To A Museum Honor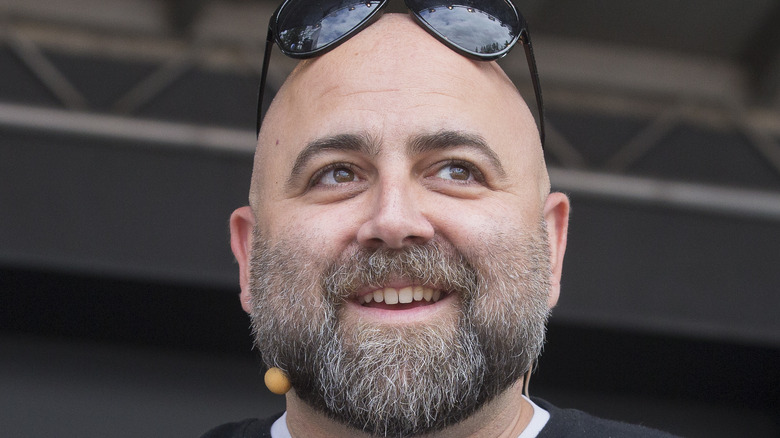 Sterling Munksgard/Shutterstock
Duff Goldman is a man with many accolades. In addition to his title "Ace of Cakes", he has accumulated quite the cooking resume over the years. Throughout his career, he garnered nominations for one of the most prestigious awards known to those in the food world, a James Beard Award (per The Baltimore Sun). But as the celebrity baker's fans know, he seems just as comfortable as a judge or host, like on "Kids Baking Championship," as he is earning accolades.
Goldman loves to give back to his community and other charitable organizations and as is evident from his social media presence, his family is his number one priority. His fans love to see the baker get the recognition he deserves, which recently happened when one of them visited a museum that honored him. Goldman's reaction was nothing less than what one might expect from the beloved personality (via Twitter).
Duff Goldman's photo was in the Smithsonian American History Museum
Recently, a fan found and tweeted a photo of Duff Goldman on the wall of the Smithsonian American History Museum. Apparently, the celebrity baker had not previously known about it. Goldman excitedly retweeted the post and noted how happy and honored he was to have his picture there, claiming, "The Smithsonian has been part of my life since the get go." This is not Goldman's first foray into working with the Smithsonian: Back in 2017, he was one of a handful of participants in their Food History Weekend as well (via Metro Weekly).
The Smithsonian even doubled down on their praise by tweeting that Goldman "aced it." Fans were equally excited for their favorite chef, with one commenter calling the honor "well deserved" and another congratulating him on "becoming immortal." Many commenters thought the honor was cool and one pointed out how proud his daughter will be of her dear dad when she grows up.