That Time GBBO's Nadiya And Mary Berry Told Off The Future King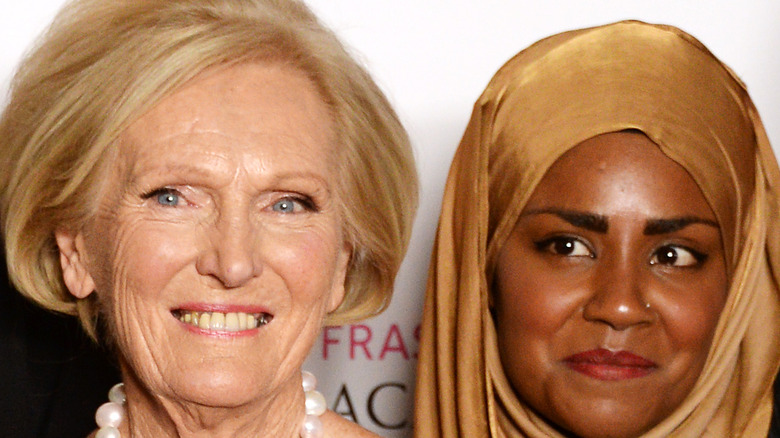 David M. Benett/Getty Images
Fans of the mega-popular feel-good baking show "The Great British Bake Off" probably already know a thing or two about Nadiya Hussain. She was born in Luton, Bedfordshire in 1984, and in 2015, Hussain was crowned the winner of Season 6 of "GBBO" (via The Sun). In the final episode of the season, Hussain baked numerous iced buns, a mille-feuille cake with raspberries, and a layer cake that she had called "My Big Fat British Wedding Cake." In a phoned-in interview with BBC News, the baker said that winning the show was "one of the best moments of her life." 
When talking about her win, the show's judges, Mary Berry and Paul Hollywood, had some nice words (per PBS). Berry said that she's proud of Nadiya, although she wasn't confident in the beginning, and her showstopper was "stunning." Hollywood said that Hussain won because of "her ideas, flair, emotions, and passion." Congrats, Nadiya. Since then, Hussain has published a few books, such as the cookbook "Time to Eat," which was also turned into a cooking show that can be watched on Netflix (via Food & Wine). And since 2015, there have been other exciting moments in Hussain's life, such as the time when she and Berry told off the future king of England.
Nadiya Hussain and Mary Berry shared their tips with Prince William and Kate Middleton
Penguin Books UK asked Nadiya Hussain to retrace her steps and react to some key moments from her life. In the YouTube video, Hussain reacts to winning the "GBBO," baking a birthday cake for the Queen, and being a guest at the "Graham Norton Show." And one special video that Hussain reacted to was a roulade challenge with Prince William and Kate Middleton, the Duke and Duchess of Cambridge. The BBC YouTube clip is a part of the 2019 show "A Berry Royal Christmas," in which Mary Berry visits charities in the UK during the festive Christmas season (via IMDB). 
Hussain says that making a roulade with Berry and the royals was "surreal" (per the Penguin Books UK YouTube video). Both Berry and Hussain are showing Prince William how to properly make the roulade and share their tips and tricks with the royals, which Hussain affectionately interpreted as "telling off the future king of England." We doubt that he took it to heart, as the atmosphere in the clip is certainly warm and friendly. Ultimately, both of the royals' roulades were good, so Berry concluded that "it's a draw," according to the BBC YouTube clip. No worries, Nadiya, because all's well that ends well.