Sheet Pan Dinners For Any Night Of The Week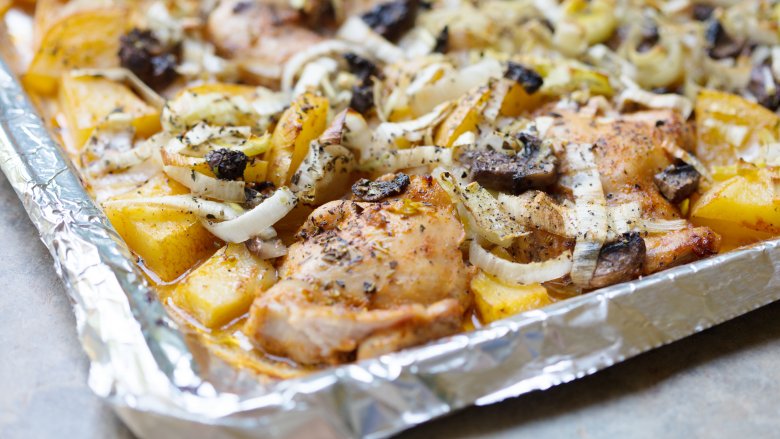 Shutterstock
There are some days you just don't feel like investing a few hours in the kitchen to get a good meal on the table. We have you covered! If you have a sheet pan, there are a ton of delicious options that take minimal prep, next to no in-progress work, and almost no clean-up. Sound too good to be true? It's not, so let's talk about some creative sheet pan dinners that will have everyone raving (including you).
Spicy sausage, potatoes, and vegetables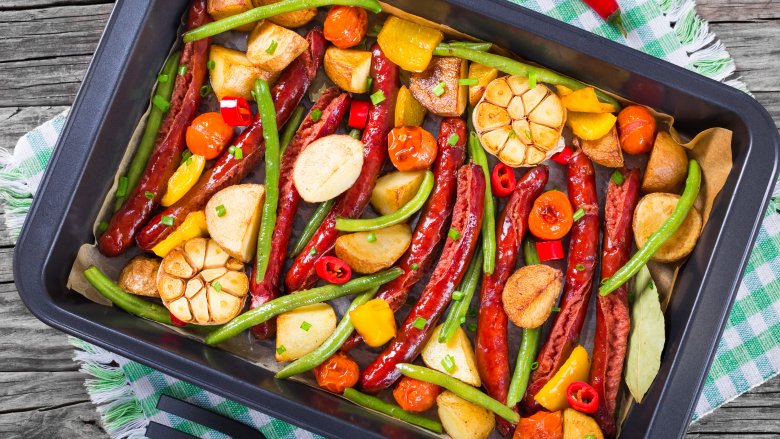 Shutterstock
We know you want to make sure your family always gets their veggies, and this super-easy sheet pan idea is a perfect way to do that. Use any kind of spicy, fully-cooked sausage you like, sliced into chunks. Add sliced peppers, onions, hot peppers, potatoes, or any other veggies that will compliment your sausage, pile everything on a sheet pan, and season as you see fit. Add some Creole spices to compliment andouille sausage, or get creative with chorizo and kielbasa. Roast until those veggies are the right texture for you, and this one simple idea can be an entirely different meal every time you make it.
A healthy version of chicken Parmesan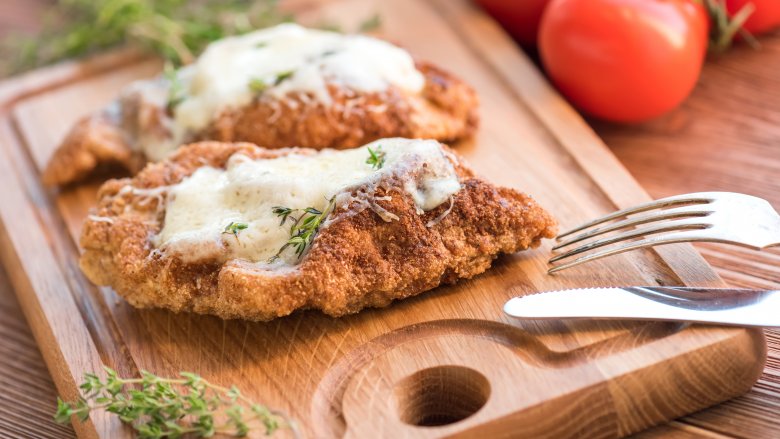 Shutterstock
Chicken Parmesan might be a family favorite, but it's no secret that it's not the best for you. Have no fear, you can do a healthier version right in your sheet pan! Coat your chicken in panko bread crumbs, transfer to your sheet pan, and start it baking. About 15 minutes in, take it out of the oven, and pile on whatever veggies you'd like. Roast until the chicken is completely done and your veggies are tender, then top your chicken with marinara sauce, add a little bit of cheese, and broil until everything is melted. All the flavor, none of the fat!
Chicken (or fish) fajitas and tacos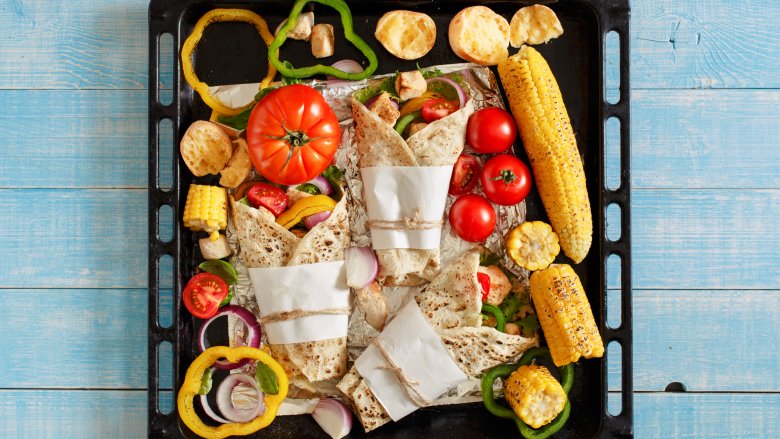 Shutterstock
Who doesn't love fajitas? We can talk choices here first, because this works just as good with thinly sliced and marinated chicken as it does with mild, breaded fish fillets. Marinate your protein of choice in a mixture of oil, lime juice, cumin, and chili powder, or you could opt for some traditional taco seasoning. Let them sit while you preheat the oven, then grab your sheet pan and arrange your meats in a single layer.
While your protein is getting a head start in the oven, prep your veggies. You can definitely go traditional with some sliced bell peppers and some onions, and you can also add things like freshly sliced jalapenos for an extra kick. Those sliced veggies are going to go on the sheet pan, too (give them a good mix so they get covered in the seasoning), and you can even heat up your tortillas on the same pan. Just wrap them in tin foil and put them in shortly before the whole thing is ready, and you'll have perfectly warmed tortillas for your flavorful fajitas. Not a fan of roasted veggies? Prep your meat and tortillas on the sheet pan, grab some shredded cheese and lettuce, and make tacos instead.
Pizza sticks, calzones, and garlic toast pizza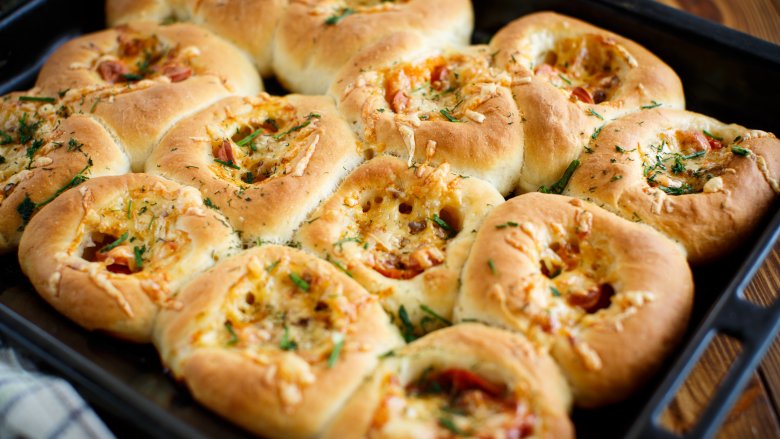 Shutterstock
In a perfect world, we'd always be making pizza from scratch, starting with the dough and our own sauce. It's not a perfect world, though, but fortunately you can make some amazing pizzas with the help of your sheet pan. We have a few great ideas on how to do it, too!
Grab that loaf of garlic bread out of the fridge, separate it into slices, and lay them out on your sheet pan. Top with sauce, cheese, and your other favorite toppings then bake for some crispy garlic pizza. If you don't have garlic bread, use naan, Pillsbury croissants or rolls, English muffins, or bagels, because we're betting you've forgotten just how easy and delicious bagel pizzas are, haven't you?
Orlan ahead and keep some puff pastry in the fridge, because this is the perfect place to use it. Premade dough might seem like a no-no, but when you're in a hurry it makes great sheet pan calzones. Just fill, fold, sprinkle with a bit of cheese, then bake for a quick and easy meal no will complain about.
Marinated tofu and veggies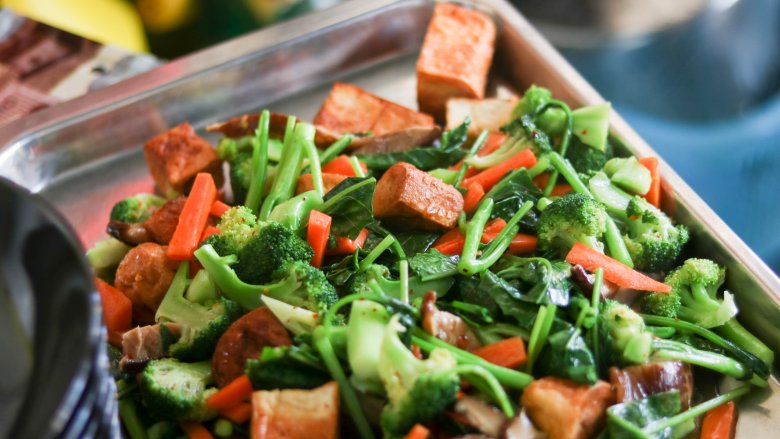 Shutterstock
You definitely don't need to be a vegetarian to try to make a few more meals meat-free, and it's easy to do with a little planning ahead and a tofu-based sheet pan dinner. The key is marinating your tofu for as little as 10 to 15 minutes before popping it in the oven so it's infused with the flavors you choose — and tofu is all about carrying flavor.
Let's say you choose a simple citrus marinade, for something that's light and flavorful. Drain your tofu after letting it marinate, then chop your veggies and toss them with some of that same marinade. Lay everything out on a sheet pan (and don't forget to add some salt and pepper to that tofu), then roast until the tofu is as browned as you'd like it. It's quick, easy, healthy, and if you're looking for a recipe that will help your family get over tofu's occasionally strange texture, this just might be it.
Savory strudels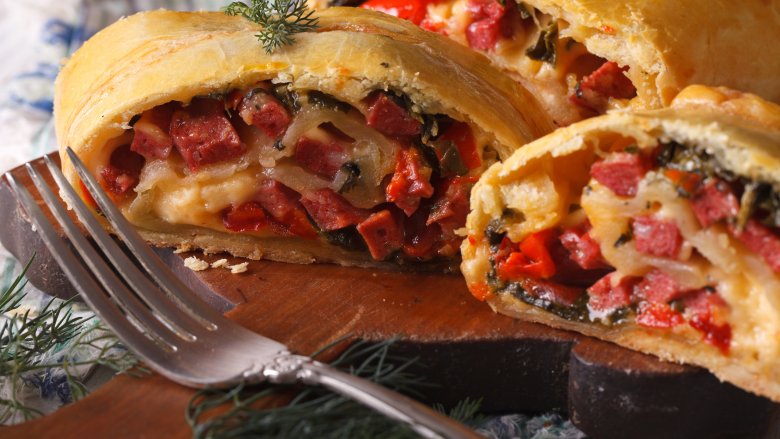 Shutterstock
Phyllo dough might not be a staple item you pick up at the grocery store, but it absolutely should be. Use it just once to make a savory, sheet pan strudel and you'll be making sure you always have some on hand.
Lay your phyllo dough out on your sheet pan and brush with butter to prep it, and you'll find it's perfect for rolling almost anything you want into a delicious, easy-to-make strudel. The sky's the limit, but for some ideas, how about ham and cheese, long grain wild rice and chicken, feta and spinach, or cheese and mushrooms? We can't even stress just how many possibilities there are here, so let's talk about a few more. Try ground beef and horseradish, chicken and vegetables, turkey and quinoa, butternut squash, cheese, and leeks, or how about a meatball and sauce strudel? It's hot, hearty, and if you have a fridge full of leftovers you don't want to waste, savory strudel might just be your answer.
Grilled cheese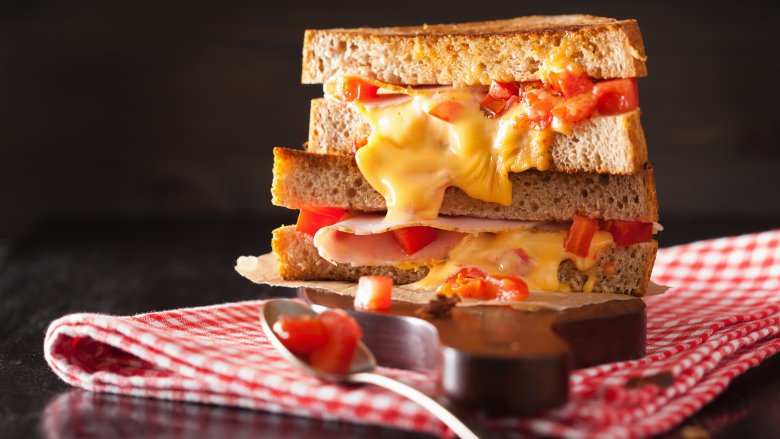 Shutterstock
Making grilled cheese on the stovetop is easy, but making it in a sheet pan is even easier. You can't go wrong when you have a whole family to feed quickly, so let's talk about how we turn this classic sandwich into a whole meal. Prep your sandwiches just like you would on the stovetop, only lay them out in the sheet pan instead. After adding your cheese and toppings, invert another sheet pan over that one, and you have a super-hot set-up that's going to make seriously amazing grilled cheese.
As far as fillings, the sky's the limit here, and you can make this one into a full meal by doing some crazy stuff like adding thin slices of potato, strips of bacon, and whipping up a creamy dipping sauce for a sandwich with all kinds of baked potato flavor. Pile pastrami and sauerkraut on top of that Swiss cheese for a Reuben, add some slices of roast beef or ham, and you won't even need a bowl of soup with these delicious sandwiches.
Cheese-and-veggie melts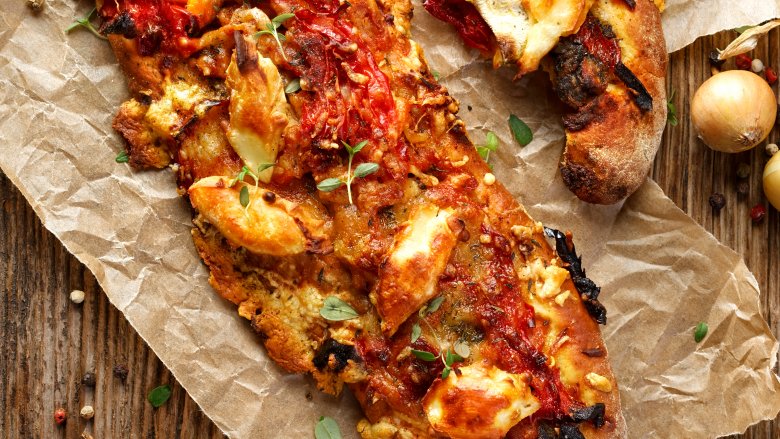 Shutterstock
Sometimes, you're just in the mood for something light. For those nights, a veggie melt — open-faced or in sandwich form — might just fit the bill. Hit up the bakery section at your favorite grocery store for a loaf of fresh bread and when you get home, choose your veggies and roast them up in a sheet pan. Use another sheet pan to prep your bread, top with your roasted veggies, cover with cheese, and broil the whole thing for just a few minutes until everything's melted together. Fast, delicious, and just what you're looking for when you don't want a huge, heavy meal.
An Irish breakfast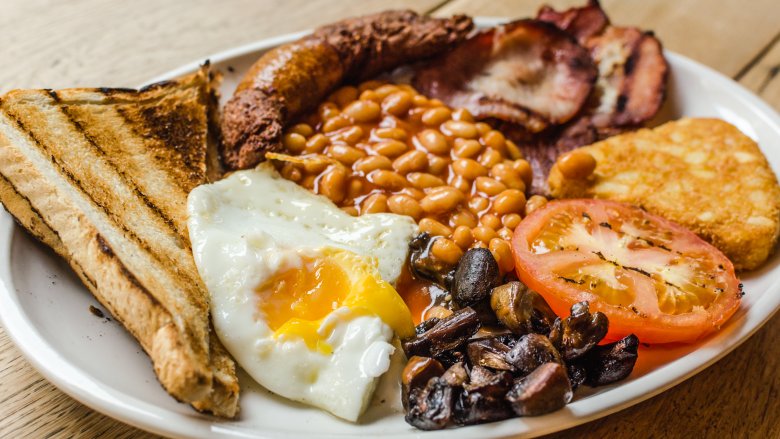 Shutterstock
A full- or half-Irish is typically served for breakfast, but there's no denying that sometimes, breakfast for dinner is just what you're craving. If that's the case, you can cook up almost everything that's served in a traditional Irish breakfast right on a single sheet pan.
You'll need tomatoes, mushrooms, sausage links, bacon or rashers, black and white pudding, and a few eggs. Oil up your sheet pan, cut the tomatoes in half, and core them before putting them on the pan. Roast for around 15 minutes, then add sausages, bacon, mushrooms, and the puddings, then pop it back in the oven until it's almost done. Crack your eggs over your meats, then it's back into the oven until the eggs are done just the way you like them. By then, the rest of your meats have crisped, and all that's left is to make the toast for sopping up the last delicious bits of runny eggs.
A hearty ratatouille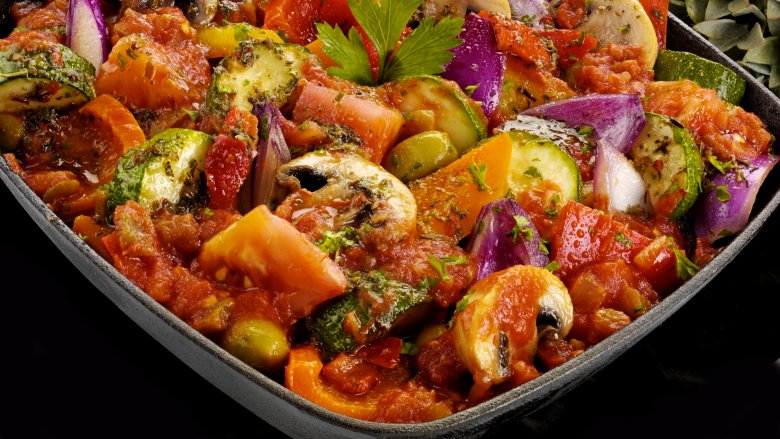 Shutterstock
Ratatouille is another European dish that you may never think to add to your regular rotation, but with the help of a sheet pan and your oven, you'll find it's easy. This French dish is a recent classic, and it's one you'll be able to adjust for your family's own particular tastes. Essentially, you're just going to be using your sheet pan to roast up slices of veggies like green peppers, zucchini, eggplant, onions, squash, and tomatoes, mixed with some traditional flavors like fennel, thyme, and basil. The key is to leave them in longer than you think you should, as it's the consistency that makes a proper ratatouille. You're going for slightly creamy, and if that's not your cup of tea, pull them out sooner and no one will be the wiser! Serve the finished dish over polenta, pasta or rice, and you have a filling and delicious dinner. 
Fish, potatoes, and vegetables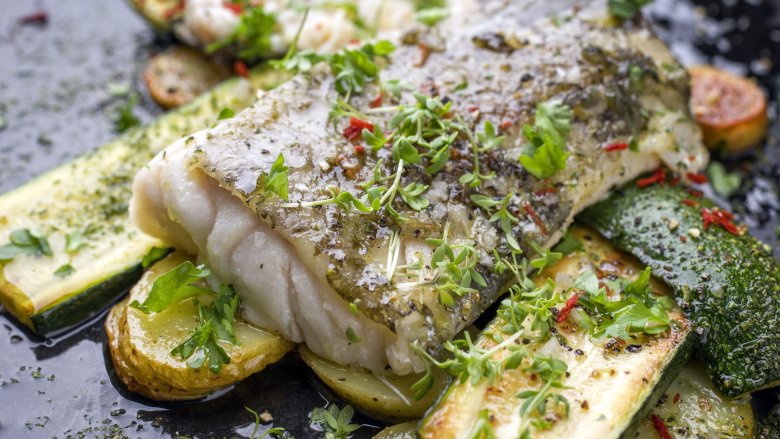 Shutterstock
It's easy to fall back on favorite proteins like beef and chicken, but there's no reason to — especially when a sheet pan works great for putting together a delicious fish meal. Start with some fish fillets (we like salmon and snapper to start with), and after prepping them in the marinade of your choice, just lay them on a sheet pan coated with a thin layer of oil and spices (or some of your marinade). Surround them with new, small, or fingerling potatoes, sliced in half the long way, and the vegetables of your choice. If there's skin on your fish, you can always opt to roast the whole pan until the veggies are done, then remove everything but the fish and finish it off under the broiler to crisp up that skin as the final touch.
Cauliflower and cheese grandma pie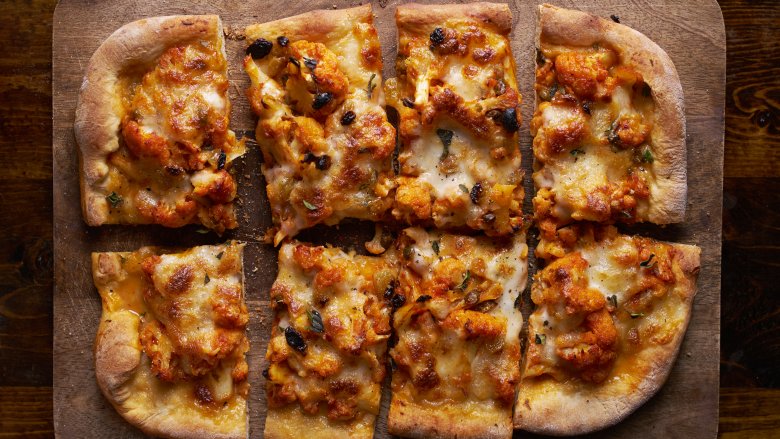 Shutterstock
It's not quite a pizza and it's not quite a casserole, so what is it? It's officially a grandma pie, and while we're going to talk about one particular idea, there's no limit to what you can put on this one. To start, take some pizza dough and stretch it out in the bottom of your sheet pan. Pop it in the oven until it starts to rise, then pile on your toppings. For something fairly healthy and completely different, try some cauliflower, cheese, anchovies, and garlic. Sounds amazing, right?
The major difference between a grandma pie and pizza is the absence of sauce and the texture of the crust, so you're going to want to leave this one in the oven longer than you would a pizza. You're looking for a super-crispy, browned crust that's not quite burnt, and that crust means it's going to stand up to any toppings you want to put on it. Try your favorite meats, dollops of fresh mozzarella, and if you have some leftovers sitting in the fridge, use those, too!
Loaded baked sweet potatoes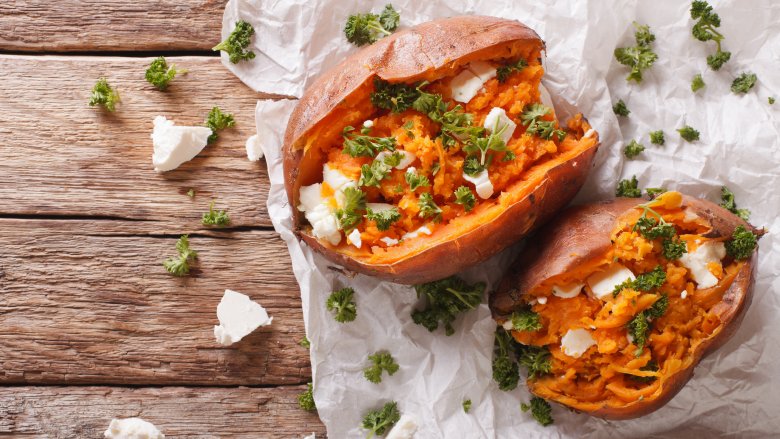 Shutterstock
If you love baked potatoes, you'll be super-excited to turn them into a meal on their own — with a twist! Pick up some of those giant sweet potatoes you always see at the store and wonder what to do with, and use those as your base. Split them, (scoop out some of the center, if you like), put them on your sheet pan, and pile them high with all kinds of goodness. Add everything from beans to fresh vegetables, drizzle with olive oil and red pepper flakes, and you'll have a meal that's sure to please. It's another idea that can be different every time you try it, too. Go for a Thai-inspired, peanutty loaded baked potato, use kale and quinoa for a light and healthy filling, or go traditional with bacon and a cream sauce. You can't go wrong!
Garlic roasted shrimp and broccoli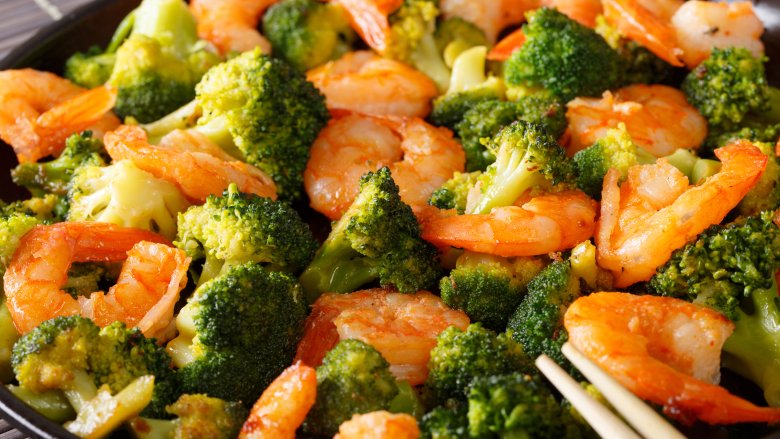 Shutterstock
A sheet pan dinner might be spur-of-the-moment, but it doesn't have to taste that way. Trust us when we say you can definitely whip up something that's worth using every last piece of shrimp in the bag, and it's easier than you think! Start your broccoli florets first, covered in oil and then covering the sheet pan. Give them a 10-minute head start in the oven while you prep your sauce, and you can adjust this to whatever flavor profile you're looking for. Something hot and spicy, maybe, or something Asian-inspired? Let's say you've decided on the latter. All you need to do to get this one sheet pan ready is whip together a few tablespoons of soy sauce (or tamari), sesame oil, garlic chili sauce, and minced ginger to taste. Toss in your uncooked (and prepped) shrimp with your broccoli so everything is covered in sauce, pop it back on the sheet pan and into the oven, and you'll be serving up a delicious seafood dish in less time than anyone expects.