The Cracker Barrel Post That Had Customers Up In Arms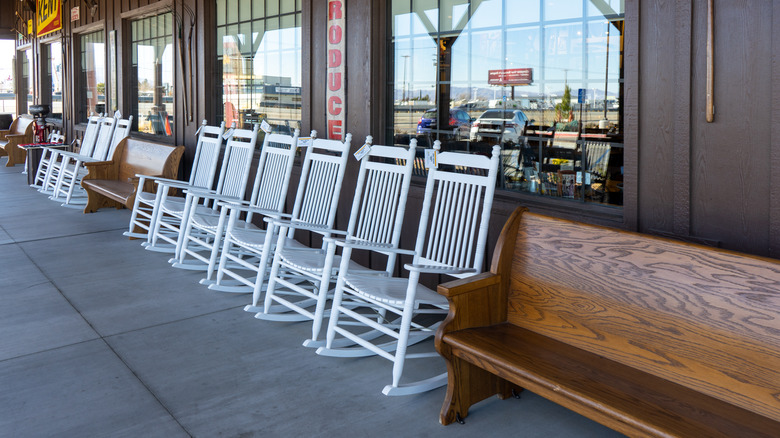 Felipe Sanchez/Shutterstock
Cracker Barrel has always sought to be a little bit different. Beginning in 1969, the first Cracker Barrel intended to provide people out on the road with a quick, affordable food option. It aimed to be a step up from fast food while still offering the comfort of a familiar restaurant. Founder Danny Evins also outfitted each restaurant with a gift shop for those who wanted to buy a slice of Americana or small souvenirs of their trip. The aim was to devise an experience that went above and beyond hearty meals at a low price point (via the company's About page).
Since launching, its model has not changed much. Cracker Barrel still boasts rocking chairs sitting on the porch, encouraging some good old-fashioned sittin' and maybe whittlin', while talking with the other patrons. You can still get a filling Southern homestyle breakfast for $9.99, per its menu. However, you might also find yourself caught in the middle of an airing of grievances, as Cracker Barrel experienced on social media, with several raising some customer service issues they have run into with the long-time American institution during what was meant to be a fun survey.
Cracker Barrel takes heat in a Facebook flame session
The attack on Cracker Barrel came out of nowhere. There was not a shot heard 'round the world or anything of the sort. Rather, Cracker Barrel made a survey post on Facebook, which simply asked visitors "Where's your picnic?"
For some reason, this post drew in several detractors of Cracker Barrel, with many citing unhappy experiences with the company. "I have been attempting to contact you for weeks by phone, messenger, and through your website. NO one has gotten back to me," said one displeased commenter. They went on to explain that they had gift cards that were not being honored at the store. Another person stated that they had a similar problem with gift cards. They claimed to have waited "two weeks" after being told that Cracker Barrel "would replace them," and, thus far, nothing had happened. To the credit of Cracker Barrel, the company did respond on Facebook, requesting more information in order to help.
Very few people rushed to the restaurant's defense in this instance. A handful of people did end up answering the initial picnic survey question, but with snarky comments like "On my couch, wearing my stretchy pants," or "In the park." Most were negative, with some taking this as an opportunity to renounce the brand entirely. "This will be my last time in a Cracker Barrel, portions have been cut, menu has changed on breakfast, and there is ZERO value here."
While this certainly does not spell death for the franchise, it is clear from the comments that Cracker Barrel has some very unhappy customers on its hands.