Buying Select 7-Eleven Products Could Help Football Fans Win Big
According to a study by market-research firm Ipsos, 52% of customers are more likely to remain loyal to businesses that offer contests (via Odenza). There are many reasons that businesses hold contests; For one, when customers fill out their information, it gives companies a better look at demographics and interests. Secondly, it's a good advertising strategy. Convenience stores seem to understand the importance of contests, as many of them, such as Casey's and 7-Eleven, have deployed the strategy to drum up business.
In May 2022, Casey's held a Summer of Freedom campaign that offered a range of prizes such as a float trip excursion to Missouri's Meramec River Resort, a Lake Week Excursion with a stay at Big Cedar Lodge, and the ultimate family barbecue (per Convenience Store News). Currently, 7-Eleven is offering the chance to win an XBox game pack. And even bigger than that, according to a press release, the company is also hosting a contest for the ultimate football fan.
You could attend 7 football games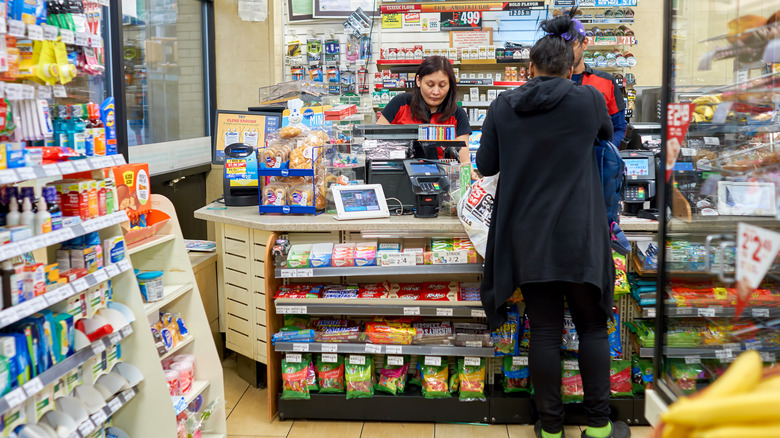 Sorbis/Shutterstock
7-Eleven has launched a Fuel Your Football competition that will award one lucky winner and a guest an all-expenses paid trip to seven games throughout 11 days (per PR Newswire). The trip must take place in the United States in 2023 and the winner can choose between football, soccer, or a mixture of both. If you win, you'll be able to pick your itinerary to ensure the games are right for you. To enter, you must download and join the Speedy Rewards or 7Rewards mobile app and make qualified purchases, such as Big Gulp beverages, pizza, Slurpee drinks, and all varieties of Lays, Monster, and Red Bull. According to 7-Eleven, by downloading the app, you earn points for free items each time you spend money.
If you don't win the trip, rest assured. There are plenty of other prizes available including a 65-inch smart TV and tailgate supplies. "We hope these exclusive prizes give football, soccer and all sports fans another reason to celebrate this fall as they cheer on their favorite teams," 7-Eleven executive vice president and chief marketing officer Marissa Jarratt said.