The Costco Tea That's Turning Heads In All The Right Ways
Jiujiuer/Shutterstock
Costco operates more than 578 stores in 46 states and Puerto Rico. The company earned more than $192 billion in annual revenue in 2021. The membership wholesaler is known for great food court deals, like its $1.50 hot dog and 20 oz. soda combo, which has not budged in price since 1985.
Despite rising inflation and soaring prices seen at grocery stores, Costco CEO Craig Jelinek has been adamant that the hot dog deal is cemented in stone (via CNBC). Costco's delicious pizza also registers at an affordable price — only $1.99 per slice or $9.95 for a whole 18" pie (via Fast Food Menu Prices).
The food court bargains are an extra draw to lure people into the store for a bargain meal, but Costco keeps people interested in shopping their aisles by offering an assortment of unique products and bulk buys. One such item getting a lot of Reddit attention is a tea mix called Balance Grow Honey Citron & Ginger Tea.
Bottomless tea mix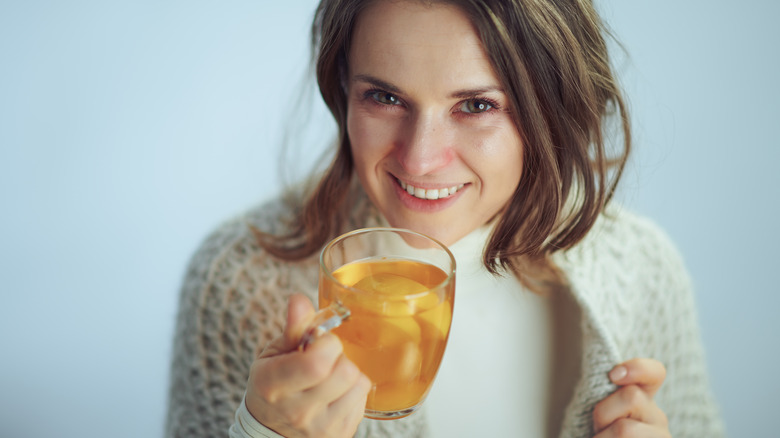 Alliance Images/Shutterstock
Redditor u/PaganButterflies posted a picture of the Honey Citron & Ginger Tea to the r/Costco subreddit, asking if anyone had ever tried it. The response from commenters was primarily positive. One Reddit user complimented its taste. "It's a nice sweet flavor. You can taste the citrus and ginger, but it's not overwhelming. A little goes a long way, so this lasts a very long time."
Another user echoed those sentiments and enumerated some of the tea mix's many potential applications. "Just so you know what you're getting into. It's been over a year and am ¾ full still. I've used it as marmalade, thrown in muffins or made a cake with it. Yes, it's tasty." u/Haunting_Hair_8311 concurred with the largeness of the 70.55-ounce jar, "I second this. We will likely never reach the bottom."
Yet another Redditor offered some advice on the best usage they had found. "It's great but very sweet. I generally put it in black tea, so it cuts the sweetness." Others even touted its medicinal benefits. "It's great and helped relieve my sore throat," said u/DancingOnACounter. "Just add it to hot water." 
Should you decide to give the Honey Citron & Ginger Tea a try, start with one jar and be ready for it to last for some time.