This Philadelphia Deli Is Older Than Philly Cheesesteaks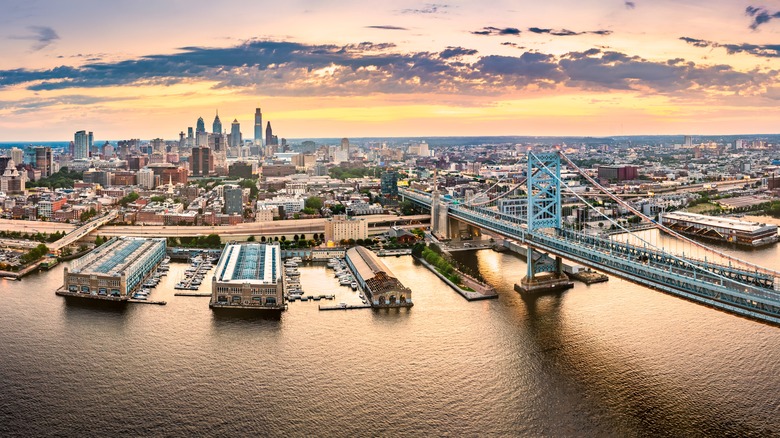 Mihai_Andritoiu/Shutterstock
Just as The Office cast Scranton into the hearts of TV viewers, It's Always Sunny in Philadelphia told viewers about the wonderful and fantastical land of Philadelphia. While real-life Philadelphia unfortunately doesn't include Danny Devito, Charlie Day, and all of the other unsavory and immoral characters of the Gang, this Pennsylvania city is well-known for a wide variety of cultural landmarks and traditions, especially when it comes to food. Be it digging into a fresh, hot Philly-style soft pretzel or enjoying a deli-fresh Italian hoagie, Philadelphia is a melting pot of different foods from many different cultures. But perhaps the most beloved treasure of the Philly culinary scene is the cheesesteak.
The history of the cheesesteak is said to have roots in the long-standing Philadelphia restaurant, Pat's King of Steaks. Philadelphia Magazine reports that Pat's was the first to invent this steak sandwich by adding strips of thinly-sliced scraps of meat into a hot dog bun. Cheez-Wiz would later be added to the steak sandwiches around the 1960s (via What's Cooking, America?). Other restaurants in the Philadelphia area, such as Geno's, claim to have the best cheesesteaks in town as well, leading to some debate as to who truly crafted that most beloved sandwich.
But there is one place that is older than both Pat's and Geno's, and as such, predates the cheesesteak. What is this legendary place and what makes it so special that it remains a Philly institution older than the humble cheez-wiz sandwich?
Look for Ricci's Hoagies in South Philly
According to LoveFood, Ricci's Hoagies may resemble your average corner deli, complete with plastic lawn chairs out front and no-frills brick exterior, but it's actually one of the oldest restaurants in the South Philadelphia area. The deli was founded in 1920, years before Pat's King of Steaks invented what would become the modern-day cheesesteak. What exactly makes up this humble but legendary deli that has made it withstand the test of time?
A YouTube video review on Ricci's Hoagies seemed to give the deli glowing praise, claiming that there are "so many layers of greatness" packed into its hoagies. The reviewer even went so far as to say that something like Ricci's Hoagies needed to be "cherished," raving that Ricci's seemed to have earned its 100-year-status. Food Network also spoke highly of this modest Philly restaurant and its classic Italian hoagie, giving it the title of the "#1 Deli in the State of Pennsylvania" (via YouTube). 
If you don't live in the Philadelphia area but still want to at least give Ricci's Hoagies a try, the restaurant is selling its sandwiches on Goldbelly in packs of 2 to 4, meaning you can get your hoagies anywhere in the country. Of course, you're also probably wondering what makes Philadelphia such a prime place to get cheesesteaks and hoagies. While there are many answers, the truth is you won't be thinking about that while you enjoy one.