Noel Fielding's Heartbreaking, Personal Tribute To Queen Elizabeth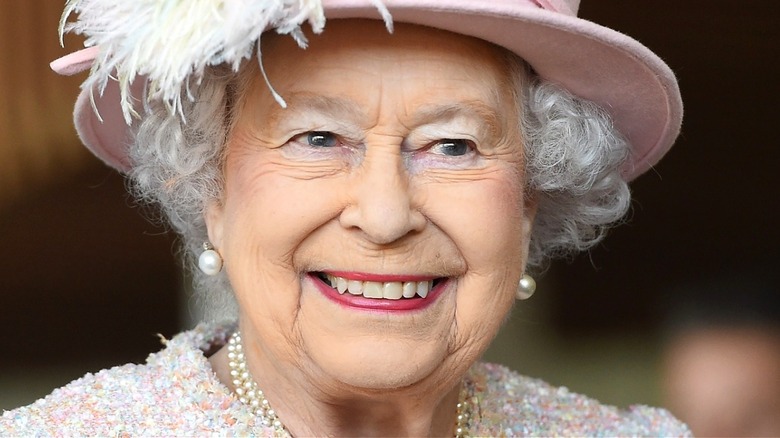 Stuart C. Wilson/Getty Images
September 8 marked the end of the reign of the U.K.'s longest-running monarch, Queen Elizabeth II. The late queen died in her Scottish home at the age of 96 (per BBC), and people around the world are mourning her loss. U.K. inhabitants, in particular, may be feeling the lack of stability her death has cast over Great Britain's political foundation (per The New York Times).
Apart from attending in-person ceremonies and a vigil outside Buckingham palace, many public figures have turned to social media to relay their appreciation of the late queen. Former prime minister Boris Johnson paid his respects on Twitter, calling September 8 the "saddest day." And former President Barack Obama released an official statement on the same social platform, expressing his gratitude for Queen Elizabeth's time of service.
Political figures aside, celebrities all over the world are finding ways to show their condolences over Queen Elizabeth's death. Harry Styles conjured up a round of applause for the queen during a concert in New York. Celebrity chefs and judges also took the proverbial stage on Instagram to express their sadness. Gordon Ramsay shared a tribute for the queen, as did "GBBO" host Noel Fielding.
The GBBO host paid respect to the late queen
Anyone familiar with "The Great British Bake Off" knows it's just as popular overseas as it is in the United States. And following Queen Elizabeth II's Sept. 8 death, the "GBBO" judges are taking to social media to pay their respects. Longtime host Paul Hollywood shared a tribute for the queen on Instagram, as did host Noel Fielding.
Fielding, who's known for his work on "The Mighty Boosh," became the wildcard host added to the "GBBO" cast in 2017, per The Guardian. After the news of the queen's death became public, Fielding shared a new piece of his artwork on Instagram featuring a drawing of the queen standing on the moon with the caption "Rest in peace x." Rahul Mandal, the "GBBO" Season 9 winner, posted a heartfelt comment on Fielding's post, stating she remained in fans' hearts "with her bright, encouraging smile."
The drawing was a unique tribute, yet some followers of Fielding didn't support the post. One user stated "I thought you were better than this," while another referred to Fielding as "artistically open-minded but politically reactive." Still, many social media followers appreciated Fielding's depiction of Queen Elizabeth II, as the world at large copes with the loss.