Rosanna Pansino Is Returning To Fans' Screens With A New Fall Baking Show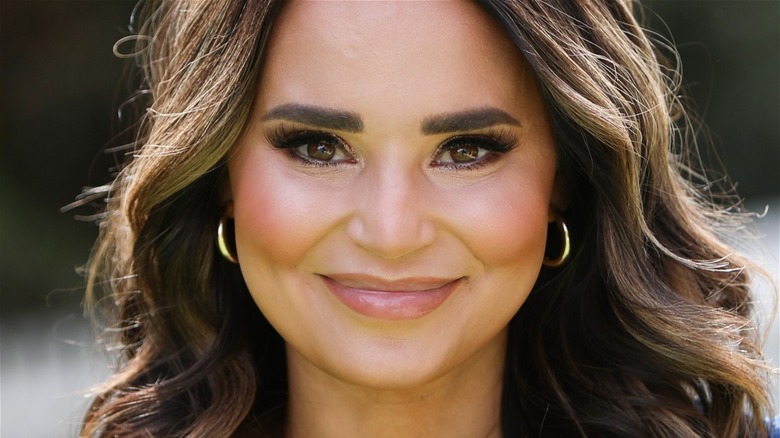 Paul Archuleta/Getty Images
As a successful YouTuber, Rosanna Pansino has turned baking from a nerdy obsession into a recipe for becoming a sought-after television personality in the food world. Since 2011, her "Nerdy Nummies" has greeted and maybe even stunned fans with whimsical, realistic, and visually impressive baked treats. Whether the viewers were drawn to pop culture references or making geeky treats, millions of people subscribed to her channel, which has amassed billions of views (via news.com.au). Pansino even sells various merchandise on her personal website.
That online success propelled Pansino into a bigger baking spotlight with the HBO Max series, "Baketopia." The series only lasted one season and has been removed from the streaming site, per Pop Culture. The site suggested that the Warner Bros., Discovery, and HBO merger led to some programming being cut. Still, Pansino's fans were eagerly awaiting her next project. As seen in a recent Instagram post, a new culinary competition will bring some fun and frights to the spooky season. Pansino joins the Food Network talent roster as co-host of the new "Halloween Cookie Challenge."
What is Halloween Cookie Challenge?
Food Network's "Halloween Cookie Challenge" is a new baking competition that is set to premiere on Monday, September 26 at 10 p.m. EST on Food Network and will be available to stream on Discovery+. Co-hosted by Rosanna Pansino and Jet Tila, each episode has five bakers who are looking to earn the title of Halloween Cookie Champion. As seen on Rosanna Pansino's Instagram page, the Food Network commercial features some spooky cookies such as spider-eating clowns, terrifying one-eyed creatures, and other desserts that are not for the faint of heart. These creations may not be for the kids' table. Based on fan comments about the post, many people are excited to watch and might be hoping for taste-o-vision.
On Jet Tila's Instagram page, a little more detail on the competition rules was revealed. Each episode features two challenges, which must impress the judges both with terrific flavors and stunning visuals. One competitor will earn the $10,000 prize and title. This Food Network show joins other Halloween programming, like "Halloween Baking Championship," "Halloween Wars," and, "Outrageous Pumpkins." With so many spooktacular offerings, "Ghostober" is looking frightful and delightful.