Guy Fieri Just Spilled Major Tea On His Iconic Style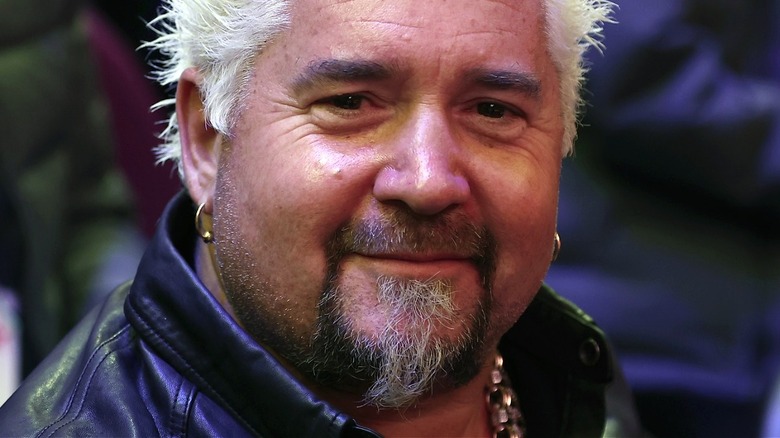 Arturo Holmes/Getty Images
Food Network fans far and wide can't claim they've never heard of Guy Fieri. The booming restaurateur has made countless appearances on various shows, including his own, since 2006 (per Food Network). Much of the star's financial success and popularity stemmed from his hit series, "Diners Drive-Ins and Dives" (via Forbes).
When you think of Fieri, there's a high probability you imagine the multi-million dollar chef with spikey bleached hair and a signature flame button-up, tooling around in a shiny red Camaro. While that fateful image is intrinsically tied to "Triple D," Fieri fans may have taken the iconic hairstyle a little too far over the years.
At one point, according to a Vice report, people could pay to name Fieri's hair follicles in exchange for exemplary certificates, though the celebrity himself was not involved in that business. At the height of "Diners Drive-Ins and Dives, there was even a Fieri-themed bar crawl in Manhattan known as "FieriCon." Countless crawlers dawned in fake blond wigs, bandanas, and loud shirts making their predicated stops in hopes of reaching Flavortown (per Vice).
Whether or not you appreciate Fieri's style, he makes no apologies for his iconic look. He may detest the flame-covered shirt most people associate him with, but he owns his appearance and talks freely about how his style has evolved or, in this case, remained fixed throughout the years.
The reasons behind Fieri's quintessential style choices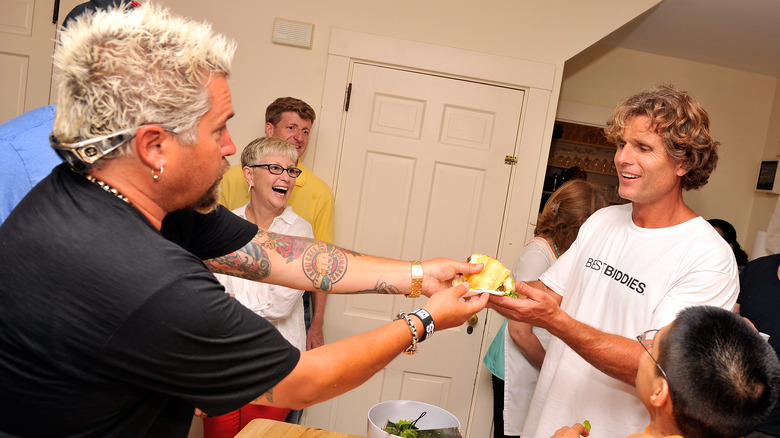 Stephen Lovekin/Getty Images
Guy Fieri was never the same after "Diner's Drive-Ins and Dives," but his image has been an unwavering constant to Food Network viewers for close to 20 years. In the past, Fieri debunked a fan theory regarding the restaurants he endorses on "Triple D" by proclaiming he only delivers honest recommendations. As far as his style is concerned, he once again laid down the truth with modest ease.
If you've ever wondered about Fieri's infamous hair, it was a style he landed on a chance taken by his hairdresser and friend, Christina Jones. The hairstyle remains a constant and many can say the same thing about those classic sunglasses attached to the back of Fieri's bleached blonde head. In a recent interview with People, he unveiled the reason for the unique placement of his sunglasses. Since Fieri is often tasting meals, he felt hooking the glasses into his shirt would guarantee messy specs because "they'd fall into food." So he secures them safely to the back of his head. "People think that was a design but I have not had any fashion sense," he stated.
In an interview with CBS News in 2016, when asked about his image, Fieri stated plainly he doesn't dress a particular way because he's on TV. "It's just the way that I like to look," he claimed. He's also told Thrillist that there's so much more to him than what people might assume based on his appearance.