The Best Food Dehydrators In 2022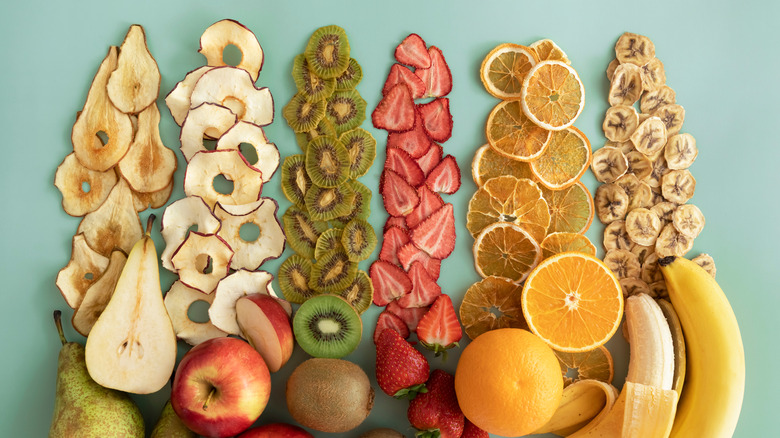 LY photographer/Shutterstock
We may receive a commission on purchases made from links.
Fresh beef jerky, dried apple chips, homemade raisins: Having your own food dehydrator can unlock a whole new world of delicious snacking. Dehydration is one of the most ancient methods of food preservation (via Web MD). While it's true that dried snacks are highly convenient due to their long shelf life and nutrient-dense nourishment, the products of many brands contain added sodium and sugar. 
Making your own recipes with a food dehydrator gives you maximum control over the ingredients, allowing you to create healthier snacks without all those extra additives. You can up your game even further by scoring yourself a vacuum sealer to prolong the shelf life of everything you dehydrate.
Imagine the patience and hardship that ancient humans endured with more primitive methods of drying food, such as waiting for optimal weather conditions for the food to dry (via Eco Salon). Modern equipment has transformed this ancient process from a potentially week-long affair into a task that can be completed in just a few hours (via REI).
There are two main types of dehydrators: Horizontal flow and vertical flow (via Iowa State University). Each type of dehydrator has its own unique advantages. Horizontal flow dehydrators allow for multiple types of food to dry up in the same batch without the risk of the various flavors and foods getting mixed up. Vertical flow dehydrators offer more of a customizable size range since they tend to be stackable and have additional cooking trays.
How we selected these products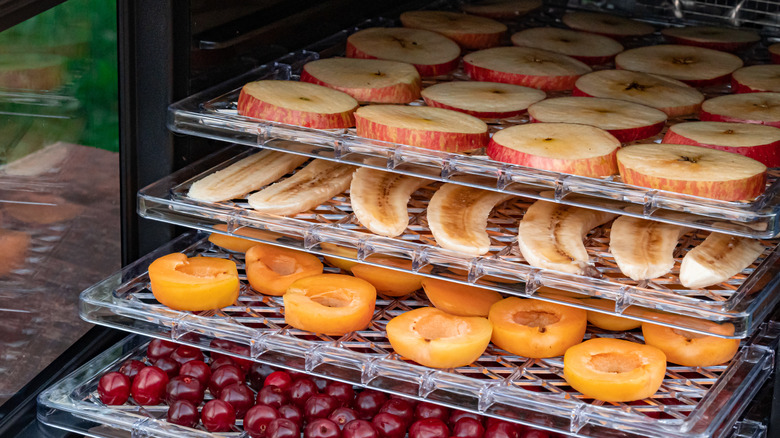 Aleks Images/Shutterstock
The food dehydrators in this article were selected through careful analysis. Since honest customer feedback is one of the most trustworthy tools we have to gauge an item's true performance and overall level of quality, the evaluation of verified user reviews for products played a crucial role in our decision-making process. We made sure to include a wide range of styles, including both vertical and horizontal flow models. Some of these are large enough for big batches, while others are compact enough to fit in just about any kitchen.
Affordability was another key consideration. To be as inclusive as possible, we made it our mission to offer high-quality food dehydrators for all budget sizes. Regardless of budget size or level of experience in the kitchen, rest assured that there is a food dehydrator on this list that can suit your needs. Whether you're looking for a simpler model that's practically foolproof or something a little more high-tech, we've got you covered. Ready to get started making some of the best dried snacks you've ever tasted? Here are the best food dehydrators of 2022.
The best overall food dehydrator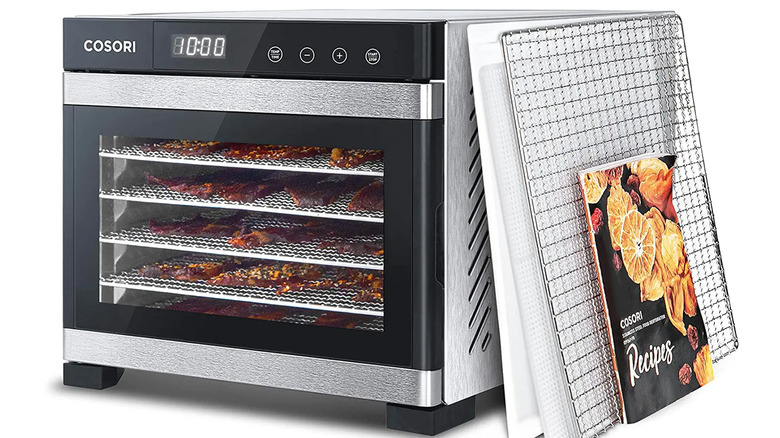 COSORI
If you're on the hunt for a food dehydrator that checks all of the boxes, then look no further than the COSORI food dehydrator. It's high-quality, efficient, and very reasonably priced, considering it's so well-designed. This dehydrator equips you with everything you need to get busy making all kinds of dried goodies: It has six dishwasher-safe drying trays, a fruit roll sheet, and a mesh sheet. 
Did we mention that this dehydrator has a perfect five-star rating after over 14,000 reviews? It's no wonder that so many satisfied customers are singing its praises. This dehydrator is easy to use, and it's made with durable stainless steel. It features a convenient digital control panel that allows you to easily adjust the time and temperature. 
This model also automatically shuts off when the timer ends so that you don't have to worry about any potential mishaps. The quiet operation of this dehydrator and the cookbook that includes 50 recipes make this model one of the most well-rounded deals on the market right now.
As of September 2022, you can buy the CORSI food dehydrator on Amazon for $160.
The best budget food dehydrator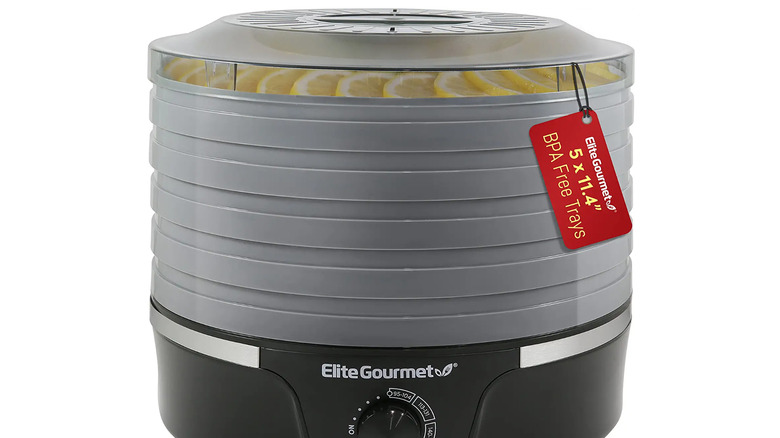 Elite Gourmet
New appliances can be expensive, but there are still some great deals out there that won't break the bank. You can still score a fantastic, reliable, and high-performing model even with the most modest of budgets. Enter: the Elite Gourmet food dehydrator.
This model comes with five stackable BPA-free food trays, and it has a fan mounted at its base to circulate heat evenly. The top lid is made of clear plastic to provide optimal visibility so that you can effortlessly monitor the progress of the drying process. Elite Gourmet makes cleaning up as easy as possible: The trays are safe for the dishwasher.
Dried herbs, dehydrated potato flakes, and mushroom powder: The sky's the limit when it comes to all of the ingredients that your new food dehydrator is capable of preparing. And because the dehydrating process preserves the food's nutritional value, you'll be setting yourself up for a lifetime of convenient and healthy meals (via Web MD).
As of September 2022, you can purchase the Elite Gourmet food dehydrator on Amazon for only $38.
The food dehydrator that best suits meat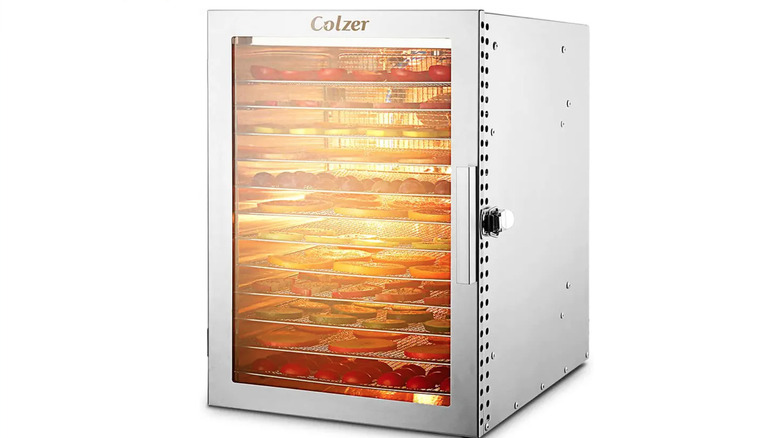 Colzer
Let's be honest. Dried fruit is great and all, but if you're interested in hooking yourself up with a food dehydrator, there's a good chance that you're a fan of beef jerky and you're probably looking to make some yourself at home from scratch. While pretty much all food dehydrators are capable of pulling off a decent batch of jerky, some models are better suited for that purpose than others. That's where this Colzer food dehydrator comes in.
This model can hit nearly 200 degrees Fahrenheit, which is higher than some other models are capable of. The Colzer food dehydrator can generate more than enough heat to safely reach the 145 degrees Fahrenheit that's recommended for beef as well as the higher temperatures that are recommended for other meats. This dehydrator also features double fans for extra air circulation (via Food Safety). 
It comes with 12 food-grade stainless steel trays, which should be more than enough space for a good-sized batch of jerky. This package also comes with a drip tray, recipe book, and silicone gloves. What more could you ask for?
You can purchase the Colzer food dehydrator on Amazon for $260 as of September 2022. 
The best food dehydrator for fruits and vegetables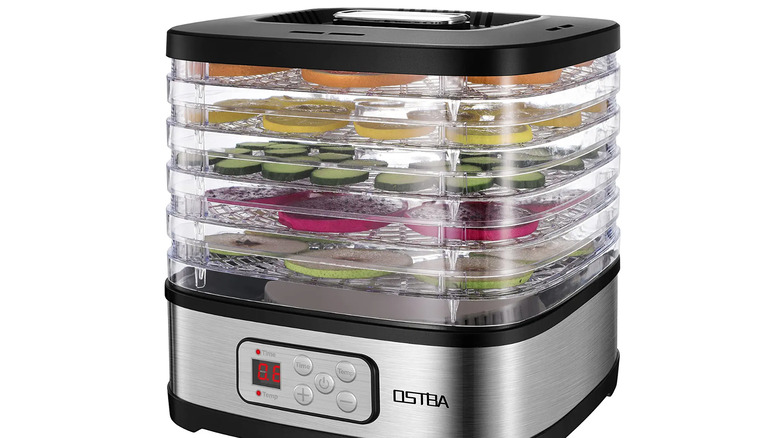 OSTBA
No diet is truly complete without some helpings of fruits and vegetables. According to the Harvard School of Public Health, eating a variety of fresh produce can have a wide range of health benefits, including a reduced risk of heart disease, lower blood pressure, and weight loss. In fact, the largest and longest study ever conducted on dietary habits found that as fruit and vegetable intake increases, the risk of cardiovascular diseases reduces significantly. 
Health benefits aside, dried fruits and vegetables are also an easy and delicious way to spruce up your breakfast, lunch, and dinner. Have you ever grated some dried strawberries into little sprinkles over your french toast? Or achieved an unbelievably rich and flavorful broth with dried mushrooms? If not, it's time to change that.
The OSTBA food dehydrator can hit up to 160 degrees Fahrenheit, and it comes with five adjustable food trays. This model has a lot to offer with an impressively quiet operation, overheating protection, and an upper air vent for more thorough dehydration. 
At less than six pounds, it's also modestly sized for easy storage. All things considered, this is definitely one of the best deals out there. You're just a few clicks away from making your very own tasty and nutritious snacks from the comfort of your home.
You can buy the OSTBA food dehydrator on Amazon for $65 as of September 2022. 
The food dehydrator that is ideal for bulk quantities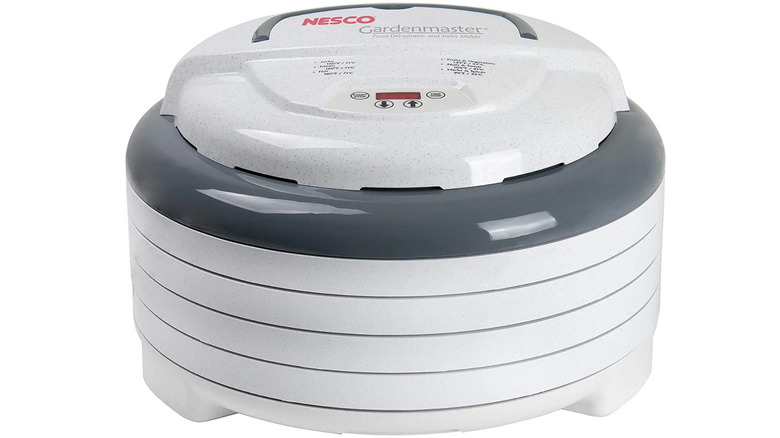 Nesco
Sometimes it's best to prepare food in bulk. Rather than wasting time and energy on smaller-scale dehydrating sessions, it often makes more sense to really make it worth your while and work on a bigger batch all at once. So if you're looking for a great deal on a model that can pump out a massive round of dried goods, then we've got a match made in heaven for you.
There are a few things about the Nesco food dehydrator that make it exceptional. For starters, it comes with four food trays, but it can be expanded all the way up to twenty. Imagine how much dried food you could whip up in a food dehydrator that has a tower of 20 food trays. Depending on your needs and circumstances, there's a good chance that's a large enough capacity to produce enough food to last a considerable amount of time. This deal even comes with a complimentary sample of jerky seasoning to get you started!
Purchase the Nesco food dehydrator on Amazon for $87 as of September 2022. 
The best vertical flow food dehydrator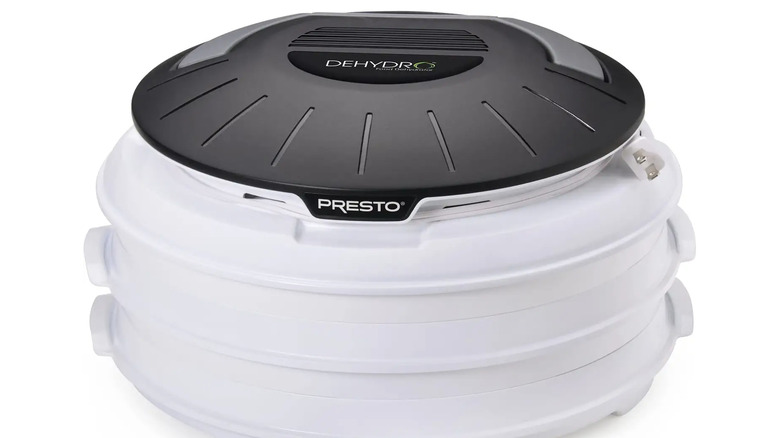 Presto
Vertical flow food dehydrators have a few advantages. For one, they tend to be more compact and allow additional stacks of food trays to be added (via Dehydrator Lab). They also tend to be expandable, much like this food dehydrator from Presto that comes equipped with four trays that can be expanded up to eight trays. This model has a  nearly perfect rating after almost 11,000 reviews, so it's clear that this model has earned itself a great reputation with a lot of very happy customers.
The Presto dehydrator is smartly designed with a nook to store its cord, an efficient top-mounted fan, and heating element, as well as food trays that can nest together to save space: It's no wonder this model is such a popular choice. 
The Presto brand has been in business for well over a century, so you know it's a well-established company that you can trust. Considering this dehydrator has preset temperatures for different ingredients, dehydrating food really doesn't get much easier than this.
Purchase the Presto food dehydrator from Amazon for $60 as of September 2022. 
The best horizontal flow food dehydrator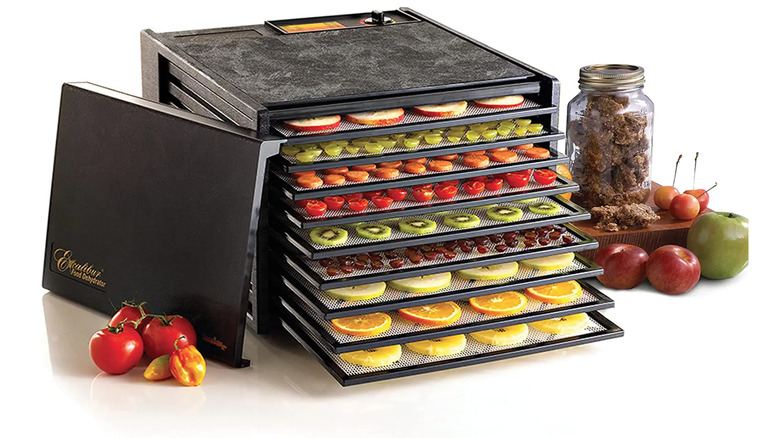 Excalibur
Horizontal flow food dehydrators have some distinct benefits. For starters, vertical flow dehydrators can potentially mix flavors when different ingredients are used at the same time, but this is far less likely with horizontal flow dehydrators, which ensures that your recipes will come out as intended (via Dehydrator Lab). Horizontal flow models also tend to offer more space, allowing you to dry out more ingredients at the same time.
This food dehydrator comes with nine drying trays for a total of 15 square feet of space. These poly-screen trays are easy to clean and, unlike some other models, don't need to be rotated during the dehydration process. Unlike vertical models that often rush heat upwards, this horizontal model circulates around through the sides of the device, allowing food to dry more evenly. With a convenient drying guide and adjustable temperature dial, there's no doubt that this model sets you up for success.
You can buy the Excalibur food dehydrator on Amazon for $225.
The most compact food dehydrator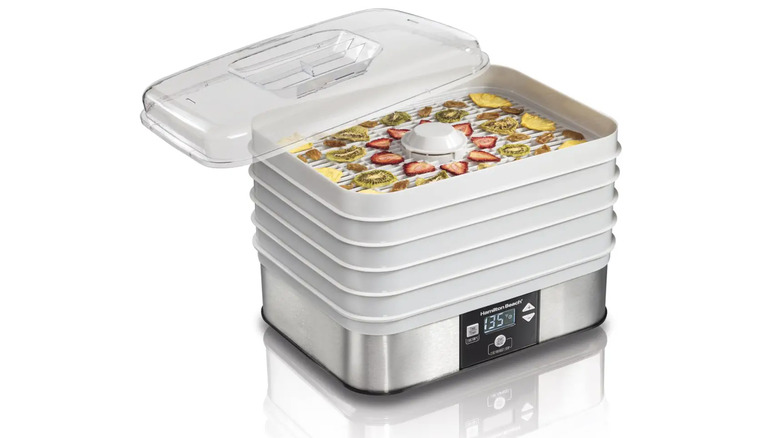 Hamilton Beach
When you have limited room on the kitchen counter, every inch counts. Having compact appliances can really help maximize the space without you having to forgo new equipment due to a lack of room. This food dehydrator from Hamilton Beach has a compact design, which makes it a great choice for anyone looking for a model that offers easy storage.
This model has a clear top lid to increase visibility and make it easier to give your food a glance. It has a digital thermostat that allows you to dial in your temperature with precision, a mesh sheet for drying fresh herbs, and five stackable trays. 
After only a few short hours, you can transform fresh produce into dried fruit that will last up to a year or dried vegetables for about half of that. Nearly 6,000 happy customers can't be wrong: Find out what they're raving about.
As of September 2022, you can purchase the Hamilton Beach food dehydrator on Amazon for $80.
The most eco-friendly food dehydrator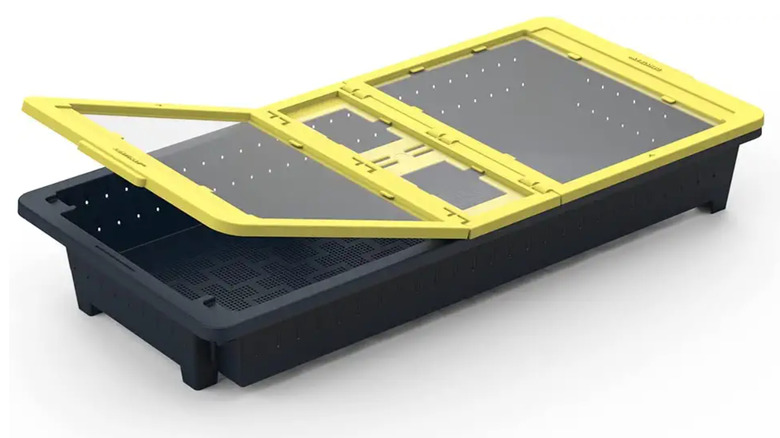 Dehytray
Energy efficiency is one of the best ways to save money and help the environment (via EPA). Every action we take is an opportunity to live more sustainably, and we can all play our part by using products that are more eco-friendly. The Dehytray solar food dehydrator portable food dehydrator is naturally powered by the heat of the sun, which is about as eco-friendly as it gets.
This food dehydrator is equipped with a photo-selective cover that harnesses the power of the sun to raise the internal temperature and accelerate the drying process. This photo-selective cover also serves as a protective barrier for your food, guarding against contamination from dirt, dust, and other airborne particles. 
Because this model uses solar polar, the operation is a breeze: Just set your food inside, close the cover, and let that burning star in the sky take care of the rest. There's no assembly required, so you can hit the ground running as soon as you've unpacked the box. 
You can buy the Dehytray solar food dehydrator on Amazon for $134 as of September 2022. 
The best high-tech food dehydrator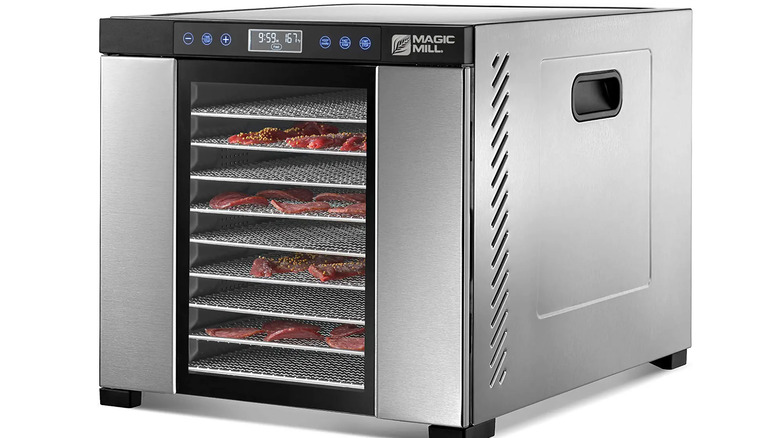 Magic Mill
Of course, all the bells and whistles that come along with technology certainly have their charms. This food dehydrator from Magic Mill offers digital temperature control and three different heating program settings to choose from. This dehydrator is made with durable stainless steel, and it features 11 different trays. This model uses horizontal air circulation to ensure that ingredients are being evenly dried throughout the dehydration process.
To sweeten the pot, this deal also comes with a plastic fine mesh tray, a non-stick tray, and a set of oven mitts to assist with safe removal. Its six easy-touch buttons are easy to read and operate, and it has a specially-designed rear-mounted drying fan. Additionally, the spacious design of this model allows it to handle larger batches of dried goods. It even has a transparent glass door that allows you to see every row of trays for maximum visibility. At the end of the day, this is one of the best-designed food dehydrators on the market, and it has a lot to offer.
You can purchase the Magic Mill food dehydrator on Amazon for $300 as of September 2022. 
The most user-friendly food dehydrator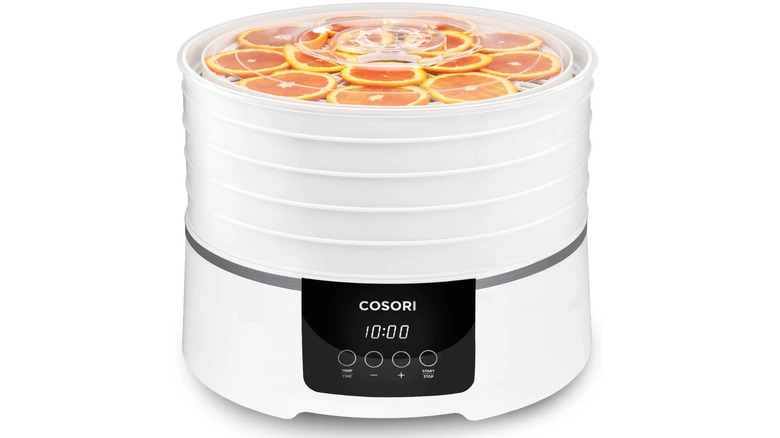 COSORI
It's definitely nice to use devices that feel foolproof. While it's true that operating most food dehydrators isn't exactly rocket science, it's also true that some models are easier to use than others. We find this model from Cosori exceptionally easy to use for a few key reasons.
First off, this machine has minimal buttons, and the buttons it has are very straightforward: Time/temperature, on/off, and then buttons to raise or lower the number. That's it! No need to fuss around with the convoluted intricacies that so often get needlessly wrapped up in overly complicated control panels. 
It also has a digital timer so that you can easily monitor the progress of your drying, and it even has a memory function that automatically stores your previous settings. All of the trays it comes with are dishwasher safe. Additionally, its operation is nice and quiet, so it's easy on the ears. The bottom line: There's a lot to love about this model. Best of all, it's very easy to use.  
As of September 2022, you can buy the COSORI food dehydrator on Amazon for $64.
The best professional food dehydrator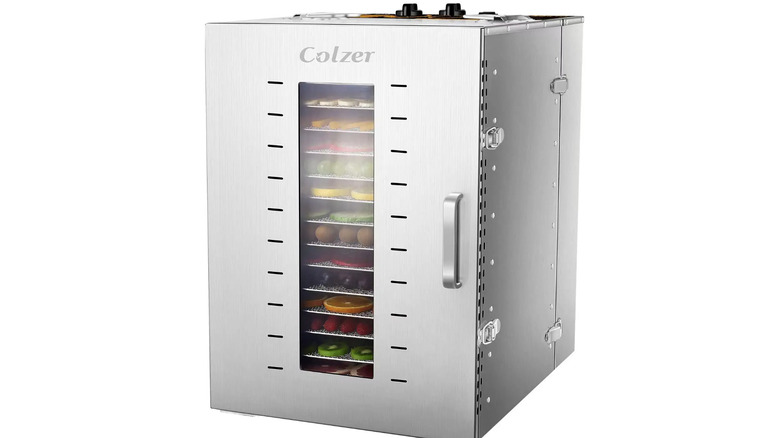 Colzer
To all the pros in the house: Don't think we forgot about you! This 16-tray food dehydrator from Colzer offers a massive setup that's bound to efficiently fulfill all your needs. This model can reach a temperature of nearly 200 degrees Fahrenheit. Plus, it has a double-fan system to circulate heat thoroughly. It's well designed, and it has an extra large capacity.
This model also comes with over 60 recipes to get you started, along with overheating protection and smooth-edged trays for another layer of added safety. It's easy to use, and with over 1,000 highly satisfied reviews, this 16-tray Colzer food dehydrator has an industrial yet professional aesthetic that will add a touch of respectability and expertise to your kitchen.
It also offers a built-in temperature control on display and a food-grade glass door. This Colzer machine is a workhorse that's also very easy to operate. Go ahead, buy it: Crispy orange chips and all kinds of healthy snacks and other creative concoctions await you.
As of September 2022, you can purchase the Colver 16 tray food dehydrator for $600.