The Hilarious Reason Ree Drummond Dyes Her Hair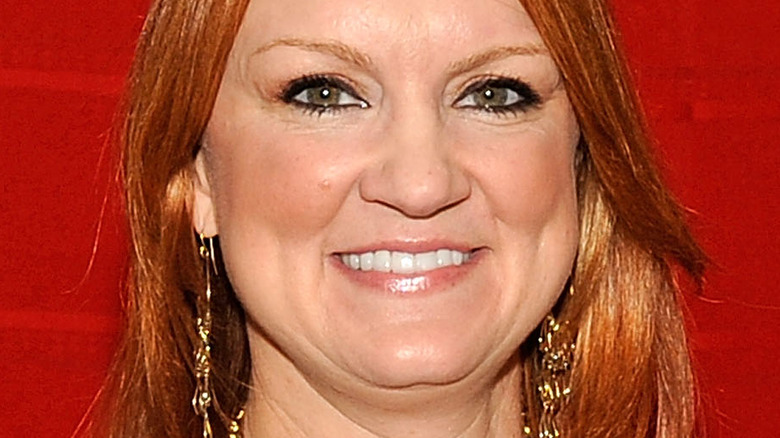 Bobby Bank/Getty Images
The Pioneer Woman Ree Drummond has built an entire empire from her Pawhuska, Oklahoma ranch. As Forbes outlined, what started as a blog led to a popular cooking show, countless cookbooks, all kinds of merchandise aimed at fans, a restaurant in Pawhuska where fans can make their Pioneer Woman pilgrimage, and much more. However, there's one thing that Drummond has kept consistent throughout the growth of her business — her signature red locks.
Her hair color has become such a big part of her overall look that there was even an article on The Pioneer Woman blog that outlines all the details and secrets fans were hoping to learn. Though Drummond herself is a natural redhead, she admitted that she does use particular products to keep her signature tresses looking the way she wants them to.
She uses a particular Aveda color-preserving shampoo and conditioner, and as her hairstylist spilled, she will also sometimes slightly tint her natural hair color, going for a bit of a lighter hue in the summer months and taking it towards a slightly darker red shade in the winter. In an Instagram post, she gave her 4.2 million fans on the platform an explanation of the whimsical reason behind the current hue of her tresses as she shared a cover from The Pioneer Woman Magazine where she posed alongside her son, Todd.
Ree Drummond is rocking school colors
The autumnal cover of The Pioneer Woman Magazine that Ree Drummond shared with her Instagram audience featured her standing beside her son Todd, and throughout the cover there are eye-catching pops of orange. The most obvious was in Todd's football uniform, although the text on the cover was likewise a bright shade of orange, as were the laces on the football and the bold earrings that Drummond paired with her casual black turtleneck and blue jeans ensemble. Even the recipes in that particular issue seemed themed for the occasion, with a cover headline proclaiming that the issue contained "great food for game night."
As Drummond explained in the caption, she was "here to normalize dyeing one's hair to match school colors." It seems that the culinary queen opted to go for a more orange-tinted hue to coordinate with the colors of her son's football team, which makes sense for the family-focused business owner.
The shot racked up plenty of comments, with many unable to believe how grown up her son looked in the image. Drummond's children have appeared in countless episodes of "The Pioneer Woman" as Drummond whipped up recipes for life on the ranch, so many of her fans truly have seen them grow up — after all, the show has been on the air for over a decade at this point, as per IMDb.