The Truth About Abdul From Great British Bake Off Season 13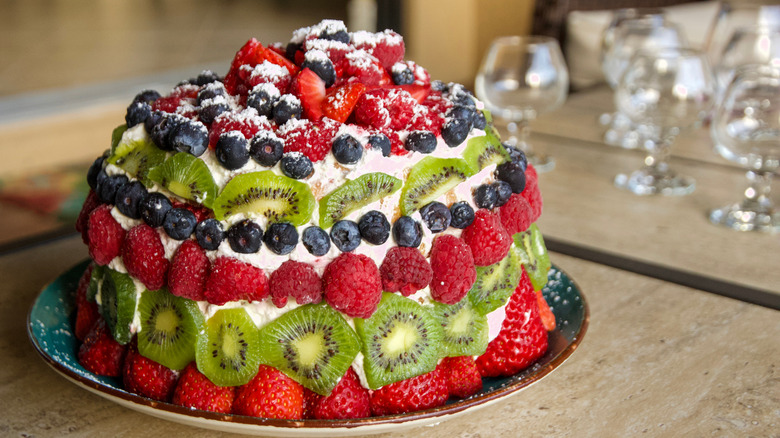 SB_photos/Shutterstock
Over its first 12 seasons "Great British Bake Off" has showcased a diverse array of contestants and Season 13 looks to be no different despite the fact that Season 13 will be postponed following the death of Queen Elizabeth II. The field of 12 contenders who will vie for the honor of being the final baker standing at the end of the season is set. One baker among them brings a scientific approach and west Asian flair to the craft.
Previous contestants have ranged from Selasi Gbormittah; who practiced yoga while his treats were baking according to the Royal Television Society to John Thwiate, the lawyer turned baker who Yahoo UK said in 2017 opened his own cooking school. No short list of memorable GBBO contestants would be complete without Nadiya Hussain who says she turned her Season 6 win on the show in 2015 into her own cooking show and multiple cookbooks.
It's too early to tell whether Abdul from Season 13's cast will enjoy as much subsequent success but he seems to have some tools at his disposal to aid him in that endeavor.
All about Abdul
According to the "Great British Bake Off," Abdul is among the youngest contestants of the Season 13 bakers at 29 but that doesn't necessarily mean he is short on baking experience. Evening Standard reports that he has been baking since his graduate school days. His career and education might just be what gives him an advantage over other contestants, too.
Abdul works as an electronics engineer, a more suitable career he could not have found as he has had a life-long fascination with electric devices (per GBBO). In addition to baking, Abdul's other interests include salsa dancing and studying outer space. GBBO adds that Abdul grew up in Saudi Arabia but his ethnic heritage is actually Pakistani.
While many fans of the show might want to reserve judgment about Abdul's chances until they see how well he bakes relative to the rest of the field, Stuart Heritage of The Guardian has already made some assessments about the entire cast based on his reading of the situation alone. Heritage cites Abdul's tendency to disassemble devices as a child as a potential liability. However, a keen comprehension of how baking works could actually be quite an asset.
As the American Chemical Society points out, successful baking is all about understanding how ingredients interact in a heated environment. With his scientific background, Abdul shouldn't lack that understanding, although how much of a role he might play in a GBBO spin-off we never saw coming remains to be seen.