The Number One Ingredient To Never Use When Baking Sugar Cookies
Sugar cookies are a staple for dessert lovers during holiday seasons. The flavor is part of it — they're a delicious blend of sweetness with a hint of vanilla, and perfect for cookie purists who don't want their treat of choice studded with endless mix-ins, such as chocolate chips, toffee bits, nuts, and more.
However, sugar cookies are particularly appealing during the holiday season because they can become charmingly decorative and whimsical so easily. Yes, you can absolutely make them without any icing at all — they're flavorful enough to stand on their own. However, you can also cut them out into all kinds of fun shapes and top them with decorative icing to create whatever holiday masterpiece you can imagine.
The icing-based ornamentation you choose may depend a bit on your skill level. Design Eat Repeat, for example, outlines seven different techniques that any home baker could use to create a colorful cookie. Others, such as Julie Blanner, highlight tips for making the process a bit easier, such as slightly warming your icing and adding any embellishments that need to stick to it quickly, before the icing sets.
No matter how you choose to decorate your sugar cookies, though, you need the cookies themselves to provide a good base. After all, even the most skilled icing artist will have trouble creating a masterpiece on a canvas that's lumpy or cracked. And to achieve the perfect base, there's one ingredient you must avoid.
Skip the leaveners when making sugar cookies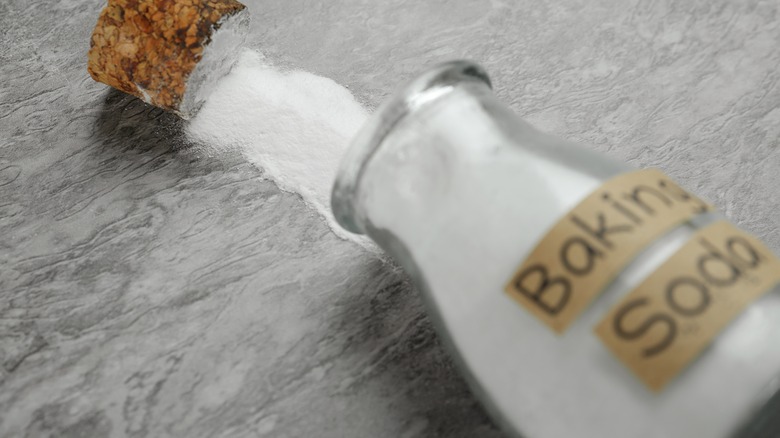 New Africa/Shutterstock
While different cookies call for different mix-ins and flavoring agents, the base of many cookies is quite similar — you'll need butter, sugar, flour, eggs, and typically some kind of rising agent such as baking powder or baking soda. The latter is one you'll want to skip when making sugar cookies specifically, though, The Kitchn warns.
Leaveners such as baking soda and baking powder are designed to, well, leaven your dough — they give baked goods a boost so they can rise to create the perfect texture. While this is something you want in most cases, for sugar cookies, you want the surface to be flat and smooth so that your decorations will turn out exactly the way you want them.
Skipping the leaveners also means your sugar cookie dough shouldn't spread, which is of particular importance if you're cutting sugar cookies into distinct shapes for your holiday dessert spread.
There are also a few more tips in your quest for the perfect flat sugar cookie canvas that The Bearfoot Baker shares. You'll want to make sure your dough is chilled, and your baking sheet should also be cool, and preferably lined with parchment paper. Finally, you may need to play around with the thickness of your cookies once you find a recipe you love — thickness can play a role in how much the cookies spread or rise.