Easy Crustless Spinach Quiche Recipe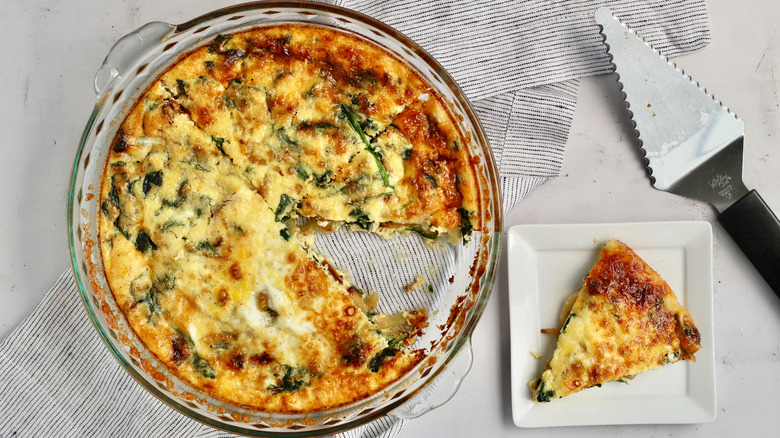 Mackenzie Burgess/Mashed
Quiche is a classic dish to add to any breakfast spread or brunch party. Here, we are creating a quick and easy crustless spinach version.
As a registered dietitian nutritionist, recipe developer Mackenzie Burgess of Cheerful Choices recommends this option for those looking for a lighter quiche. "Eliminating the crust is going to decrease the saturated fat and calories per slice," she says.
However, if you're still craving that crunch, try serving the quiche with a side of roasted potatoes or an apple walnut salad.
Now you may wonder, isn't crustless quiche just a frittata? Not quite. Crustless quiches are similar to frittatas, but quiche typically has more dairy mixed with the eggs, whether that's whole milk, half and half, or heavy cream. On the other hand, frittatas typically don't contain dairy, or only use a small amount.
This crustless spinach quiche recipe serves 8 slices. If you're cooking for a crowd, consider doubling the recipe to make 2 quiches.
Gather your ingredients for this easy crustless spinach quiche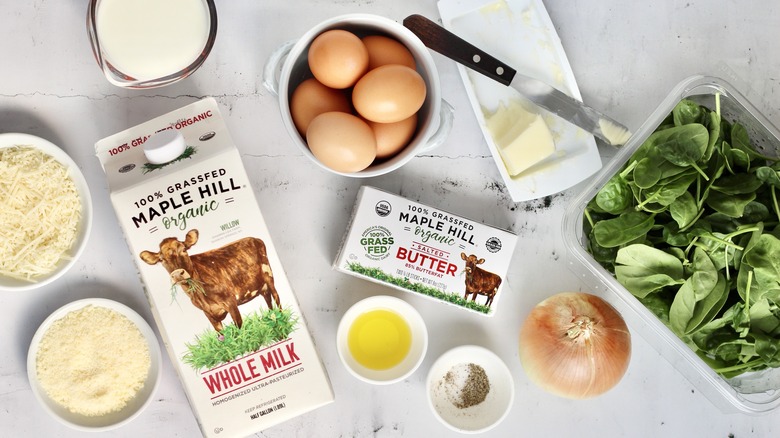 Mackenzie Burgess/Mashed
There are just ten simple ingredients used in this crustless spinach quiche. For this recipe, you'll need olive oil, butter, sliced onion, spinach, eggs, whole milk, Parmesan and Gruyere cheeses, and salt and pepper, for seasoning.
Before getting started, be sure to preheat your oven to 350 degrees Fahrenheit.
Melt the oil and butter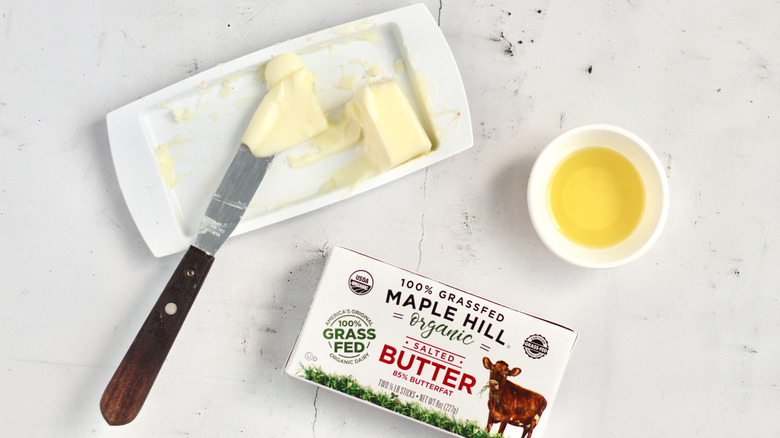 Mackenzie Burgess/Mashed
Start by adding the oil to a heated skillet. When the oil is hot, add the butter and let it melt. Burgess recommends using a combination of the different fats for extra flavor. Plus, heating the oil first helps prevent the butter from burning.
Caramelize the onions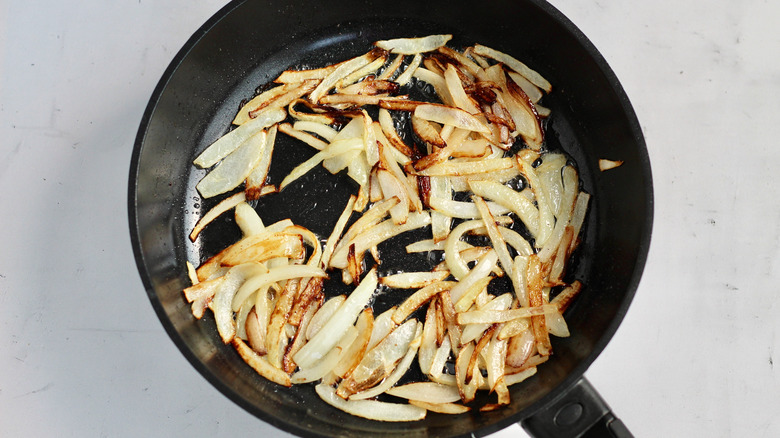 Mackenzie Burgess/Mashed
When the butter has melted, go ahead and add the sliced onions to the hot skillet to start the caramelization process. 
This step really makes this recipe stand out. The caramelized onions provide an extra sweet and savory flavor that's perfect for this crustless quiche.
Be sure to take the necessary time to caramelize the onions. Burgess says, "You typically won't start to see the browning occur until 8-10 minutes into the cooking process, so be patient. The extra flavor here is so worth it!"
Wilt the spinach with the onions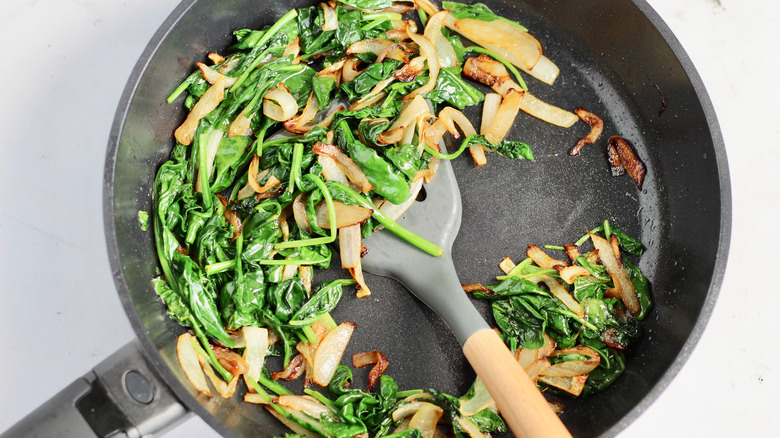 Mackenzie Burgess/Mashed
Once the onions are caramelized, add the spinach to the same pan and continue cooking for a few minutes.
When adding the spinach, it may feel like you're cooking a large amount, but it quickly wilts down. We recommend using baby spinach for a more even consistency. However, you could also use regular spinach and chop it into smaller pieces before adding it to the pan.
Either way, be sure to cook it for a few minutes to allow the moisture to evaporate and prevent a watery quiche.
Whisk together the egg mixture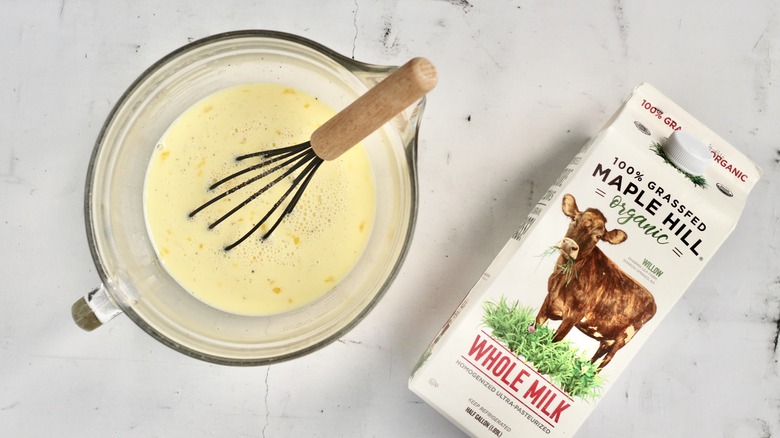 Mackenzie Burgess/Mashed
To make the quiche "filling," we're whisking together a simple mixture of eggs, whole milk, salt, and pepper. Feel free to add other seasonings or spices, if desired. Burgess also notes, "I enjoy using a grass-fed whole milk, like this one from Maple Hill, as it contains more healthy omega-3 fats."
Add everything to a quiche pan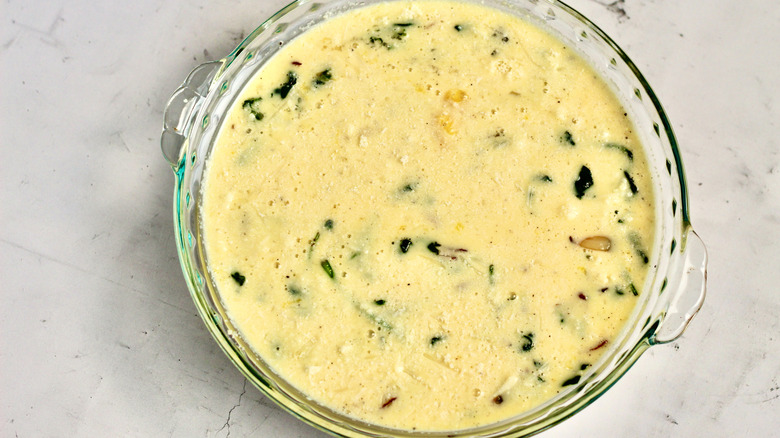 Mackenzie Burgess/Mashed
Now that all your quiche elements are ready, it's time to add them to your quiche pan. Start by spooning in the spinach mixture, followed by the cheeses, before finally adding the egg mixture. For this recipe, we are using a mixture of Gruyère and Parmesan cheeses, but you could swap them out for different cheeses. "I've also tested this recipe with ¾ cup shredded cheddar cheese in place of the ½ cup Gruyère and ¼ cup Parmesan, and it also turned out delicious," Burgess notes. 
Bake until the quiche is golden brown on top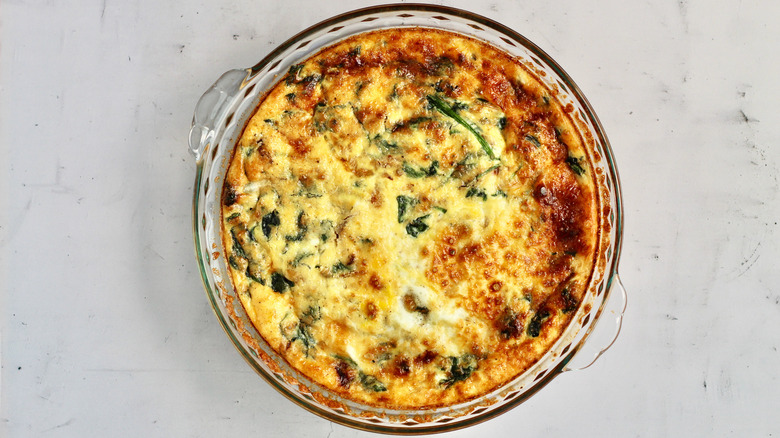 Mackenzie Burgess/Mashed
Carefully place the quiche into your preheated oven and bake until it's cooked through and golden brown on top. You can store any leftovers in an airtight container in the fridge for 3-5 days, or in the freezer for 2-3 months.
We recommend serving this quiche with other brunch essentials, like banana pancakes or zucchini bread.
Easy Crustless Spinach Quiche Recipe
When you want to enjoy a brunch-friendly quiche, but without the carb-heavy crust, try this easy recipe for crustless spinach quiche.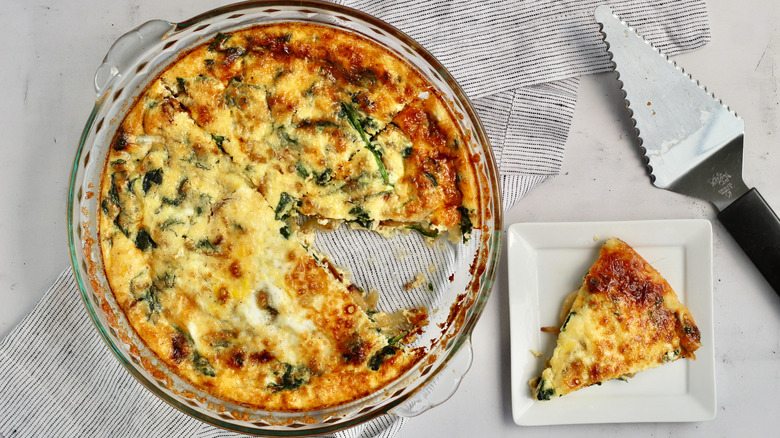 Ingredients
1 tablespoon olive oil
1 tablespoon salted butter
1 small onion, sliced
5 ounces baby spinach
6 eggs
1 cup whole milk
Salt and pepper, to taste
½ cup shredded Gruyere cheese
¼ cup grated Parmesan
Directions
Preheat oven to 350 F.
Heat a large skillet over medium heat and add the olive oil. Once the oil easily moves around the pan, add the butter and let it melt.
Add the sliced onions to the skillet and let them cook, stirring occasionally until they're caramelized (about 10 minutes).
Stir in the spinach, and saute until it's wilted and the moisture has evaporated (about 5 minutes). Remove the pan from the heat.
In a large bowl, whisk together the eggs, whole milk, and salt and pepper, to taste.
Add the spinach mixture to a greased, 9-inch pie plate or quiche dish. Top with the cheeses before pouring in the egg mixture.
Place the pan in the oven and bake for 30-35 minutes, until the eggs are set and the top is golden brown.
Let the quiche cool for 5 minutes, then slice into 8 pieces and enjoy.
Nutrition
| | |
| --- | --- |
| Calories per Serving | 147 |
| Total Fat | 10.7 g |
| Saturated Fat | 4.8 g |
| Trans Fat | 0.1 g |
| Cholesterol | 137.4 mg |
| | |
| --- | --- |
| Total Carbohydrates | 3.5 g |
| Dietary Fiber | 0.6 g |
| Total Sugars | 2.2 g |
| Sodium | 242.8 mg |
| Protein | 9.3 g |