The Halloween-Themed Wine Aldi Shoppers Can't Wait To Try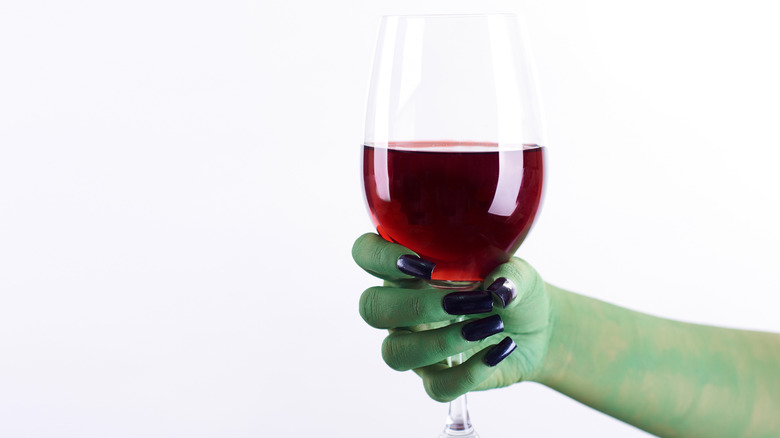 Nitida C/Shutterstock
Traditionally, Halloween has been all about the kiddies. Yes, the grown-ups will tell you that nothing gives them more pleasure than watching a gaggle of ghastly ghosts and goblins trekking a path from one neighbor to another. Adults will likely spend a small fortune on thumb-sized candy bars, have to make minion costumes from scratch, and lug their tired minions home after a night of trick-or-treating. Sure, the adults will likely pilfer Kit Kat bars and potato chips from their children's haul when they're not looking, but that doesn't quite cut it. There must be a way to make Halloween a celebratory occasion for the grown-ups too. 
When APNORC asked American adults how they celebrate Halloween, 42% responded that they'd be handing out goodies to the trick-or-treaters, 36% said they'd put up Halloween decorations, while a mere 25% said they would be attending a Halloween soiree. A YouGov survey revealed that a mere 25% of adults had made plans to wear a Halloween costume in 2018, with a whopping 89% of those aged 55 and over saying they had no intention of dressing up for the occasion.
With so few grown-ups attending parties or donning costumes, it seems that adults are in desperate need of a Halloween product created just for them. Thankfully, Aldi has a wine for that. 
This Aldi offering is in stores now
If you've missed Aldi's previous releases of Jacob Einig's Sweet Bloody Red Wine, you're in luck. Eating Well shares that this Halloween favorite hit shelves on September 7 and is priced at a very affordable $6.99.
Finally, a horrifying Halloween treat that is solely for the grown-ups. With the grisly graphics (pumpkins, bats, and witches, oh my!) and blood-like contents, this should infuse even the most resistant reveler with an overflowing dose of (what's the October 31 equivalent of holiday cheer?) Halloween horrors. 
According to Aldi USA's Instagram post, shoppers are eager to clamp their talons on a bottle. With comments like "I just put this on my grocery list," "Just picked this up! So pumped," and "It's a cool bottle," this limited edition wine won't last long. Sadly, many were disappointed that their states don't allow Aldi to carry wine. 
If you are able to acquire a bottle, you will have to carefully consider how it will best suit your Halloween plans. Whether you will use your sweet bloody red wine as an ingredient in a witchy cocktail that completes the spooky season or you'll drink it straight-up while watching a Michael Myers killing spree, this bloodcurdling beverage is bound to put you in the Halloween mood. Bottoms up, if you dare.