The Hilarious GBBO Post That Has Instagram In Shambles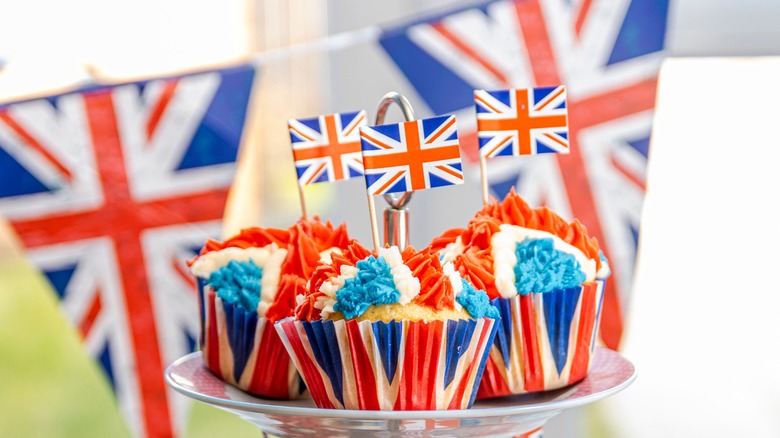 Traceyaphotos2/Shutterstock
Despite the show now entering its 13th season, audience interest in "The Great British Bake Off" doesn't seem to be fading at all. Fans of the wholesome culinary competition are tuning in season after season to see what the competitors will whip up in the tents every episode (even if things get a little gross, per the Daily Express). However, the reason the show is so successful isn't just because its baking-obsessed audience loves to see the delectable creations that each contestant crafts (although that's certainly a big part of it). The judges and hosts who are featured in every episode have also become beloved by the fans, from blue-eyed expert Paul Hollywood who shares his baking expertise with the contestants as he judges them to the quirky comedian Noel Fielding, who adds some much-needed levity during tense moments.
Both Hollywood and Fielding took to their respective Instagram accounts recently to share what appeared to be a promotional shot for the 13th season of the show, and fans couldn't get enough. Fielding shared the snap with a cheeky caption, referring to the quartet as "The Rolling Scones." Hollywood captioned the same snap with a single crying laughing emoji.
While host Matt Lucas and judge Prue Leith beamed at the camera on the left side of the shot, both Hollywood and Fielding had much more serious expressions that seemed at odds with the colorful blankets draped across the chairs and the serene English countryside and charming vintage furniture in the background.
The range of reactions on Instagram
Both of the GBBO personalities got plenty of feedback from their respective audiences on the social media platform, and there were even a few GBBO alumni that weighed in. Rahul Mandal, who won the 9th season of the show, commented on Fielding's Instagram post, saying in response to Fielding's facial expression that it "seems like @paul.hollywood told you off!" However, in his signature sweet style, Mandal made sure to add "lovely photo though."
Several fans who commented on Hollywood's post likewise took notice of Fielding's surly expression, with one writing "I don't think Noel likes his cuppa" and another simply commenting "Noel" followed by a series of crying laughing emoji, seeming to concur with Hollywood's own caption. Given his caption, perhaps Fielding was going for a rock 'n' roll vibe in the promotional snap. Many fans of the show simply took to the comments section to share their excitement about the upcoming season, with international fans also counting down to the moment when the latest season would be accessible in their country.
Season 13 of GBBO will be slightly delayed in response to the passing of Queen Elizabeth II, which is being met with 10 days of mourning across England, as Guilty Eats reports. When regularly scheduled programming returns to British televisions, though, fans will likely be tuning in in droves to meet the latest batch of contestants.