The Breakfast You Didn't Know You Could Air-Fry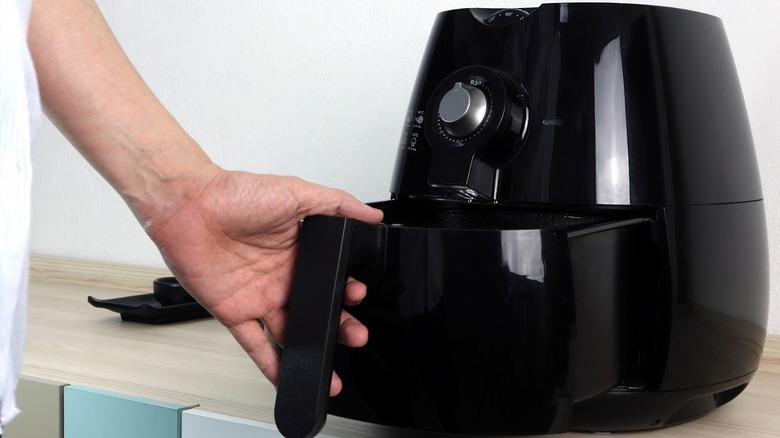 Enjoy The Life/Shutterstock
Whether we like it or not, we wind up in a rush most mornings. It may be because we decided to sleep five more minutes or the simple fact that there is never enough time to get ready. Either way, we often grab a quick breakfast to start the day. Some prefer to have it ready the night before: for example, something like overnight oats — a delicious and healthy option! Others just pack their favorite breakfast sandwich to eat on the go, deciding to satisfy their coffee fix at the nearest drive-thru on the way.
But before heading out the door, there are ways to prepare your breakfast while you are getting everything else done. The air fryer can be your best friend when it comes to quick recipes, especially since your food does not need your undivided attention while in there. Plus, it will turn out healthier in the end with no extra oil added.
Porridge, frittatas, and even french toast are popular air-fried breakfast choices, but has it ever occurred to you that one of the most savory breakfasts could also be air-fried? Yes, your favorite kitchen appliance could help you prepare this trendy selection in less than 10 minutes.
Use the air fryer to make an avo-toast in a quicker and healthier way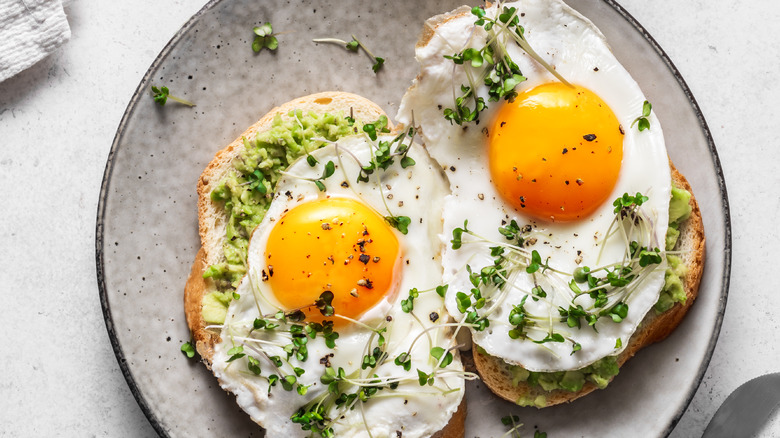 Oksana Mizina/Shutterstock
If you're interested in preparing avocado toast with the help of your air fryer, look no further than the Instagram page of @jwquickfood. In one video, the Instagram foodie utilized an air fryer to make avocado egg toast. She started by using a fork to mash half an avocado on sourdough bread. With the same utensil, she created a small crater in the middle of the spread to hold the cracked egg. Adding salt and pepper, the toast is ready — with the egg fully cooked — after seven minutes at 350 degrees Fahrenheit. Most followers praised the recipe. "Looks so yummy!" said one commenter, while another added, "Delicious and healthy." However, some were concerned about the avocado's temperature coming out of the air fryer. "I don't think I can eat hot avocado," remarked a detractor.
Luckily, there are alternatives. Fork to Spoon suggests just air frying your bread as it gives the toast a crispy crust. Once ready, you can mash the avocado on top and add scrambled, fried, or poached eggs, depending on your preference. 
Finally, for those looking for a low-carb version, The Dinner Bite presents a tasty option with baked avocado eggs in the air fryer. You will have a flavorful, high-protein breakfast in around eight minutes. Just don't forget to brew the coffee while the air fryer is doing its job. Multi-tasking your breakfast can help in taking the rush out of your busy morning.