The Unconventional Ingredient That Makes Ina Garten's Favorite Nachos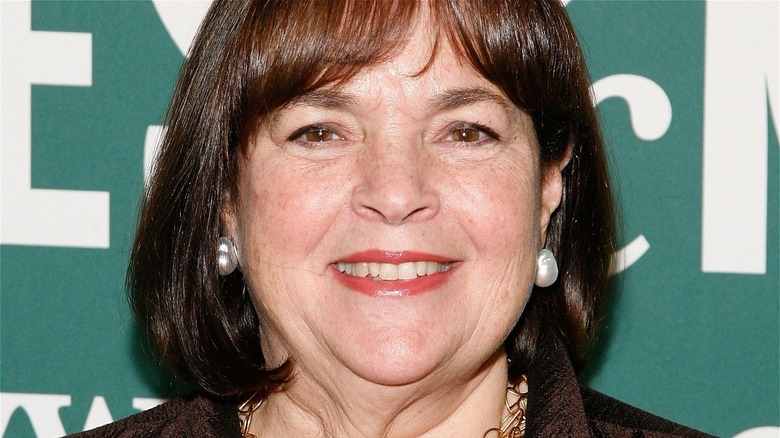 Andy Kropa/Getty
Whether it's game day or you just want to share an appetizer with your friends at your favorite restaurant, one guaranteed-to-please dish is nachos. Although the base of the crunchy, cheesy dish is typically a simple bed of tortilla chips, plenty of different toppings can take your nachos to the next level. There's an endless list of creative nacho recipes you can try, from BBQ chicken and grilled pineapple nachos to "Reuben-style" nachos loaded with corned beef, sauerkraut, and Swiss cheese.
And if you want to perfect your nacho recipe, you can turn to some tried-and-true techniques from pro chefs. For example, Rachael Ray has a brilliant nacho hack that turns a rotisserie chicken into a hearty, crispy, 15-minute meal. When you want to impress a crowd with a more premium protein, though, look no further than the Barefoot Contessa's favorite nacho recipe, which is piled high with fresh crab.
Garten calls these crab nachos a 'big pan of gorgeousness'
Ina Garten's fresh crab nachos start in a familiar way — with a ton of Monterey Jack and sharp cheddar cheese. If you don't feel like grating the blocks by hand, one of the Food Network star's pro tips is to shred them in a food processor. That leaves her with plenty of time to prep the star of her nachos: a rich, tangy, and spicy fresh crab topping with cream cheese, green chilis, and other ingredients. Layered with tortilla chips and the grated cheese, baked until crisp and gooey, and finished with pico de gallo, the result is a dish that Garten says "people go crazy" for when she serves it at parties. 
Nachos aren't the only everyday dish that the Barefoot Contessa elevates. The unusual ingredient Garten adds to her brownies is instant coffee, which reviews say brings out their fudgy, chocolaty notes. Garten also upgrades her ice cream sandwiches by rolling them in crushed toffee, adding a satisfying crunch to the creamy dessert. Which one of Garten's food tricks will you be trying next?