Colorado Bulldog Cocktail Recipe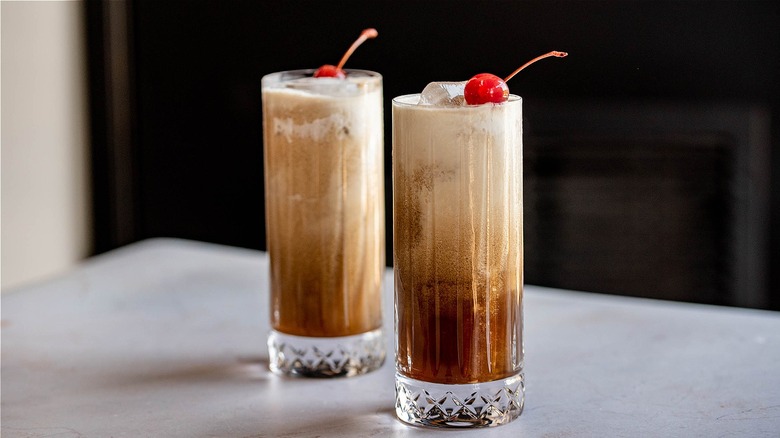 Michelle McGlinn/Mashed
A drink with a name like "Colorado Bulldog" begs for a backstory, perhaps something funny involving a dog in Denver. Unfortunately, no such tale exists, and the origins of the Colorado Bulldog are as unsatisfying as they are mysterious. It's anyone's guess where this drink truly originated, and it's likely it was a quick creation born from riffing on a White Russian. The White Russian, made of vodka, Kahlua, and cream, gets a fizzy facelift in the Colorado Bulldog with the simple addition of cola. The cola transforms the strong drink into a dessert, tasting almost exactly like a root beer float sans ice cream. The heavy cream and cola combine into a frothy, creamy, sweet concoction, made better by the strong spirit base.
Recipe eveloper Michelle McGlinn shares the best recipe for crafting this unique cocktail, including ingredient swaps, serving suggestions, and secret methods for creating these ultra-creamy results. Best enjoyed as a dessert, this cocktail will be your new favorite after-dinner drink.
Gather your Colorado Bulldog ingredients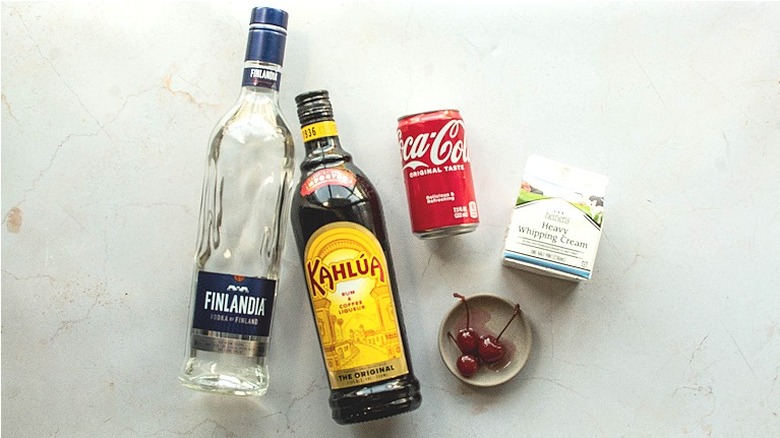 Michelle McGlinn/Mashed
As if you were making a White Russian, grab your favorite vodka, coffee liqueur, and heavy whipping cream. The star ingredient of a Colorado Bulldog is the cola, which transforms it from a strong White Russian to a frothy float. You can use any cola, such as Coca Cola, Pepsi, or RC. If you want to switch up the flavor options, try vanilla cola, cherry cola, or even Dr. Pepper. Any dark soda will do — and for a classic float experience, you can even try root beer.
Alongside the cola and vodka, we like using Kahlua for the best coffee flavor. Heavy whipping cream is the best option for a creamy, thick top, but you can swap it for half and half or milk in a pinch.
Mix the spirits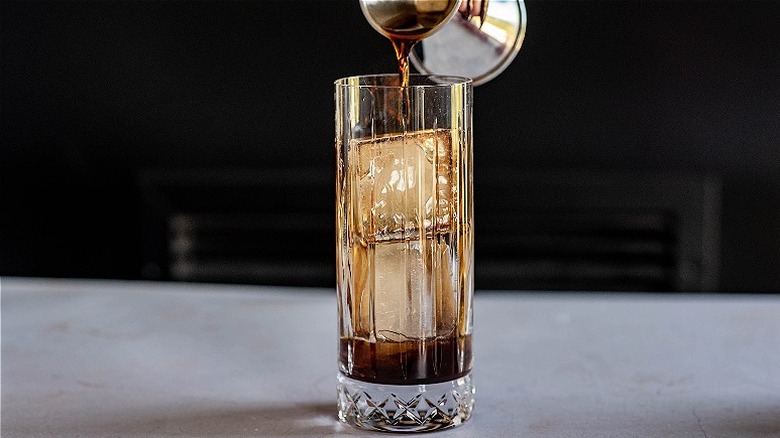 Michelle McGlinn/Mashed
The Colorado Bulldog is an easy cocktail that can be built in-glass. To start, fill a highball glass with ice and pour in the vodka and coffee liqueur. If you don't have a highball, try a large rocks glass, or even a beer mug. Stir the spirits together gently, just enough to chill and combine.
Top the spirits with cola and cream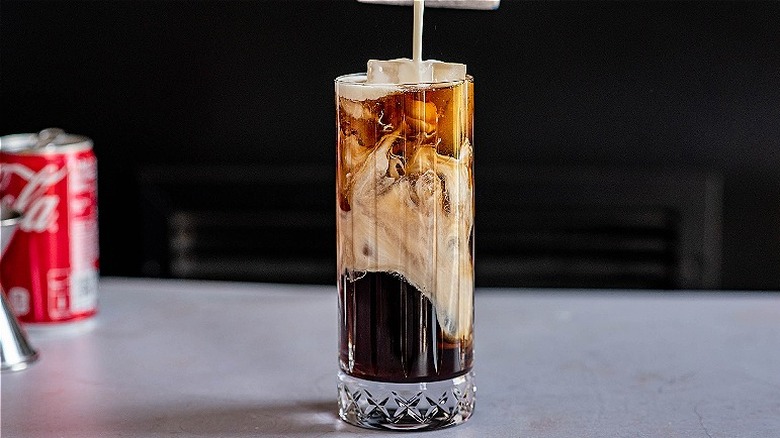 Michelle McGlinn/Mashed
Methods vary on the best way to build a drink with cream, but we suggest layering the cream last to achieve the best visual effect. Once you've added the spirits to the glass, top it off with cola, leaving a little space at the top for the cream.
Pour in the cream on top of the soda and gently push the cream into the drink with a spoon. To enhance the float experience, you can even lightly whip the cream by shaking in a cocktail shaker or whisking it by hand before pouring it over the cola. This way, you can achieve a super-smooth drink while keeping the layered effect.
Garnish and serve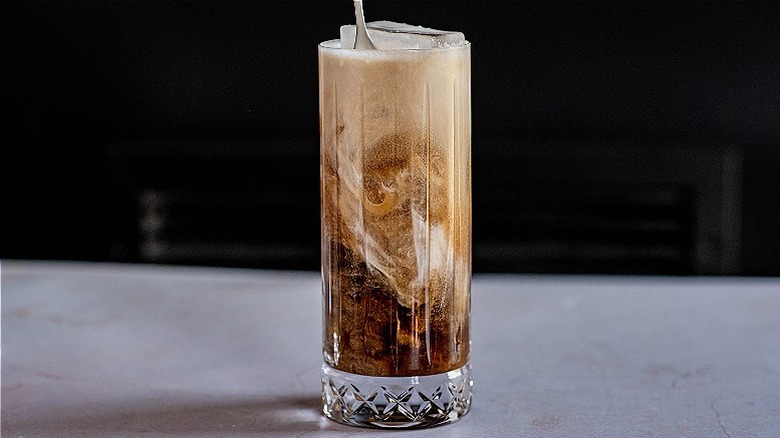 Michelle McGlinn/Mashed
You can skip the garnish altogether, but for a fun, root beer float experience, try garnishing the drink with a maraschino cherry. You can also make it fancy and garnish it with a cinnamon stick or chocolate pirouette. This drink is typically enjoyed as a dessert, so feel free to emphasize that with your garnishes.
Want to really make it a float? Skip the heavy cream and add a small scoop of vanilla ice cream, instead.
Using our traditional Colorado bulldog recipe below, whip up a delicious drink to serve alongside after-dinner brownies, creamy cheeses like brie, or even fruity desserts like cherry pie.
Colorado Bulldog Cocktail Recipe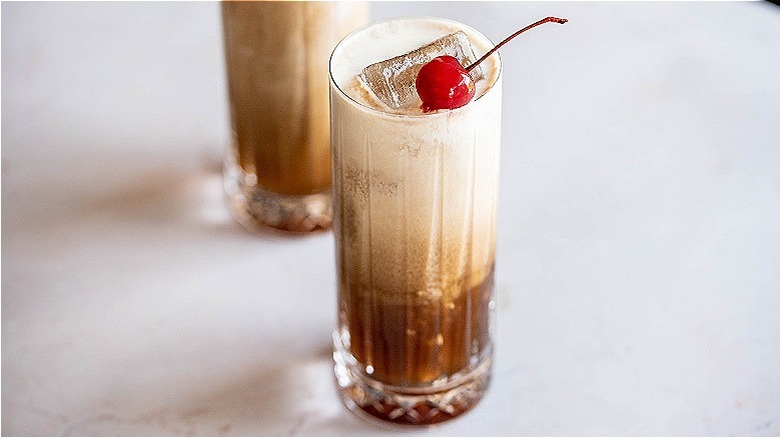 Michelle McGlinn/Mashed
Prep Time:
Cook Time: 3m
Yield: 1 Cocktail
Ingredients
1 ounce vodka
1 ounce coffee liqueur
3-4 ounces cola
1 ounce heavy whipping cream
Optional Ingredients
Maraschino cherry, for garnish
Directions
Fill a highball glass with ice. Pour the vodka and coffee liqueur over the ice and gently stir to chill.
Fill to the top with cola, leaving ¼ inch space to pour the cream.
Pour the cream into the drink and stir gently to incorporate.
Garnish with a maraschino cherry and serve immediately.