The 'Special' Chick-Fil-A Wrapping That Has Reddit Confused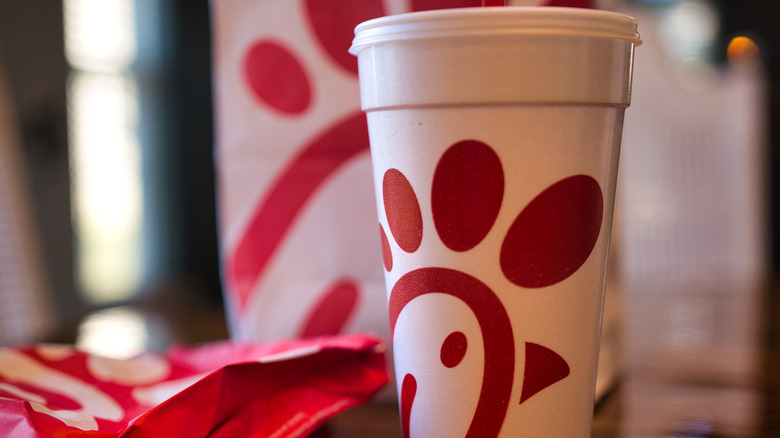 jmac23/Shutterstock
A limited-edition switch-up in fast food packaging is a fairly common concept — it's a fun way to get diners excited about the food. Some of the switch-ups may even spark anticipation, like the Starbucks holiday cups. Per State News, the coffee giant began introducing holiday cups in 1997, and several are available every season. "Customers tend to develop a favorite cup with each release," a Starbucks worker Nitasha Cox said. "There are usually three to four different designs."
Another time you can expect a switch-up in packaging is during celebrity collaborations. When rapper Jack Harlow teamed up with KFC this year, his face was plastered on cups, fries, and buckets of chicken (via People). A Kentucky native himself, Harlow's meal included a spicy chicken sandwich, mac and cheese, fries, ranch dressing, and lemonade.
Sometimes, though, a differentiation in wrappers and cups means next to nothing. This is something a Reddit user learned upon finding packaging he wasn't used to in his Chick-fil-A bag. Looking for answers, he posted on the r/ChickFilA subreddit to see what others had to say.
OP didn't order the sandwich
In September of 2022, a Reddit user posted a photo of a Chick-fil-A biscuit wrapped in white paper with the inscription "special biscuit." The post read, "What is this? I got my food at 11:30 so it's not like I got breakfast and I didn't order it." Someone quickly came to the rescue to explain why the packaging was so obscure. "Whenever my location runs out of the regular bags or deluxe boxes we use that," the comment read. Another worker confirmed, "We've ran out of sandwiches before and this was our solution as well."
This answered half of the question, but why did OP receive an item they didn't order? At my location we give away the last [e]xtra few biscuits n stuff once lunch starts," a presumed employee wrote. One comment echoed, stating the restaurant would rather give food out for free than throw it away. According to Chick-fil-A, extra food also goes to those in need through its Chick-fil-A Shared Table program. With this plan, 10 million meals have been gifted.
So sometimes, it's not an exciting collab or seasonal celebration. It's simply because Chick-fil-A ran out of its usual packaging.