The Most Underrated Dunkin' Donut Flavor, According To Reddit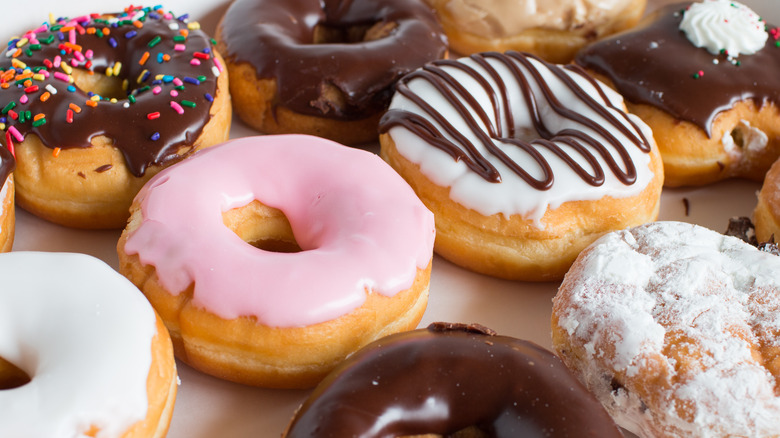 Busara/Shutterstock
Sure, Dunkin' has coffee, but Dunkin' also has donuts. A whole lot of donuts. The classic Dunkin' donuts include powdered sugar, Boston Kreme, apple fritter, jelly, glazed, strawberry frosted, and of course Old Fashioned. However, these are just the tip of the iceberg.
Per The Travel, Dunkin' regularly comes out with fun seasonal donuts, with some of the best being the Spider Donut, the cookie dough and brownie batter donut, the frosted sugar cookie donut, the gingerbread donut, and the spicy ghost pepper donut – which comedian Josh Gondelman, writing for The Ringer, called, "a fascinating experience." We might pass on the ghost pepper donut, but bring on the brownie batter!
While we frequently hear about Dunkin' seasonal specials, there are still so many other donut variations that are regional favorites or otherwise unique and relatively unknown. Reddit, ever vigilant when it comes to the underdogs of the donut realm, recently gave a big shout-out to the donut it deems the most underrated.
Reddit loves a sour cream donut from Dunkin'
Sour cream donut-lovers went nuts after one Reddit user asked if anyone had ever tried this particular donut from Dunkin'. Someone immediately responded with the claim that sour cream donuts are "the most underrated donut," adding that they have "a little extra moisture" and "crunchy edges." Sounds perfect, right?
Others also had nothing but praise for Dunkin' sour cream donuts, describing them as tasting like pound cake and being a "better" glazed donut. That's really saying something, considering how people overwhelmingly prefer this type of donut to all others. Another Redditor said the sour cream donuts were their favorite, as they aren't "overly sweet, and the texture is amazing," while someone else said they were "the only donut worth getting at Dunkin'."
If you're in a region that offers sour cream donuts, Reddit's general consensus is that you need to try one. Just be advised that they can move fast, as one TripAdvisor contributor contends. For the best possible experience, one Reddit user recommended asking for your donut to be warmed, as it makes the donut taste very similar to funnel cake. Yum!