Duff Goldman's Cake Of The Week Will Make Football Fans Happy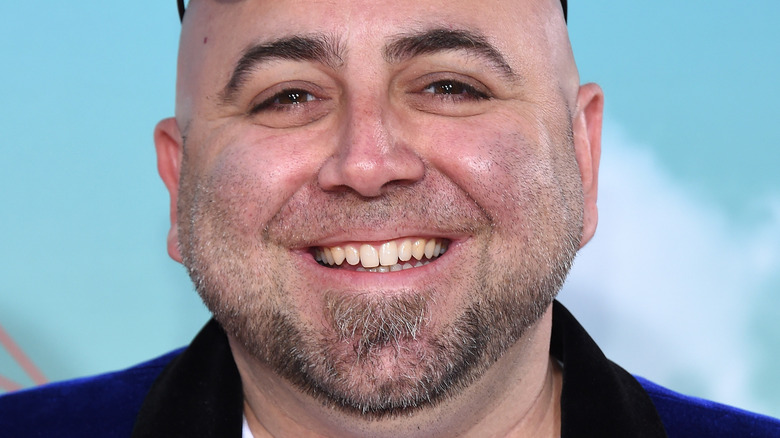 DFree/Shutterstock
If there is one thing "Eddie's Million Dollar Cook-off" taught viewers, it is that someone can definitely be a sports guy and a pro in the kitchen. And perhaps no celebrity chef is better at truly proving that point than Duff Goldman. The iconic pastry chef is best known for his ability to make tasty desserts and cakes, but he can combine that ability with other interests
Goldman has proven himself to be quite the sports fan. He is an avid Boston Bruins fan and baked a cake in honor of the team (via YouTube). His love of sports might be especially prominent when it comes to football. An admitted fan of the Baltimore Ravens, he has worn his support for the team on his sleeve. During a stay in California, Goldman posted about a Ravens-purple mixer he received on Instagram. He's even gone so far as to induct his daughter into his Ravens fandom, dressing her up in a football onesie. He has even shown love to Baltimore's football team in the form of cake.
Can a cake score a touchdown?
Football fans should be extra excited about Duff Goldman's latest Twitter post, which features a special treat to celebrate the start of the new season and a certain Baltimore team. Presented as the cake of the week, it is colored purple for the Ravens and displays the mascot on top. On the side, "Go Ravens!" is spelled out. If it wasn't clear from the cake, Goldman is ready to cheer on his team.
And this is not the first time. As far back as 2009, Goldman was enlisted to make a bespoke cake on "Ace of Cakes." He took the challenge and ran with it. He worked with former defensive tackle Haloti Ngata to bring new life to the team's mascot in cake form, according to the Baltimore Ravens' website.
Fans are already showing excitement about the newly released photo of the cake, with one echoing Goldman's fandom by exclaiming "Yes Go Ravens!!" and another calling the cake "beautiful!" A third commenter requested a Minnesota Vikings cake. Who knows? Maybe the Ace of Cakes will consider adding a themed football cake line to his repertoire.