Instagram Can't Stop Talking About Duff Goldman's Ravens-Themed Mixer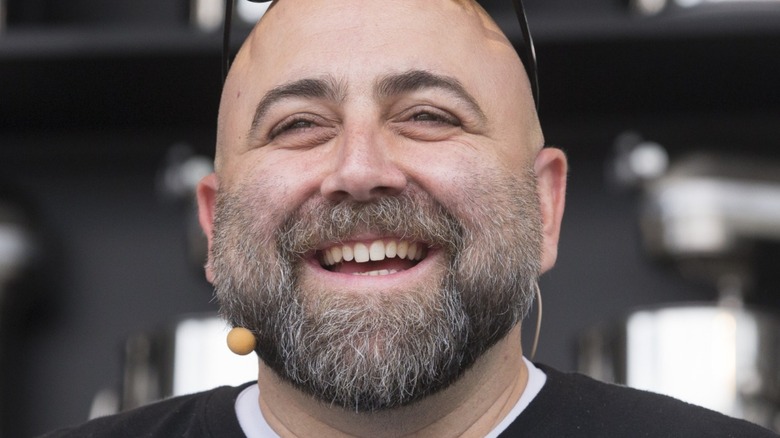 Sterling Munksgard/Shutterstock
Duff Goldman is a Baltimore boy through and through. Charm City Cakes is not only located in Maryland's largest city, but shares its charming nickname. While Goldman may not be officially employed by Baltimore's Chamber of Commerce, he's probably the city's biggest economic booster. In fact, his followers are well aware of his love for Old Bay — he not only celebrated Maryland's iconic seasoning in cake form, but he once said he'd gobble it up in cereal form if such a thing were available. He's also quite fond of Maryland's official State Crustacean (via Maryland Manual) as well, even honoring the blue crab with a cake of its own, and he can't get enough of the crab-flavored potato chips made by Utz. 
In addition to being a hometown person, Goldman is also a huge football fan — and, of course, his team is the Ravens. Dedicated dad that he is, Duff is raising his daughter right by teaching her to root for the purple, black, and gold at an early age. The celebrity chef even brings his Ravens love to the kitchen, thanks to an amazing gift he received from the fine folks at Hobart Foods (via Instagram) that have his followers impressed.
Duff's Instagram followers are all about the purple mixer
As Duff Goldman has made the transition from rockstar baker to Food Network personality, he's had to spend more and more time away from his beloved hometown of Baltimore and has established a second base on the West Coast. By this point, he has expanded his bakery business to include multiple locations in the Los Angeles area as well (via Duff's Cake Mix). While Goldman may be homesick at times, he gets plenty of support from his numerous fans, including the fine folks at Hobart Food Equipment. 
As a "welcome to California" present, the manufacturers of professional-grade kitchen appliances gifted him a mixer — and not just any mixer. For one thing, it's absolutely top of the line, with a 20-quart capacity and a half-horsepower motor, and it retails for around $2,800 (via Katom Restaurant Supply). What makes the mixer really special, though, is, as Goldman said in a recent Instagram post, "They knew I would be missing Baltimore so they painted it sparkly @ravens purple."
Goldman's Instagram fans were quite taken with this Ravens-themed appliance. As one person said, "This is EPIC," while another described it as a "beautiful purple beast." Even Alex Guarnaschelli chimed in with a "Wow." While Goldman hasn't respond to the comments yet, we're betting he had a smile for the Instagram user who posted, "That's amazing!! Go Ravens!!" Not so much, however, for the person who said it "looks like a Vikings stand mixer to me!"