TikTok Can't Handle This All-Day Dunkin' Challenge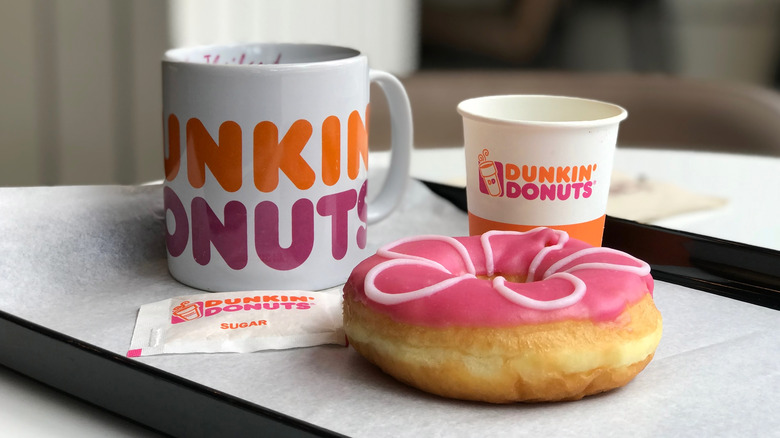 pancha.me/Shutterstock
We've all probably been to at least one restaurant with food so good it makes you wish you could eat there for every single meal. Perhaps you'd be content with munching solely on Olive Garden's soup, salad, breadsticks, and pasta for breakfast, lunch, and dinner, or maybe a trip to your local retro eatery for some classic diner fare is your ultimate food fantasy whenever your tummy starts grumbling.
For many of us, the idea of going to our favorite eatery three times a day is just a dream, but for Karissa Dumbacher, it's her reality. The TikToker, who goes by @karissaeats on the social media platform, has become somewhat of a viral sensation for her videos that show her eating either a specific food or cuisine for the day, or only going to a single restaurant or grocery store to grab grub for a full 24 hours. Dumbacher's 1.1 million followers have enviously followed along as she's indulged exclusively at places like Dave & Buster's, P.F. Changs, and Taco Bell, and often give their stamp of approval on her eating choices in the comments sections of her posts. However, when the TikToker decided to head to Dunkin' for one of her all-day eating challenges, the reaction from her audience wasn't quite the same.
Some TikTokers think this all-day Dunkin' feast was too much
Many people head to Dunkin' at breakfast time for their morning coffee and doughnuts, though it's not often that they head back to the Massachusetts-based eatery for any other meal, let alone for three in a single day. However, that's exactly what TikToker Karissa Dumbacher did in her July 29 video titled "Only eating Dunkin' Donuts for a full day"(and yes, we're giving her a pass for forgetting that Dunkin' changed its name).
The socialmedialite kicked off her all-day Dunkin' adventure with a hearty meal that consisted of the chain's sweet black pepper bacon sandwich, hash browns, chive and onion stuffed bagel minis, and a strawberry Coolatta to drink. Later, she indulged in Dunkin's sweeter side by munching on a cinnamon apple-filled donut, which she then followed up with a French cruller, a sour cream donut, and finally, a classic jelly donut that was coated in powdered sugar.
In the comments section, some expressed envy for Dumbacher's Dunkin'-centric day of eating. "Oh no drool is coming out..." one person admitted. "You're living my dream," wrote another follower — though not everybody felt the same. "I'd be in my coffin after the first doughnut I can't do sweets like that lol," one viewer said, while TikToker user @sydkardashian said that their stomach "would've been in knots by the end of the day. Although America may run on Dunkin', perhaps only one visit a day is enough to suffice.