Fresh Mexican Chorizo Recipe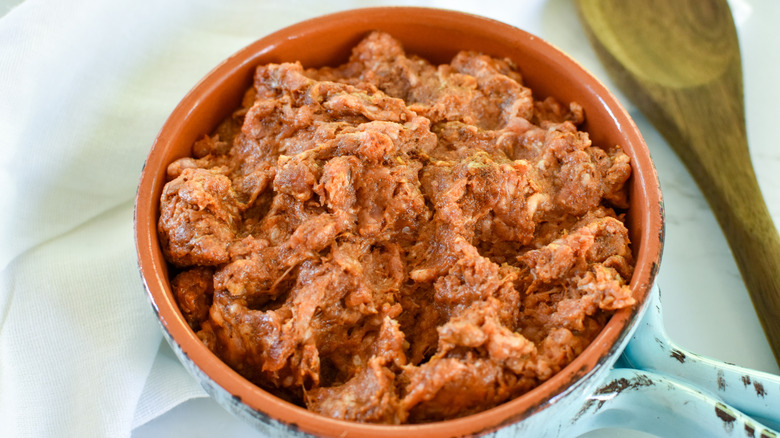 Stephanie Rapone/Mashed
A tale of two chorizos ... no, this is not a classic work of Latin-American literature, but rather a reminder that Mexican and Spanish chorizo are two entirely different things. Spanish chorizo is the type of sausage you'd see on a charcuterie board as it's fully cooked (or rather, cured) and somewhat resembles salami or pepperoni. Mexican chorizo, on the other hand, is loose-packed ground meat seasoned (but not cured) and therefore needs to be cooked before you can eat it.
Recipe developer Stephanie Rapone says that what she likes about this particular chorizo recipe is how easy it is to throw together, particularly, as she says, "I usually have all the ingredients on hand." If you keep your spice rack well stocked, chances are you do, too. Her take on Mexican chorizo makes use of some spices not typically found in the dish; Rapone says she likes to add cinnamon and cloves to her sausage as she feels they "really bring warmth and complexity to the chorizo."
Gather the ingredients for the Mexican chorizo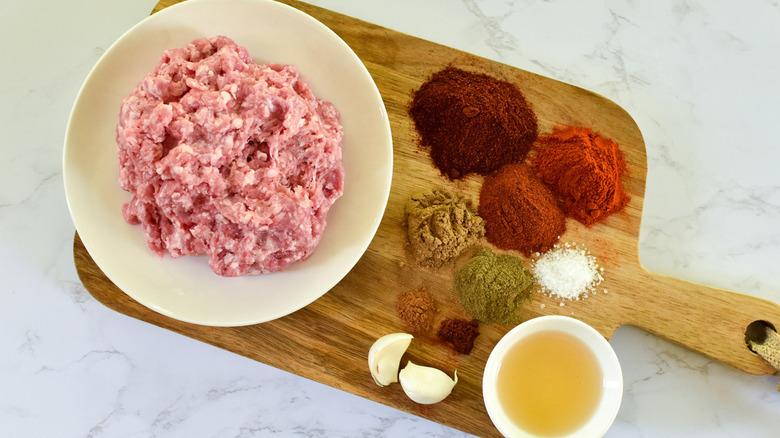 Stephanie Rapone/Mashed
While Mexican chorizo can be made from either beef or pork, Rapone uses the latter as the base for this recipe, adding it should be between 70 and 80% lean. To season the meat, she uses garlic cloves, sea salt, chili powder, cumin, dried oregano (Mexican, for preference), cinnamon, cloves, vinegar, and two types of paprika: plain (sweet) and smoked. She does say, however, that "If you don't have smoked paprika, you could skip it and just use regular paprika instead." Another potential ingredient swap involves the vinegar — while she favors cider vinegar, she says red wine or even white vinegar can be used in its place, but advises, "don't skip the vinegar altogether."
Mash the garlic with the salt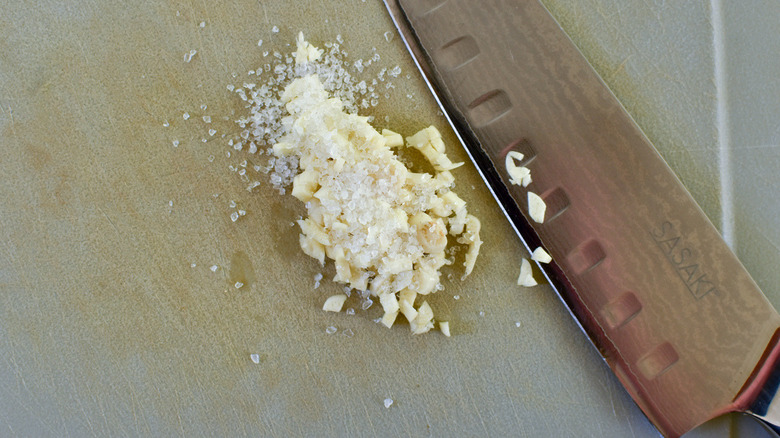 Stephanie Rapone/Mashed
The first thing you'll need to do to make this chorizo is to peel the garlic cloves. Next, you'll be mashing them up with the salt. Since just two cloves of garlic is too small an amount for the food processor, Rapone suggests you use a garlic press, grate the garlic, or else chop it very finely and then give the pieces a whack with the side of the knife to smash them together with the salt. However you manage it, you want the end result to be a garlic-salt paste.
Mix all of the chorizo ingredients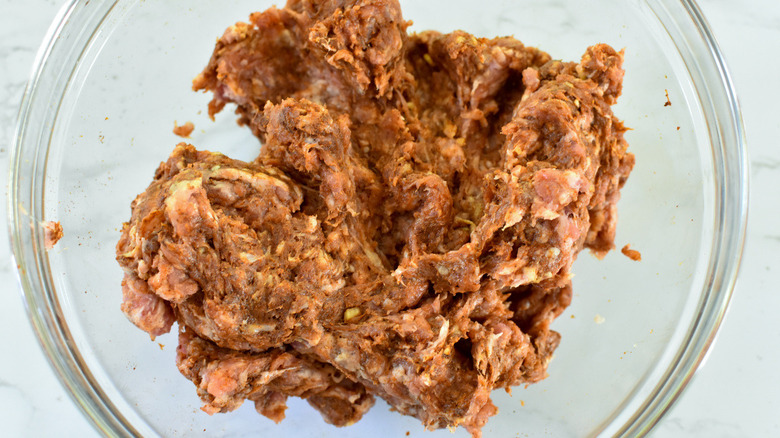 Stephanie Rapone/Mashed
Mix the garlic paste into the ground pork; Rapone uses her hands — a chef's best tools — for this step. Combine all of the dry spices and add those, too. Once these are about halfway mixed into the meat, pour in the vinegar. Mix everything together until the seasonings and vinegar are evenly distributed throughout the meat.
Cook or freeze the chorizo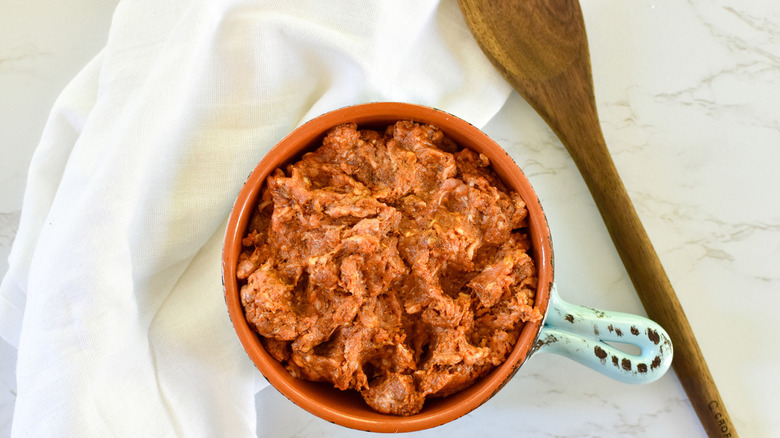 Stephanie Rapone/Mashed
Your chorizo is now ready to use right away — just cook as you normally would sausage or ground meat. If you're looking for ideas, Rapone says, "I love it in quesadillas, as the main meat in tacos, with eggs, and with breakfast potatoes." If you need more time to make up your mind, you can always freeze the chorizo for later use. Rapone suggests that before you do so, you first cover the meat with plastic wrap, then seal it in a zip-top plastic bag.
Fresh Mexican Chorizo Recipe
While Spanish chorizo is cured and ready-to-eat, Mexican chorizo is made fresh and needs to be cooked before consuming. Here's how to make your own batch.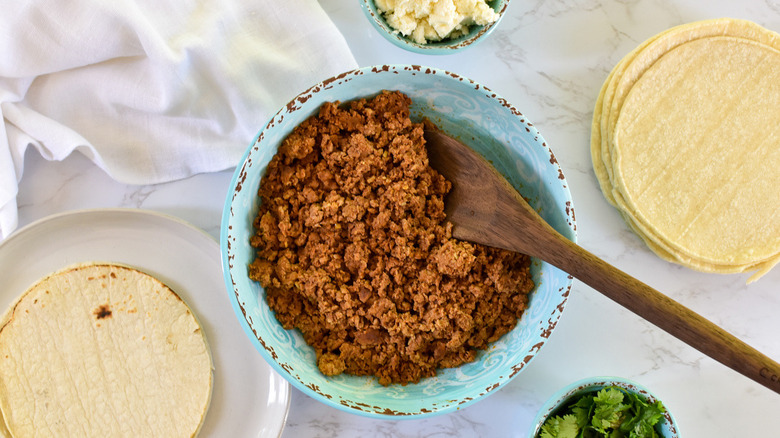 Ingredients
2 cloves garlic
½ teaspoon sea salt
1 pound ground pork
2 tablespoons chili powder
1 tablespoon sweet paprika
1 tablespoon smoked paprika
1 ½ teaspoon ground cumin
1 teaspoon ground Mexican oregano
⅛ teaspoon ground cinnamon
⅛ teaspoon ground cloves
2 tablespoons cider vinegar
Directions
Mash the garlic cloves into a paste with the salt.
Add garlic paste to the pork and mix gently.
Combine the spices, then add to the pork and mix until about half incorporated.
Add the vinegar and continue to mix until fully all ingredients are fully incorporated.
Cook the chorizo as you would ground meat or sausage. If the chorizo isn't to be used right away, wrap it tightly in plastic wrap, seal it in a zip-top bag, and freeze.
Nutrition
| | |
| --- | --- |
| Calories per Serving | 327 |
| Total Fat | 25.2 g |
| Saturated Fat | 9.1 g |
| Trans Fat | 0.0 g |
| Cholesterol | 81.6 mg |
| | |
| --- | --- |
| Total Carbohydrates | 5.0 g |
| Dietary Fiber | 2.9 g |
| Total Sugars | 0.7 g |
| Sodium | 304.5 mg |
| Protein | 20.4 g |