TGI Fridays Just Completed A Historic Expansion Deal In Asia
Fast food may be distinctly American, should the stereotypes be believed, but that's not to say that it's one heck of a business. Certain fast food chains have seen fit to expand from the borders of the U.S. and set up shop in different continents across the world. 
Mcdonald's, for example, has set up an impressive 6,000 golden-arched restaurants all across Europe (via Franchise Europe), with the majority of its locations being in France according to Statista (Royale with Cheese, anyone?). According to a 2019 report from Matador Network, Kentucky Fried Chicken has emerged as one ofe most popular fast food chains in Asia, serving up a combination of its classic chicken and regionally-influenced dishes to hungry customers all across the continent. Smithsonian Magazine tells us that Japan's infatuation with the American Colonel and his poultry stems back to a wildly successful Christmas campaign back in the 1970s.
On that note, it would appear that even if you were to visit Asia, you'll still be able to say "thank God it's Friday" in a place that wants to make it feel like a Friday evening no matter when or where you are.
TGI Friday's is expanding across Southeast Asia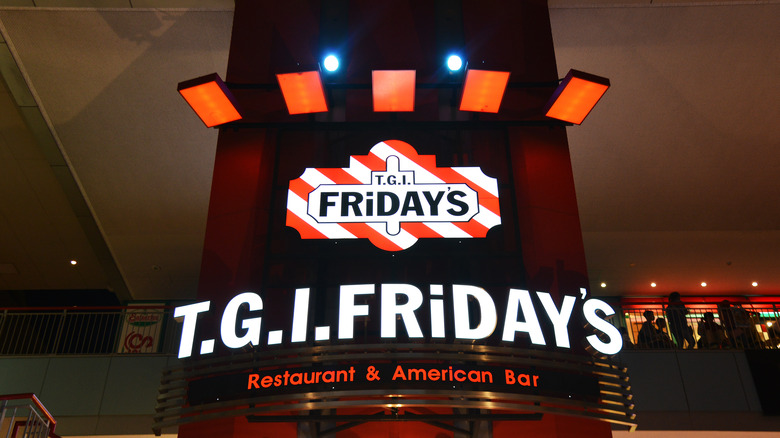 Sarunyu L/Shutterstock
According to a September 16 press release, the chain TGI Fridays announced a collaboration with "Master Franchisor" Universal Success Enterprises to expand its brand across South and Southeast Asia. Over the next 10 years, 75 TGI Fridays will be constructed across the continent as part of the chain's plan to branch out into the Asian market. Perhaps what makes this development so important, aside from cultural factors, is that the resulting deal is projected to net $500 million in revenue for the TGI Fridays brand.
TGI Fridays Chief Executive Officer Ray Blanchette noted that the company was eager to begin expansion into Asian markets, noting that Universal Success Enterprises' previous collaborations have proven to be very successful and that there was a spirit of optimism about this new development. According to Inside Retail Asia, the Singapore-based company has also been instrumental in helping another chain into the Asian market. Outback Steakhouse, Inside Retail reports, operates in key markets such as Thailand, the Philippines, and Malaysia.
While we can't say for sure how the chain's expansion will go, it seems that the chain has been focusing on broadening its horizons in more ways than one. TGI Fridays expanded its digital presence with its virtual kitchen partnership with C3 (via Nation's Restaurant News)