Why This PSL Season Shattered Starbucks' Sales Record
Starbucks first debuted their now-legendary Pumpkin Spice Latte in 2003. It started a fall pumpkin spice trend that has lasted for years, spanned continents, and inspired several competitors. These days, each fall you can order Dunkin's Pumpkin Spice Signature Latte; The Coffee Bean & Tea Leaf's fall menu includes a Pumpkin Latte and Pumpkin Cream Cold Brew; and even 7-Eleven sells a Pumpkin Spiced Latte. Have we reached the point of over-saturation?
After 19 years, we wouldn't be surprised if the PSL started to wane in popularity. Brands other than Starbucks have released new fall drinks that have nothing to do with pumpkin, such as the Iced Caramel Apple Latte at Peet's Coffee. And this year, even Starbucks introduced a pumpkin-free fall drink to its menu, the Apple Crisp Oatmilk Macchiato. So is pumpkin spice finally, officially over? So far, based on this year's sales numbers from Starbucks, it doesn't look like it.
Customers aren't tired of the PSL yet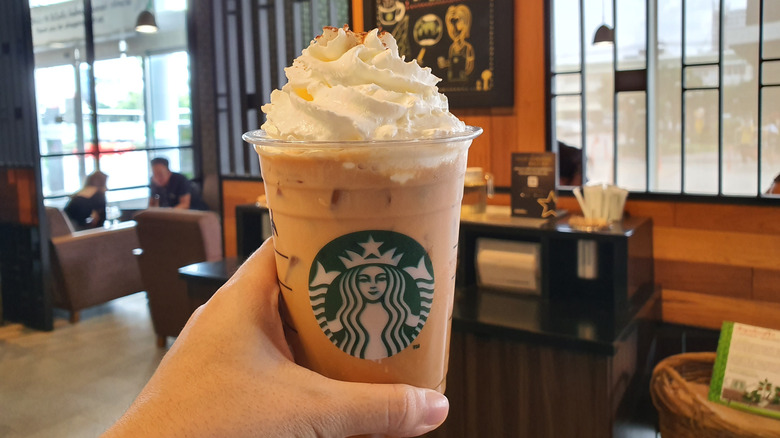 Prachana Thong-on/Shutterstock
One might think that after all these years, there's no way the Pumpkin Spice Latte at Starbucks could still be a novel sales-driver for the coffee chain each fall, but they'd be wrong. According to Starbucks Interim CEO Howard Shultz, the chain's "highest, record sales week in [its] 51-year history was two weeks ago," when the fall menu arrived at stores (via Restaurant Business Online). Even more impressive? Foot traffic at the store increased by 25% in the first week after the fall menu dropped, an almost 10-point increase over last year (via Placer.ai). 
Customers ran to Dunkin's in higher numbers than in the previous two years to try its pumpkin-laden fall menu, too (per Restaurant Business Online). The northern hemisphere may have just experienced one of the hottest summers ever recorded (via The Washington Post), but apparently, even scorching temperatures in late August and early September haven't slaked customers' thirst for coffee chain pumpkin lattes.