Beyond Meat Exec Arrested For A Beyond Brutal Reason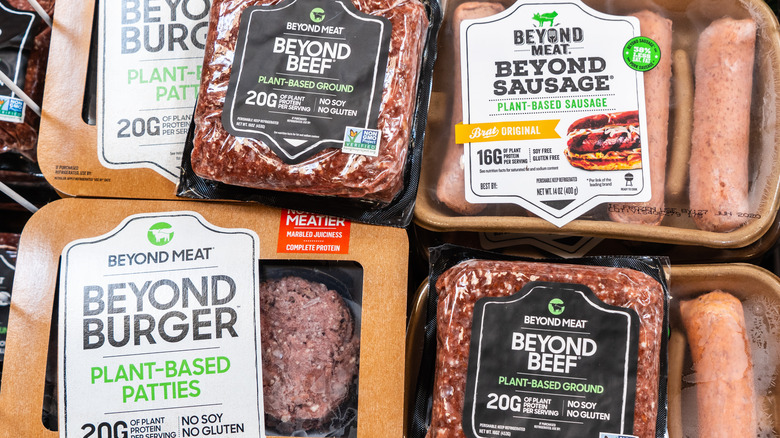 Sundry Photography/Shutterstock
Although Beyond Meat has established itself as a heavy hitter in the fake meat business, the plant-based meat manufacturer has had troubling issues this year. The company's future was called into question when industry experts noticed that Beyond Meat was way behind schedule on the plant-based meats it had promised to major fast food chains, consequently jeopardizing its deals with chains like Pizza Hut and Taco Bell, per Bloomberg.
Beyond was also slapped with two lawsuits this year. The company was accused of allowing mislabelled products to be sold, fraud, breach of contracts, and deceptive marketing and promotion tactics, as explained in a press release from the plaintiff. Just last month, Beyond Meat announced that it was lowering its forecast for revenue earned in 2022, indicating that the company was in hot water financially as well (via CNBC). Crediting interest rates, inflation, and a trend in consumers switching to cheaper options, the brand reported more losses than were anticipated and the company's shares saw a dip by 1%.
Now, Beyond Meat is making the rounds on the internet once again after the recent arrest of the company's chief operating officer (via People). This latest incident is troubling for reasons that go beyond normal business woes.
Beyond Meat's COO was accused of biting a man's nose
According to KNWA Fox24, an altercation occurred at a parking garage at the University of Arkansas' Razorback Stadium on September 17 following a sporting event. An officer arrived to find "two males with bloody faces," one of whom was Beyond Meat COO Doug Ramsey. He joined the company less than a year ago after spending decades at Tyson Foods. His new role was announced as Beyond was gearing up for its planned fast food expansion (via Today).
In what seems like a classic parking scuffle turned bloody, the officer's report indicates that a Subaru bumped into the front right tire of Ramsey's Bronco while leaving the parking garage. Ramsey is alleged to have gotten out of his Bronco and "punched through the back windshield of the Subaru." The report also indicates that Ramsey repeatedly punched the Subaru owner, "bit the owner's nose, ripping the flesh on the tip of the nose," and was overheard threatening to kill him.
Ramsey was arrested and faces "charges of terroristic threatening and third-degree battery," for which he was held on a $10,000 bond and $1,085 bond respectively (via People). He was later released on the morning of September 18. According to the booking report, the Beyond Meat COO is currently set to appear at the Washington County Circuit Court on October 19 for the terrorist threatening charge and at the Fayetteville District Court for the battery charge on October 20.