The Best Pasta Makers Of 2022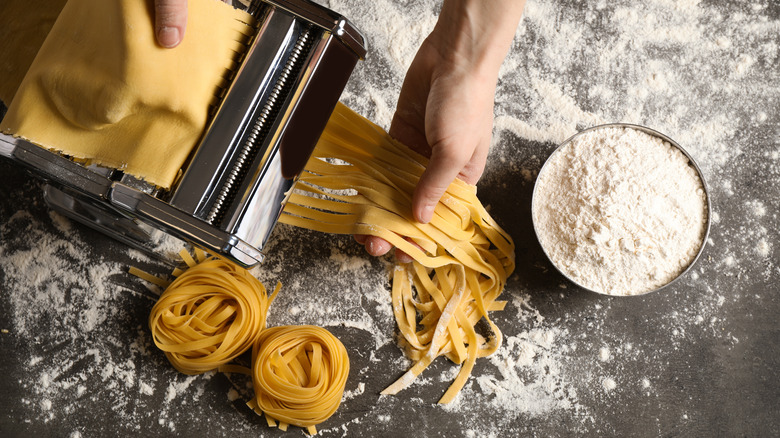 New Africa/Shutterstock
We may receive a commission on purchases made from links.
There's something inherently comforting about a delicious bowl of pasta. Whether it's fettuccine Alfredo, lasagna, or a classic spaghetti bolognese, each bite fills our bellies and souls to the brim, leaving us in a pleasant daze of noodle-fueled contentment. While dried pasta is convenient and undeniably tasty, the reality is that there's quite a big difference between the boxed stuff at the grocery stores and a fresh batch made with a pasta maker.
For starters, dry pasta doesn't typically contain any eggs, has a rougher texture, and takes longer to cook (via Paesana). Fresh pasta, on the other hand, is often made with eggs, cooks much more quickly than boxed stuff, and has a smoother texture that's also more delicate and tender. There's no doubt that making fresh pasta at home can deliver amazingly tasty, restaurant-quality results. Good homemade pasta will have you second-guessing your allegiance to the mass-produced hardened noodles boxed up in the shadows of your cupboard.
There are two main types of pasta makers: manual and electric models (via Compact Appliance). While manual rollers require a little more know-how and elbow grease, they also tend to be more compact and are easier on the wallet. Electric models are a little pricier, but they automate most of the work, simplifying the process to a point that's nearly foolproof. The bottom line is that both types of pasta makers have their own unique advantages and can help you easily whip some of the best noodles you have ever tasted.
How we selected products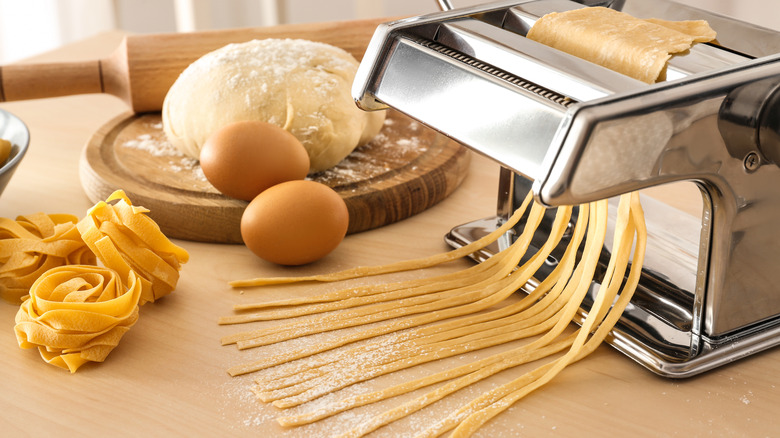 Pixel-Shot/Shutterstock
To ensure that we're providing you information about the best possible pasta maker models currently on the market, we took several different factors into account. Since user feedback remains one of the most accurate and honest ways to determine a product's level of quality, we closely evaluated customer reviews with verified purchases, taking note of each product's particular strengths and weaknesses as they were reported. We paired that research with press coverage and other top-rated recommendation lists to get a more comprehensive perspective of each pasta maker's true caliber.
After whittling our list down to only the best models, we made sure to round out this collection with plenty of variation on a few fronts, from design to functionality. We also took affordability into consideration, so that you'll be able to find a high-quality pasta maker regardless of your budget. Whether you're a beginner looking for a simple pasta maker that's easy to operate or a professional seeking out something a little more advanced, rest assured that you'll be able to find a model on this list that will suit your needs.
Best overall pasta maker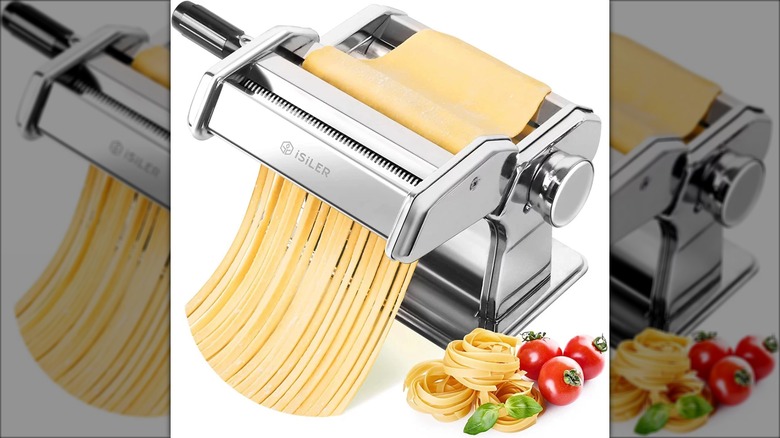 ISILER
If you're looking for a pasta maker that checks all of the boxes, then this model should do the trick. Reasonably priced? Check. Thousands of positive reviews? Check. Durable, high-quality craftsmanship? Check. This manual model is made with stainless steel, weighs less than five pounds, and comes with nine different noodle thickness settings, setting you up for a lifetime of homemade pasta.
You can also adjust the width of each batch of noodles anywhere from over six millimeters to only two millimeters. This makes it easy to produce different styles of pasta like spaghetti or fettuccine. Once you've prepared your pasta dough, all you need to do is roll it through the machine to your desired thickness, then set the blades to whatever width you desire, and voila! A luscious heap of fresh and beautiful noodles awaits you. Another bonus: this model comes with a table clamp on its base so that you can properly secure it for maximum stability.
You can buy the ISILER pasta maker on Amazon for $35.
Best budget pasta maker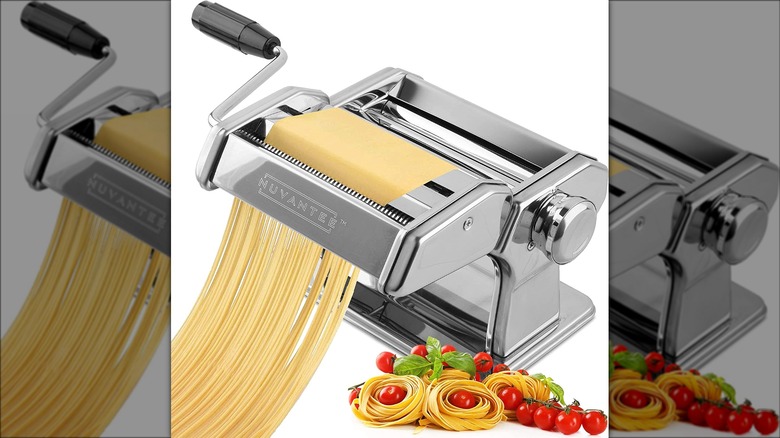 Nuvantee
You don't have to break the bank to score a great pasta maker. The truth is that are plenty of high-quality pasta makers on the market that are also easy on the wallet, including this manual model from Nuvantee that only costs 25 bucks. But don't think that low price is a sign of inferior quality. Once you take a peek at this model's 4.5-star rating after more than 3,600 positive reviews on Amazon, you'll see that this pasta maker gives you plenty of bang for your buck.
With a smoothly turning crank that makes your work almost effortless, you'll find this pasta maker incredibly easy to operate. This model is also equipped for easy adjustments so that you can create noodles that meet your desired specifications, opening the door to a wide range of different pasta dishes. Once you see how exceptionally smooth this model runs, you'll definitely want to check out some of its other optional attachments, too. These include the Nuvantee pasta drying rack and a handy ravioli cutter. You're just a few clicks away from one of the best values on the market when it comes to pasta makers.
Purchase the Nuvantee pasta maker on Amazon for $25.
Best manual pasta maker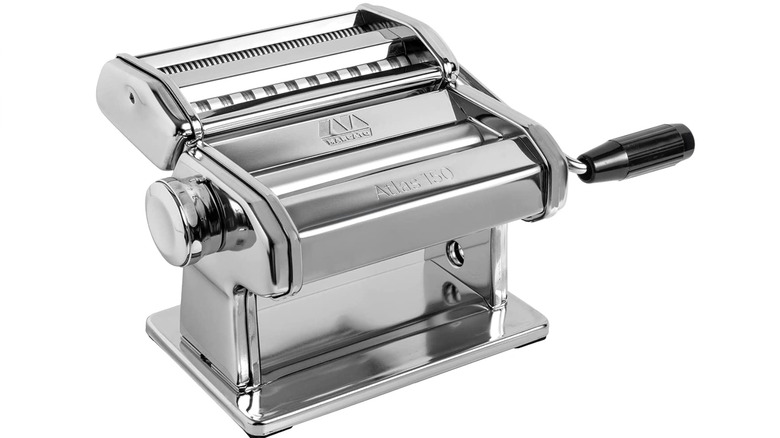 MARCATO
As far as manual pasta makers go, it doesn't get much better than this model by Marcato. Referred to as the Ferrari of the pasta machine world by Cook's Illustrated, this model has also earned more than 22,000 positive reviews from satisfied Amazon customers. Made with stainless steel that's plated with nickel and chrome, this pasta maker is durable and radiant.
This model comes equipped to make lasagna, fettuccine, and tagliolini pastas. To expand your noodle horizons, there is also a pack of 12 extra pasta accessories available for an additional purchase. As for quality, Marcato products have been made in Italy for nearly a century, so you know it's an established brand with a good reputation that you can trust. 
When it comes to ease of use, this pasta maker is hard to beat. The adjustment dial on this model allows you to change the thickness of your pasta as needed, while the hand crank operates smoothly, allowing you to effortlessly churn out some of the best noodles you've ever tasted. Get this in your kitchen and see what everyone's raving about.
You can buy the Marcato pasta maker on Amazon for $70.
Best electric pasta maker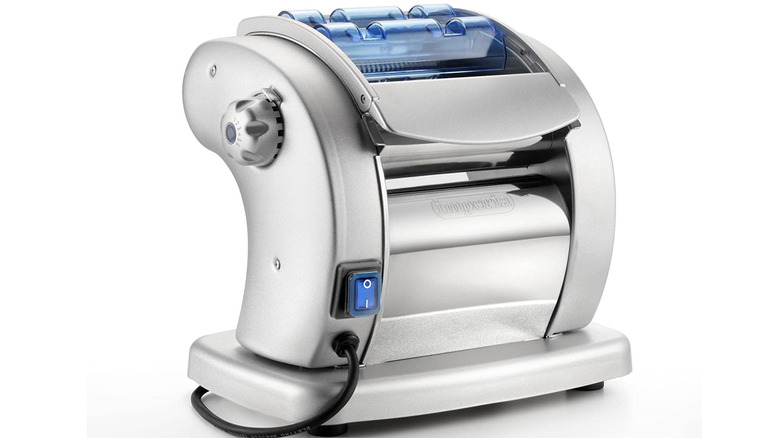 Imperia
Manual pasta maker models are great, but there's no doubt that electric models also have their unique charms. Not having to manually turn the crank frees up both of your hands, which allows you to ensure a soft landing for each batch of freshly cut noodles — not to mention it's kinda nice to give your muscles a rest and let the motor do most of the work! While some other electric models are totally automated, they're also big and clunky. But that's not the case here with the Imperia presto electric pasta machine, which still manages to be relatively compact compared to many other electric models on the market.
Made in Italy, this electric pasta maker has a non-stick coating to help you churn out fresh noodles without any fear of the dough clinging to the rollers or other parts of the machine. The dial allows you to adjust noodle thickness to your liking with six different settings and there are optional attachments available for purchase for even more versatility. Over 1,000 satisfied customers can't be wrong. See what you've been missing out on.
Purchase the Imperia electric pasta machine on Amazon for $380.
Best pasta maker for ravioli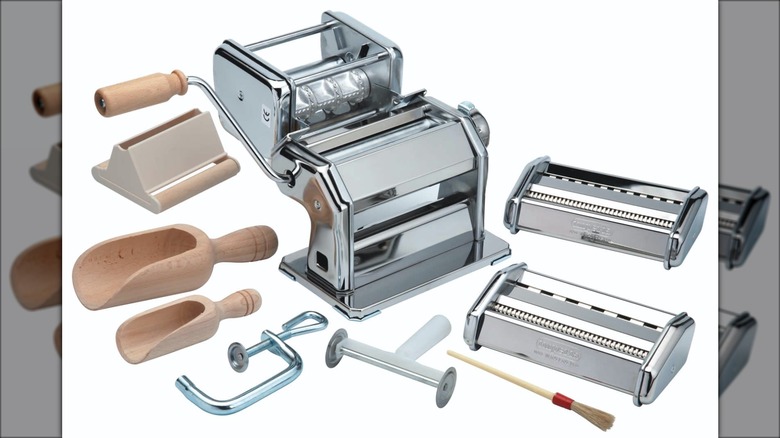 Imperia
Considering the fact that you're checking out pasta makers right now, we'll go out on a limb and take a wild guess that you're also a fan of ravioli. Pasta is just about always delicious in any form, but something special happens when you stuff little pillows of noodles with cheese and other tasty ingredients. Loaded with a blend of delectable fillings, ravioli transcends the normality of most noodle dishes. Gently stamped shut like a love letter for your lips, ravioli delivers a mouth-watering pop of flavor with tasty stuffing all sealed up in an envelope of pasta. Let's face it: If you're going to take the time to make pasta from scratch, making fresh ravioli is a surefire way to make it worth your while. This model from Imperia sets you up for success with an assortment of useful extras, including a ravioli attachment and other tools essential to making ravioli.
Whether you're making lasagna, tagliatelle, or any other classic pasta dish, this eleven-piece set can deliver spectacular, restaurant-quality results. Its detachable handle makes it easy to store and its clamp ensures stability that you can depend on. Put down the store-bought stuff and treat yourself to a freshly-made batch of ravioli that'll truly knock your socks off.
You can buy the Imperia deluxe 11-piece pasta maker from Amazon for $145.
Best pasta stand mixer attachment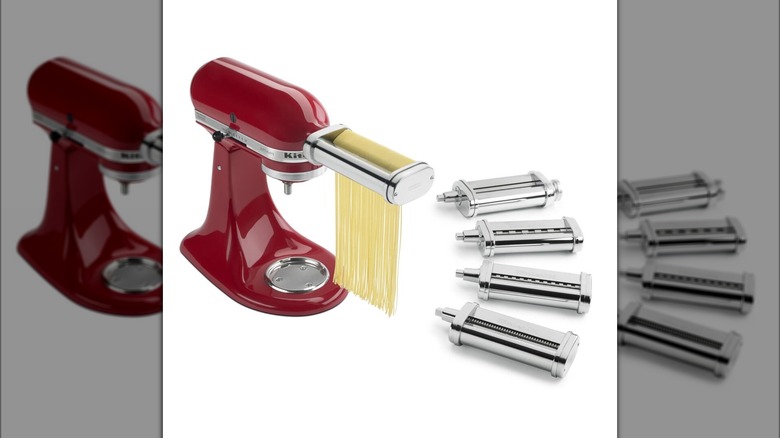 KitchenAid
If you already have a KitchenAid stand mixer — one of the best stand mixers out there — then we have some good news for you. This five-piece set of attachments can transform the appliance that you already own into a pasta maker. Made with durable stainless steel, this set comes with a pasta roller and cutter attachments for making spaghetti, fettucini, lasagnette, and capellini noodles.
With an attachment set like this ready to go in your home kitchen, you can easily make all of your fresh pasta dreams come true. Judging by the perfect five-star rating on Amazon after more than 10,000 customer reviews, it's abundantly clear that this attachment set cranks out some impressive pasta. 
The beauty of the KitchenAid is its versatility. And if this five-piece set is a little too much for your wallet, then you can always opt for the more thrifty three-piece set instead. There's also an additional pasta press attachment that can help you make even more types of noodles. As far as stand mixer attachments go, it's hard to beat KitchenAid, especially if you've already got the stand mixer.
Purchase the KitchenAid five-piece pasta stand mixer attachment set on Amazon for $299.
Best versatile pasta maker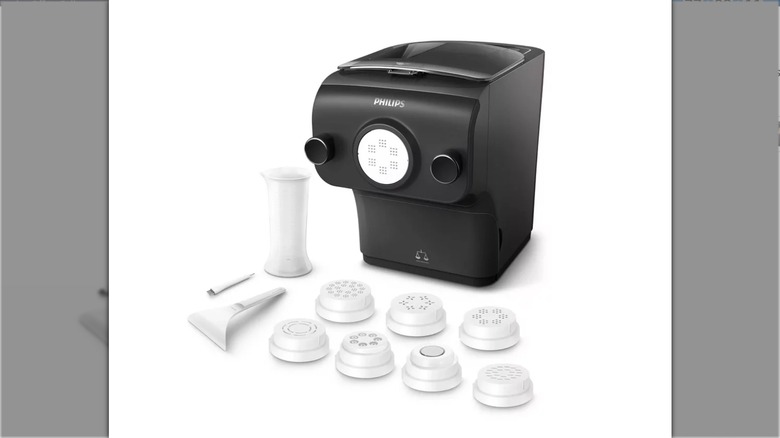 Philips
If you're looking for a pasta maker that comes ready with a ton of attachments, then this automatic pasta maker from Philips might be just what you're looking for. Another bonus: this model is fully automatic, so it does all of the mixing, kneading, and cutting for you. All you have to do is add your ingredients, select the program of your choice, and push the start button. What could be easier?
This deal comes with eight different attachments that include shaping discs for a variety of pasta shapes that include penne, spaghetti, fettuccine, angel hair, pappardelle, tagliatelle, thick spaghetti, and lasagna. This model comes equipped with auto-weighing technology to further simplify the process, and it applies up to 1,600 pounds of pressure on your pasta dough to ensure top-notch texture during the automatic cutting process. Versatile, automated, and easy to clean — what's not to love? If you're looking to kick your pasta-making game up a notch, this machine will have you looking like a pro in no time.
You can buy the Philips automatic pasta maker on Amazon for $200.
Best pasta maker for beginners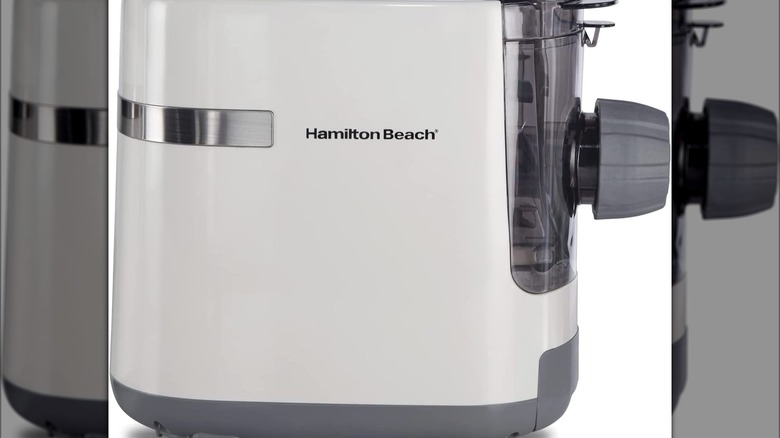 Hamilton Beach
Everyone starts somewhere. If you're new to the pasta-making scene, you probably want to keep it as simple as possible until you master the basics. That means this automatic pasta maker from Hamilton beach is ideal for beginners since it's so easy to operate. It's also capable of whipping up a fresh batch from start to finish in a mere 15 minutes.
This model comes with seven different pasta attachments that include fettuccine, spaghetti, penne, and angel hair. Once the noodles exit the machine, they are immediately ready for boiling — no need to dry them! To sweeten the pot, this deal also includes recipes and a dough guide to help keep you on track. 
All of the removable parts on this machine are dishwasher safe, which makes cleaning nice and easy. It even comes with a convenient storage drawer on the bottom of the device to store all of its pasta attachments. All things considered, this model was designed to make creating homemade noodles as easy as possible, making it perfect for those of you just starting out on the path to delicious homemade pasta.
Purchase the Hamilton Beach electric noodle machine on Amazon for $120.
Best commercial pasta maker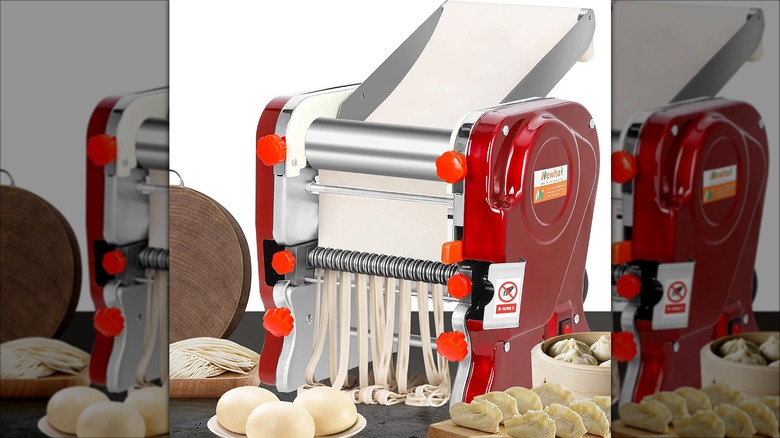 Newhai
Sometimes you need a reliable workhorse in the kitchen. After all, if you're cranking out lots of freshly-made noodles, you want a pasta maker that's built to last. To that end, this commercial electric pasta maker from Newhai is made with food grade stainless steel and was recently rated in the top 20 best pasta makers on the market (via Find This Best).
The gears in this heavy-duty pasta maker are made with steel to ensure extra durability and increase longevity. With a powerful and efficient double-belt system, it also operates smoothly and quietly. Simple to operate yet remarkably dynamic, this model can switch from pressing to cutting with the push of a single button. While this model is designed for commercial purposes, it can work in any noodle-loving kitchen that pumps out plenty of fresh pasta dishes. Well-built, fast, and sturdy, this pasta maker works magic with its 500-watt motor. Give it a whirl yourself to truly behold its true power and potential.
You can buy the Newhai electric pasta maker on Amazon for $383.
Best compact automatic pasta maker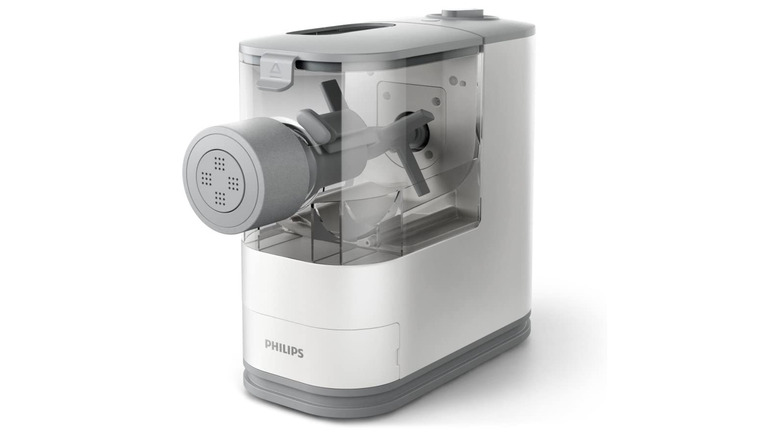 Philips
Since automatic pasta makers are often on the large side, they tend to take up a bunch of counter space, which can be a problem depending on the size of your kitchen. The good news is that there are some pasta makers out there that are intentionally designed to be more compact, like this model from Philips. Weighing only 10 pounds, this space-saving automatic pasta maker still packs a punch with plenty of useful features that fit into its small footprint.
From start to finish, this fully-automatic pasta maker can whip up a fresh batch of noodles in only about 18 minutes and handles all of the mixing and cutting for you. Not only does this save you some energy, but it also ensures consistent results. Because of its narrow design, this pasta maker should be easy to store in just about any kitchen. With a wide range of detachable parts, this model is also easy to adjust and clean. If you're a little short on space, then know that this pasta maker was created with you in mind.
Purchase the Philips compact automatic noodle maker on Amazon for $153.
Best stylish pasta maker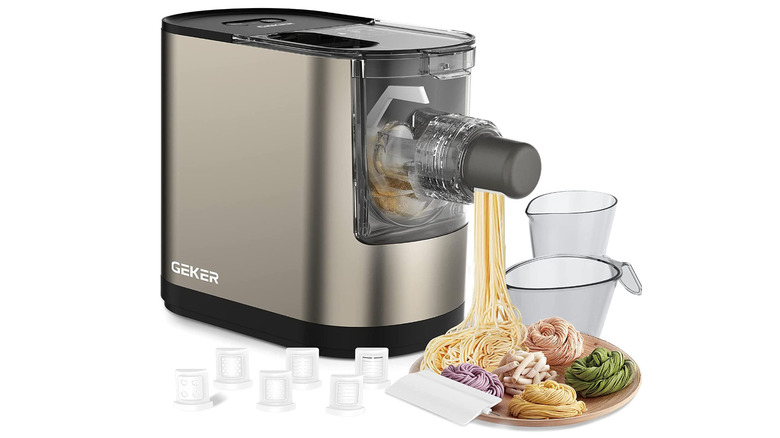 Geker
Every appliance brings its own unique style to your kitchen. Some are vintage, others might be more industrial, and some may have a sleek, modern aesthetic — but all of them bring a touch of style. What we like about this model is that it stylistically straddles the line somewhere in between all these aesthetics, with a structure that feels contemporary and classic at the same time. That makes it a great fit for any kitchen.
Style aside, this pasta maker is also wonderfully functional and fully automatic. Equipped to make six different pastas including macaroni, spaghetti, fettucini, this model comes with a recipe chart to help guide you through the proper measurements. This model was also recently rated in the top 20 best electric pasta machines (via Find This Best). What's more, it has a convenient port on the top to add water as needed, so you don't need to keep lifting the lid to make adjustments to your dough. All in all, this pasta maker is easy on the eyes and also churns out some top-notch noodles.
You can buy the Geker electric pasta maker on Amazon for $120.
Best chef-endorsed pasta maker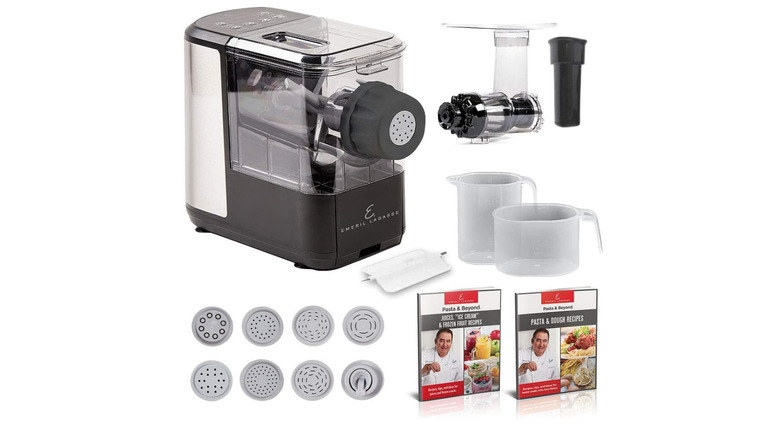 Emeril Everyday
Who better to trust with a pasta maker than a famous chef? Emeril Lagasse got his start in the food industry by working in an Italian restaurant while he attended culinary school, so it stands that he knows a thing or two about pasta. Now best known for his cooking shows and restaurants, Lagasse has also dabbled in kitchen appliances with his brand Emeril Everyday, which produces this high-quality automatic pasta maker.
There are a few things that set this model apart from the pasta machine pack. For one, it comes with a juicer attachment, recipe books for juicers and pasta dough, and eight different pasta discs so that you can make a wide range of noodle shapes. One of those attachments is a disc for udon noodles, which is a nice offer since not too many pasta makers include an attachment specifically meant to make these Japanese noodles. This machine also comes with a noodle cutter, measuring cups, a spatula, and a cleaning brush. Did we also mention that this has over 2,000 positive reviews from a wide array of satisfied customers on Amazon?
You can purchase the Emeril Lagasse pasta and noodle maker on Amazon for $119.