Kellogg's New Cereal Is A New Spin On A Nostalgic Classic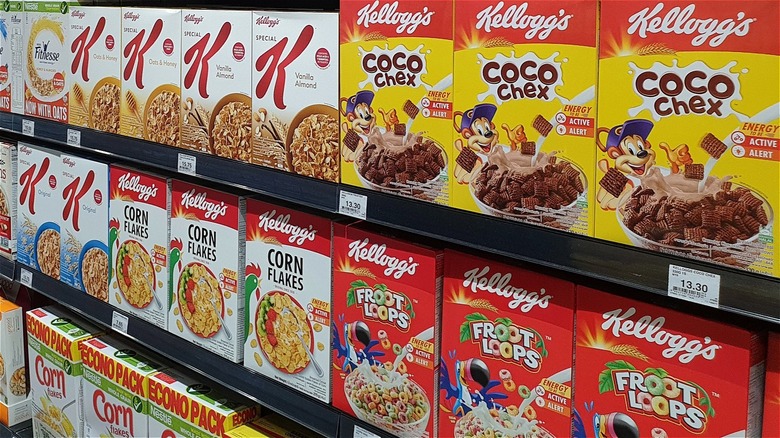 TY Lim/Shutterstock
Whether you have memories of rushing through a bowl of Raisin Bran before hopping on the school bus or savoring some soggy Frosted Flakes while laughing at your favorite cartoon, it's easy to see why opening a bag of cereal today can be a bit nostalgic. In any case, cereal brands certainly bank on consumers making purchases based on nostalgia. Just this month, General Mills announced it will be including 90s throwback toy characters like Trix the Rabbit and Lucky the Leprechaun in specially marked cereal boxes, according to Chew Boom.
Now, Kellogg is also trying to entice cereal lovers into doing a little sentimental spending by partnering with Little Debbie on a new cereal collaboration. In a press release, Jeff Badger, vice president of marketing at McKee Foods, explained, "Through our continued partnership with Kellogg's, we're able to share Little Debbie's beloved treats with fans in new ways" (per PR Newswire). According to the Little Debbie website, the treat that inspired Kellogg's newest cereal creation this time around is one of the brand's oldest snacks.
Now there's a Nutty Buddy Cereal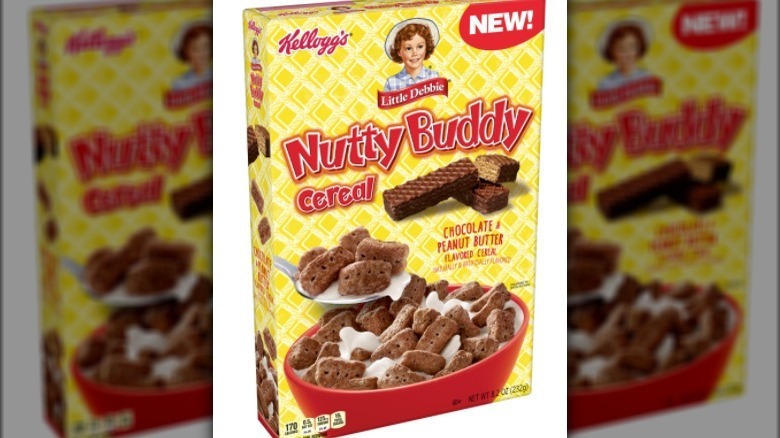 Kellogg's
Prior to the Little Debbie brand's debut, Nutty Buddy Bars were already winning over snack lovers (via Little Debbie). Now, the classic chocolate wafer snacks are inspiring a new cereal called Little Debbie Nutty Buddy Cereal. According to PR Newswire, the new cereal combines chocolate and peanut butter flavors with "crunchy cereal pieces coated in fudge."
The Nutty Buddy Cereal is the third release in the Little Debbie and Kellogg collaboration behind two previous snack-inspired cereals, Oatmeal Cream Pies Cereal and Cosmic Brownies Cereal (via PR Newswire). Thrillist tried both cereal collabs and concluded that the first two snack-inspired cereals don't exactly taste like mini versions of the Little Debbie treats, but the outlet did find them both "tasty."
Nutty Buddy Cereal will initially be available at select Walmart locations in October and available at more retailers nationwide beginning in December (per PR Newswire). In the meantime, we'll be guessing whether or not a Christmas Tree Cake cereal is already in the works — we can only hope so.