Instagram Is Floored Over Aldi's Extensive Pumpkin Beer Selection
Fall is officially here, and you know what that means: all pumpkin everything. Enthusiasts can celebrate by whipping up the best pumpkin recipes for fall or picking up any of the literally thousands of pumpkin products flooding the supermarkets. Those who really want to get into the spirit can grab a PSL, knock out a 30-minute pumpkin streusel muffin recipe, and head over to the store to pick up some pumpkin spice-flavored Twinkies or even Gouda cheese. This season, though, one relatively pumpkin-deprived area of the market is getting a blast of seasonal sparkle from the pumpkin fairy (or whoever it is who spreads all that pumpkin spice spirit): beer.
According to Instagram, Aldi's got autumnal ale lovers covered this season with pumpkin beers. Though it might sound strange, many drinkers find that the subtly sweet flavor of pumpkin blends surprisingly well with a variety of beers, from the light and easy-drinking to the deeply toasty types (via VinePair). Some brews lean into the roasted pumpkin flavor profile, while others embrace the warming spices found in seasonal drinks and desserts. Aldi's trio of options aims to offer something for every preference.
How shoppers rate Aldi's pumpkin beverages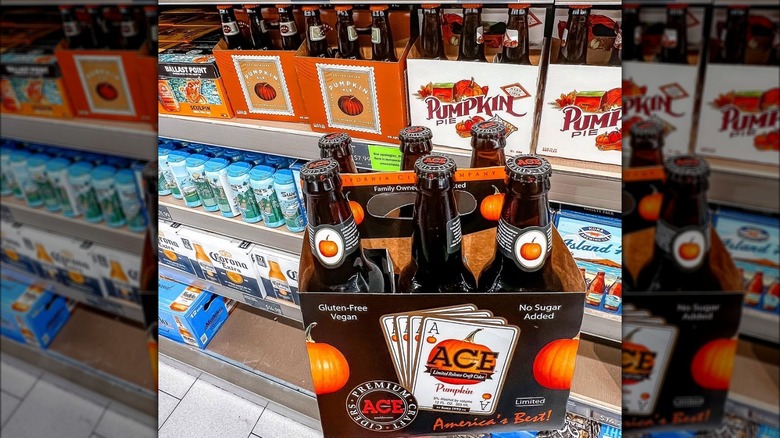 Ken Wolter/Shutterstock
According to a little birdie on Instagram, shoppers can now run the gamut of pumpkin beers without breaking the bank by hitting their local Aldi. 'Grammer @ald.mademedoit captured a shot showcasing three different flavors of pumpkin-flavored beverages in Aldi's booze aisle, and several shoppers seemed curious to get sipping. Two of them are actually hard cider, making them suitable for gluten-free customers. Shoppers can choose from Ace pumpkin cider, State of Brewing pumpkin pie hard cider, and State of Brewing pumpkin ale. All three products are made in the U.S., and both of the State of Brewing styles are made with pumpkin pie spices.
State of Brewing's pumpkin ale is a spiced American pale ale that has garnered fairly poor reviews on Beer Advocate, with those who have tried it saying it's very sweet and "heavy handed on the pumpkin pie spices." State of Brewing's pumpkin pie hard cider, on the other hand, no one had anything particularly bad to say about, and it garnered many three and four star reviews on Untappd. Ace pumpkin cider did the best of the three, with one reviewer calling it "pretty damned good." According to Ace, the cider pairs well with meaty dishes like easy beef tips. All three are available in six-packs at Aldi for a limited time.